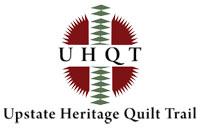 Cynthia Leggett of the Upstate Heritage Quilt Trail in South Carolina brings us news about the latest expansion of the Quilt Trail.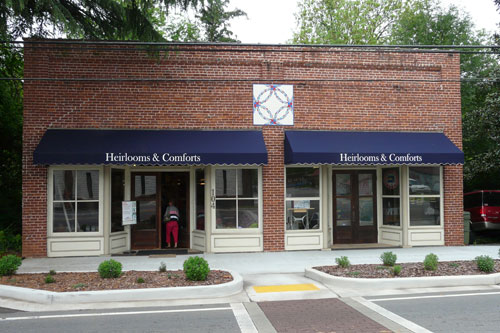 Heirlooms & Comforts has updated the face of their home on 104 Madden Bridge Rd. in Central, SC. The Upstate Heritage Quilt Trail has crafted a replica of one section of a Double Wedding Ring Quilt made by Sara Newton, about 25 years ago. Sara Newton's mother, or Mema as she was called, loved the great art of quilting and never had idle hands. She loved putting the quilt puzzles together and passing them along to a friend who then quilted them by hand.
As her daughter Sara told us, "She loved to give those quilts to me, my brother Bob and our children as well as to special friends on special occasions. One Christmas not long after my father's death Mom went to her quilt closet and pulled out nine quilts to give as gifts to each separate household of her family because she could not "afford" shopping for each household that year. One day she and I counted the number of Double Wedding Ring quilts that she had made and given to family and friends – we could remember 30. Each of her grandchildren received one as a wedding gift. The one that we replicated on the front of H&C is a "rare" one because she also hand quilted it herself. It therefore has special significance for us. Additionally, it is the quilt we used as a funeral pall to honor her art and skill when she died in 2006."
The Double Wedding Ring is one of the most beloved patterns of the early 20th Century. It appears to have developed as a simplified version of Pickle Dish, a late 19th Century pattern. Because of its name, this pattern is often selected for quilts associated with marriage. The curved seams make this a pattern for experienced quilters.
"This gives us a chance to honor our heritage of quilt making by displaying a replica of a section of her quilt. We are indeed a family blessed for having had the loving, caring, teaching, uplifting guidance of one who understood the value of keeping hands and mind occupied in a worthwhile activity, never letting idle mind and idle hands put you in a mire of doldrums."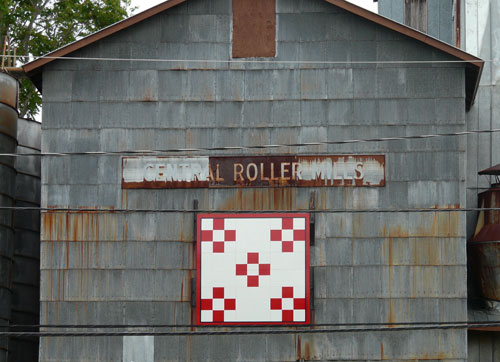 The Central Roller Mill in Central, SC, has also joined the Upstate Heritage Quilt Trail. A pattern called a Double Nine Patch has been mounted on the old mill because it is reminiscent of the Purina sign that was used on the mill for many years. Sara Newton, mother-in-law of Bobby Ballentine, and the original quilter, liked to make this pattern.
William Danforth founded the Ralston Purina Company.  According to the Nestlé Purina website, (www.nestlepurina.com), "William Danforth worked in his father's store in Charleston, MO. Every Saturday he watched the Brown brood come to town, all clad in red and white checks. It was convenient for Mrs. Brown to make the entire family's clothes from the same bolt of checkerboard cloth, and when it came time to go home…well, you couldn't miss a Brown kid."
"In 1902, Danforth was looking for a distinctive dress for his products, and remembered Mrs. Brown. His reasoning was sound, for the red and white checkerboard identified his products just as boldly as it had the Brown family. The Checkerboard trademark has since been used with a consistency unique in American business. Even Company headquarters in St. Louis is known as Checkerboard Square."
The mill property was purchased in 1899 for $43, and the original structure was built around 1903. The mill manufactured the famous Issaqueena Flour, Meal and a full line of Poultry, Dairy and Hog Feeds. The Indian princess logo printed on the feed sack ensured quality.
In its heyday the mill produced 100 barrels of flour, 5000 lbs of corn meal, and 15 tons of mixed feed per day and had a storage capacity of 80,000 bushels of grain. The corn mill and feed mill remained in operation until the late 70′s or early 80′s but the flourmill ceased operation when local schools stopped making their own bread, causing the mill to lose such a significant amount of business they were forced to close.
A food salvage business, then an antique store operated until around 2004. No occupants have used the building since 2006. The Issaqueena Mills, LLC from Pendleton Oil Company, purchased the mill in 2008. Plans today include restoring the one story structure for use as a conference and meeting center; to restore some of the corn meal equipment in order to produce a limited amount of stone ground grits and corn meal; and to create a first class destination venue that will preserve the historic designation of the building, attract area residents and tourists to visit, shop and enjoy.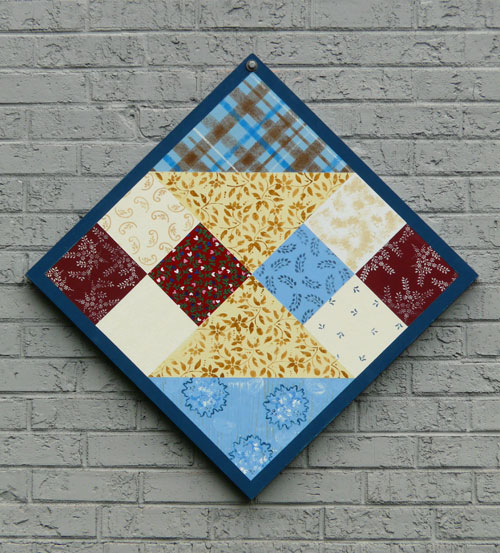 Stacie and James Powell of Walhalla, SC, are sponsors of this latest addition to the Upstate Heritage Quilt Trail, and the pattern is called James River Blues, an antique reproduction quilt designed by Paula Barnes, well known specialist and author of books on quilt reproductions. This quilt pattern has a history with the Powell family.
Stacie and James have a daughter named Marlowe James Powell. She was named after Stacie's favorite poet, Christopher Marlowe, after her father and his mother's family.  Stacie felt the pattern name, James River Blues, was rather serendipitous. The James family was originally from Ireland and settled in the Mountain Rest, SC, area sometime in the 1800's. The name of the quilt is also the name of a song by one of her husband's favorite bluegrass bands, The Old Crow Medicine Show. He plays the guitar, banjo and mandolin and his grandmother and her family are all bluegrass gospel singers and musicians. He's also an avid kayaker, especially of the whitewaters in the area. It seemed to her that a quilt pattern with a name encompassing his hobbies would somehow be fitting.
They also have a passion for the historic, having restored six old homes in the Walhalla area over the past seven years. They are presently living in the old St. Luke Methodist parsonage that used to be located next to the church before it was vandalized and burned in 2010. The house was moved to the corner of Main and S. John Street and the James's bought it and moved in. Though they have loved every house they ever lived in, this old parsonage feels perfect and is a great place to raise their family. They are both natives of Oconee County and have families with deep roots here. Their grandmother's were quilters and many of their family members worked in the textile mills in the area. It is here at the parsonage that the quilt will be hung.
The original quilter of James River Blues is James' grandmother, Grace James Whitaker. She began quilting in 1952 in Mountain Rest when her mother-in-law, Clemer James, taught her how to quilt and included her in projects creating quilts of necessity for their home. Clemer and Grace quilted for many years and Grace's husband, Cliff, constructed a quilting rack that hung in their living room for many years. Grace became a master quilter creating extraordinary quilts for her children, friends and neighbors. Her most memorable quilt is called the Double Wedding Ring, which was completed in the early 1990's with her daughter, Joyce Powell. Grace passed down the art of quilting to her daughter who has made many quilts as gifts for her children. James River Blues was chosen to honor the James family and to express their love for the River.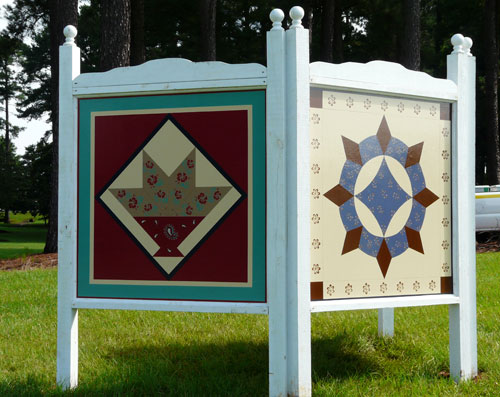 The Blue Ridge Electric Cooperative, located at the intersection of Highway 123 and Route 11, between Westminister and Seneca, SC, has joined the Upstate Heritage Quilt Trail. Three quilts from the family of Carolyn and John Harris of Fair Play, SC, have been mounted on the knoll in front of BREC facing onto 123. The three patterns include a Caesar's Crown, a Flower Pot or Flower Basket; and a Cactus Blossom.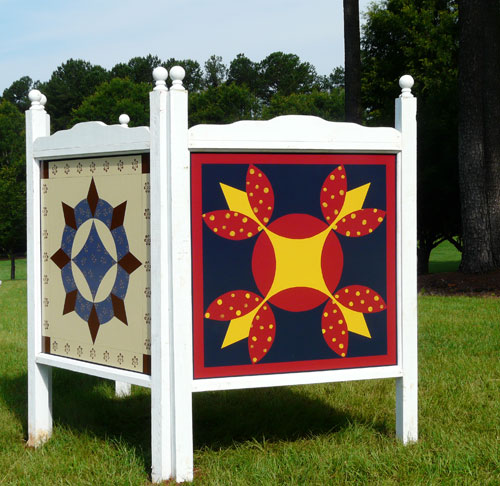 According to Brackman, an important guide to quilt patterns, the Caesar's Crown has been a popular pieced pattern in South Carolina since the 1840's. This one was found in a closet in the home of John Harris's grandmother, Eula (and Mark) Harris, and looks to be mid-19th century from the way the reds and greens have faded.
The Flower Pot or Flower Basket was one of the simplest versions of the basket pattern. This particular quilt was Carolyn Harris's first quilt project and she obviously carefully cut and arranged the printed fabric so the "flower" diamonds create a secondary design.
The original quilter of the Cactus Blossom is unknown, but it is an early twentieth century, rounded-off interpretation of the more angular pieced tulip pattern. Carolyn has many fond childhood memories of weekends at her grandparents' home, the Old Newton home place, where she slept on the upstairs sleeping porch. This particular quilt was used to cover the well pump on that same porch in the winter to keep it from freezing. Today, her sister Jane and husband Don Acevedo live on this century farm.
Carolyn is a native of Anderson, SC, and John is a native of Oconee County. He is the seventh generation grandson of Andrew Pickens. They are both graduates of Clemson University and Carolyn's great grandfather was W.D. Garrison of Denver Downs. The Harris Farm is known for its cattle, both Angus and a few others from only the finest families. They also have a fine swine operation and John is President of the South Carolina Pork Board. Carolyn was with the Cooperative Extension Service at Clemson.  So the Harris's have deep roots in the Upstate of South Carolina.
From its very beginning in 1940, Blue Ridge Electric Cooperative viewed itself as a community builder. By taking electric service into geographic areas where it had never been available before, the cooperative helped open the door to any number of positive developments. Blue Ridge Electric Cooperative provides service and community support in Anderson, Oconee and Pickens counties.
For further information about the Upstate Heritage Quilt Trail visit (www.upstateheritagequilttrail.org).