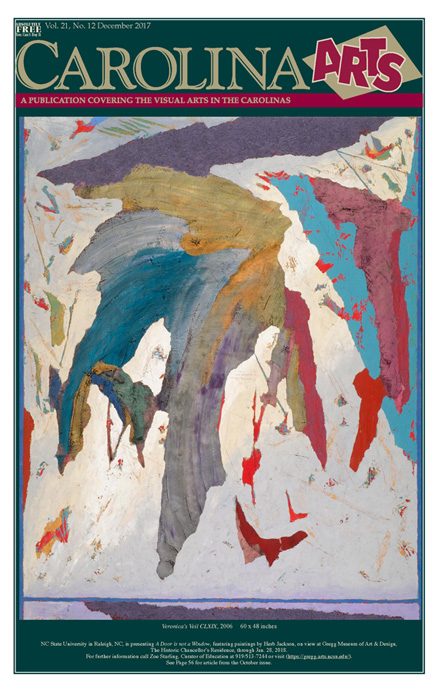 The December 2017 issue of Carolina Arts is up on our website at (http://www.carolinaarts.com/1217/1217carolinaarts.html) – all 56 pages of it. That's 13 pages less than last month.
This month's cover art features a work by Herb Jackson. Jackson is being presented in an exhibit at NC State University in Raleigh, NC, entitled "A Door is not a Window," on view at the Gregg Museum of Art & Design, The Historic Chancellor's Residence, through Jan. 28, 2018.
So download that PDF and dig in – it makes for good reading and shows that you have lots of opportunities to enjoy the visual arts in the Carolinas. And, don't forget to find a way to thank our advertisers – they make this publication possible.
And help us spread this issue around by sending this link to your friends.
If you want to get something in the January 2018 issue about an exhibit – send it now or as soon as you can. Don't wait till the December 24th deadline. Yes, that's Christmas Eve, but it's also our deadline, so maybe it's time to get us your info for January early.
And, have a merry Christmas and a happy New Year.
Thanks – Tom and Linda Starland
Carolina Arts
843/693-1306
info@carolinaarts.com