I posted my entry about the 2nd Annual Cousins in Clay event this morning and when I went to go get the mail a postcard about this event was there. I'm sure the folks at Cousins in Clay won't mind this posting piggybacking it. You're gonna be there anyway.
The kiln opening and sale will take place from 9am to 5pm on Saturday.
I don't know Donna Craven but her name comes up a lot while preparing Carolina Arts from month to month. That's a good thing. It means her work is in demand at galleries and art museums throughout the Carolinas and by the public. I've seen her work and I like it. Also, I have encouraged potters from throughout the Carolinas to let us know what they are up to – about kiln openings, exhibits, pottery festivals, etc. So, I'm glad she is taking me up on my offer.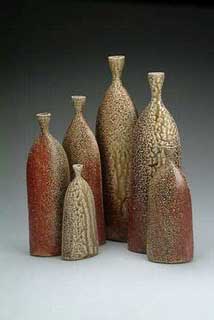 Donna Craven Pottery is located at 2616 Old Cox Road – near the North Carolina Zoological Park – between Seagrove, NC, and Asheboro. Here's a Google map link.
Learn more about Craven at the Seagrove Area Potters Association website at this link. You can see some of her work at this link.
For further info call the pottery at 336/629-8173 or e-mail to (donnacraven@embargmail.com).