We received a press release about this exhibit at Carolina Arts and although we don't cover the Durham, NC, visual art scene in the printed version of the paper, we will be posting this article on Carolina Arts Online – where we include all areas of the Carolinas – as long as we receive info by our deadlines. But, since we bring our blog readers a lot of news about pottery exhibits and events I thought we would also include this here.
Here's the press release:
Duke University in Durham, NC, is presenting the installation, Mark Hewitt: Falling Into Place, on view on the front lawn of the Nasher Museum of Art through Apr. 30, 2010 (although it could last longer).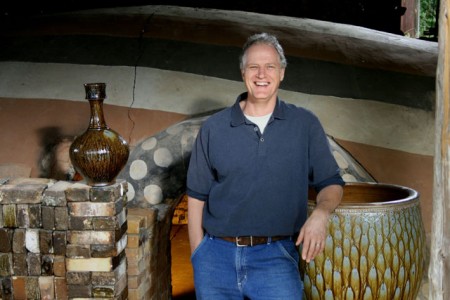 The Nasher Museum of Art at Duke University has invited Pittsboro, NC-based potter Mark Hewitt to create an installation of 12 of his large ceramic pots on the museum's front lawn.
For nearly 30 years, Hewitt has drawn inspiration from Asian and West African ceramics, and the native North Carolina potting traditions of Seagrove, NC, and the Catawba River valley in NC. Hewitt digs the clay, mixes his own glazes and fires in a wood burning kiln on his property. For this installation, the artist selected pots from his own collection, four private collections and the collection of the Cameron Art Museum in Wilmington, NC.
" Falling Into Place describes my love affair with North Carolina and its venerable ceramic heritage,"  Hewitt said. "Finding this tradition was a little like an English guitar player discovering the blues."
The installation was conceived by Sarah Schroth, the Nancy Hanks Senior Curator at the Nasher Museum.
"Mark Hewitt is an internationally renowned potter whose work has been compared to icons, monuments and temples,"  Schroth said. "The huge scale of his work conveys an unmatched mastery of the medium. In this case, we are asking Mark to think like a sculptor. The daring placement of his beautiful pots with their salt glazes and incised patterns will create an organic transition between the museum's modernist architecture and the surrounding woods."
Hewitt was born and raised in Stoke-on-Trent, England, and has lived in North Carolina since 1983. He has exhibited in New York, Tokyo and London, and co-curated the exhibition, The Potter's Eye: Art and Tradition in North Carolina Pottery, at the North Carolina Museum of Art in 2005 in Raleigh, NC.
The exhibition is supported by Marilyn M. Arthur.
For further information check our NC Institutional Gallery listings, call the Museum at 919/684-5135 or visit (www.nasher.duke.edu).
You can view 162 photos taken by Dr. J. Caldwell on the Nasher Museum of Art's Flicker page at this link. They cover the installation process.