We just received this call for entry at Carolina Arts to potters who make face jugs. Spread the word. There's not much time to act.
The Caldwell Arts Council in Lenoir, NC, is calling all face jug artists!  Plan now to participate in the April 2010 "Any Face Goes" exhibit at the Caldwell Arts Council.  Your whimsical/scary/cute face jugs will be displayed all over the Caldwell Arts Council along with quilts exhibited by Tina Cockerham and Clary Stimson. Please contact the Caldwell Arts Council at 828/754-2486 to register your interest in providing face jugs for this event prior to Feb. 26, 2010.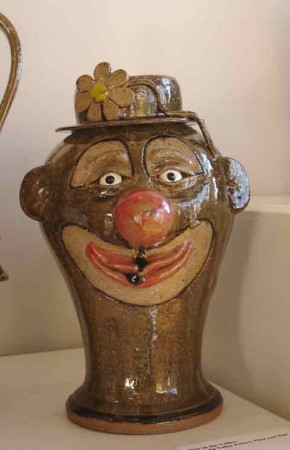 "Clown Face" by Jeff Young from the exhibit, Fire in the Valley: Catawba Valley Pottery Then and Now, shown at the NC Pottery Center in 2009.