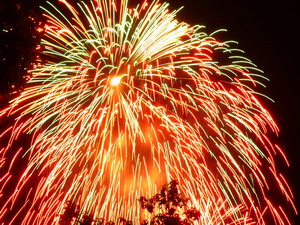 Long before the BIG events start in Charleston, SC – Spoleto Festival USA and Piccolo Spoleto Festival, there are events going on all over – too many to mention, so we're focusing on few in SC right now.
Up first – TONIGHT – is the 2011 North Charleston Arts Festival Art Walk, May 4, from 5-8pm, in the Olde Village on E. Montague Avenue in North Charleston. Art galleries, businesses, pubs, small cafes, and salons, will display works from local artists. For further info contact North Charleston Cultural Arts Department at 843/740-5854 or visit (www.northcharleston.org).
On May 5, 2011, 5-9pm – First Thursday at Tapp's at the Tapp's Arts Center, 1644 Main Street in Columbia, SC, part of the First Thursdays on Main events in Columbia, SC, will be offering a full evening of art. For more information on this contact Brenda Schwarz Miller at 803/609-3479 or e-mail (brenda@realworldartisans.com). Check for the latest news at Facebook – Tapp's Arts Center Project!
In Florence, SC, the FDDC Art Trail Gallery, located at 135 S. Dargan Street, will offer an opening reception on May 5, starting at 6pm for the exhibit, Pompe's Protégés, featuring an exhibit which celebrates the legacy of Kathleen Pompe's tenure as a professor of photography at Francis Marion University. The exhibit will be on view through May 27, 2011. On May 6, starting at 6pm a reception will be held for the exhibit, Cultivating Creativity: The Children's Exhibit, on view through May 27, 2011. For further info call Jane Madden at 843/673-0729 or visit (www.art-trail-gallery.com).
Of course the First Friday is usually when dozens of art walks are held all over the Carolinas. Just check our paper Carolina Arts(www.carolinaarts.com) that's why I spend weeks working on the gallery listings.
In Charleston, SC, it will be the French Quarter Gallery Association's ART WALK, May 6, 2011, from 5-8pm and the First Fridays on Broad, from 5-8pm. In fact, I think it would be hard to find an art gallery in Charleston that won't be open Friday evening whether they are part of one of these groups or not – except The Sylvan Gallery, who already had a reception for their current show. I hope Joe and Janie Sylvan and their crew will be out enjoying the art walk for once – as Linda and I will. For info visit (www.FrenchQuarterArts.com)  or (http://www.charlestongalleryrow.com/).
Later, the next week you can focus on Summerville, SC, for the 13th Annual Sculpture in the South Show & Sale, May 7 – 15, 2011. They have expanded this annual Show & Sale to include Arts Education Week, May 7 – 13. This week offers Internationally to regionally known instructors who will present workshops, after-school programs and an evening lecture series. The Show & Sale takes place May 14 & 15, at Azalea Park, Main Street and West Fifth Street South, and features works by 35 world-class sculptors, children's activities and great barbeque. For more info call 843/851-7800 or visit (www.sculptureinthesouth.com).
Then jumping over to the Columbia, SC, area, you can take in the 2011 701 CCA Columbia Open Studios, a free tour of area artist's studios on May 21 & 22, 2011, but before that you can attend the 701 CCA Columbia Open Studios Preview Party at 701 CCA, on May 12, from 7-9pm. For info about tickets to the Preview Party visit (http://www.columbiaopenstudios.org). The tour is free. You can probable still see some of the exhibits presented for Artista Vista at some of the galleries.
Another choice that weekend is the first Celadon Fine Arts Festival, May 20-22, 2011, at Celadon, Sams Point Road, Hwy. 802, Lady's Island, just across the bridge from Beaufort, SC. This 3-day National Juried Fine Arts & Craft Festival will be held on the beautiful property at Celadon. Artists from around the country will be competing for $3,000 worth of cash prizes and all work will be available for sale. There will also be musicians and food vendors. Hours: May 20, 4-9pm; May 21, 10am-7pm; and May 22, noon-5pm. For further info call 866/525-9995 or visit
(www.CeladonFineArtsFestival.org).
If you look through our paper you'll find many more opportunities for an art adventure. Like I said before – it's why we do it – so you'll know what going on.