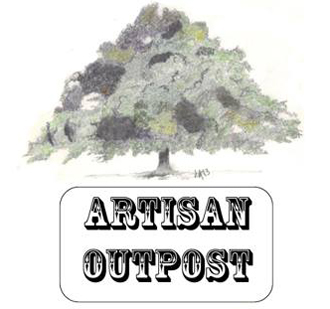 Linda and I made an early scamper up Hwy. 52 to Lake City, SC, and then to Johnsonville, SC – just 20 minutes to the east to check out the 2nd Artisan Outpost event at the old library building in Johnsonville. We had overbooked the day and needed to get back home early to entertain grandchildren. So we were going to be spending a little more time in the car than on the ground, but in the short hour we were there – we saw what it was all about and learned something too.
When we got to Lake City I took a short cut and Linda remarked that I was getting to know that town very well – as I should, as I think of it as the new Gateway to the Pee Dee. I won't trademark that so the tourism folks are free to use it, but I guess if you're coming from a different direction other than Bonneau, SC, headquarters of PSMG, Inc., who produce Carolina Arts, it doesn't make much sense. So, it's just my gateway to the Pee Dee. Of course if I ever find something worth seeing in Kingstree, SC, that could change.
But here's a hint to Lake City. If you ever want me to stop in Lake City, as I'm passing through, you're going to have to open something up on the weekend.
Anyway, we arrived in Johnsonville in about an hour and 20 minutes – a little early, before the event was scheduled to open but I've found that no one seems to mind if the press shows up early. We were welcomed by Jackie Stasney, an artist who makes jewelry and is also the driving force behind the Artisan Outpost.
I took some photos which are presented here, but they are not the best they could be. I was under some duress as to what I could accomplish in an hour. Can I talk to folks – something that tends to get me sidetracked and forget to take photos. If I just took photos it would make the artists nervous – thinking I was another artist who had no original ideas of his own – snapping pics to steal all their ideas. In the end, I got a look at everything, talked with a few folks and then ran into Jane Madden – who we have a long history with in sharing ideas in promoting the artists of the Pee Dee. So the serious talking began, but before I knew it Linda was acting as my walk-up alarm – which had gone off twice – when she just said, "we have to go!" And, go we did, but I do have some observations to share with those who care to read them.
First, if the Artisan Outpost event is to continue, and I think it will – they have had great success with the first two events (considering this last one was competing with tax-free weekend in SC) the city of Johnsonville would do well to invest in a couple of banners to drape across a few of the town's crossroads announcing that the Artisan Outpost takes place on the first Saturday of the month. This would let everyone who passes through the area know about the event. That's a small investment to help develop some cultural tourism. A few more signs like the one shown here placed where people need to turn to find the old library would also help.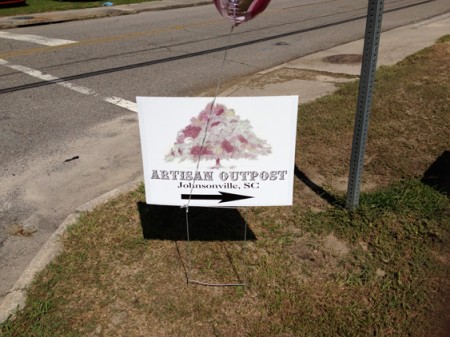 Although there is a great mix of items offered, all handmade, that you would normally find at flea markets, farmer's markets, craft fairs, and even in fine art galleries – a few more items would really round things out. I think a local potter who makes functional wares would be an excellent addition to the Artisan Outpost offerings. This month they had a sweetgrass basket maker, Jennifer Mazyck, from Mt. Pleasant, SC, which brings up the idea of inviting one special artisan from outside the Pee Dee every event to give locals a look at something they may not see locally – to keep them coming back. After awhile seeing the same items offered – event after event, may grow stale for the folks who live in Johnsonville or nearby. A monthly invited guest artisan would shake things up and keep them fresh, but they may have already thought of this.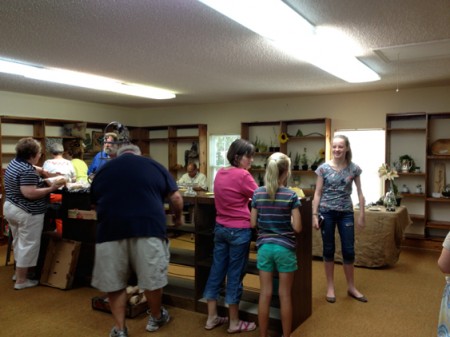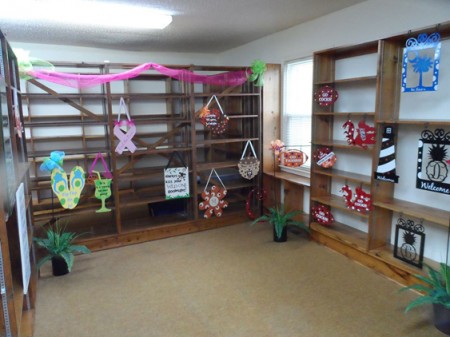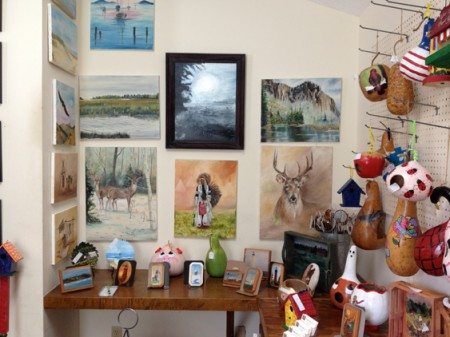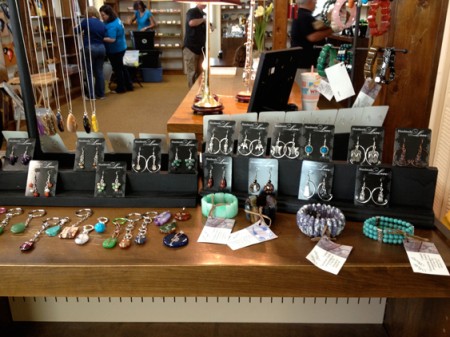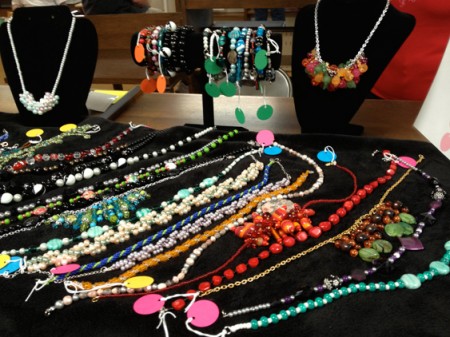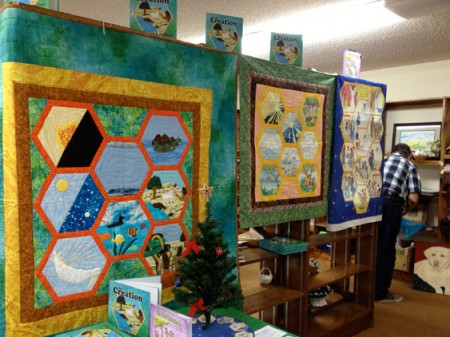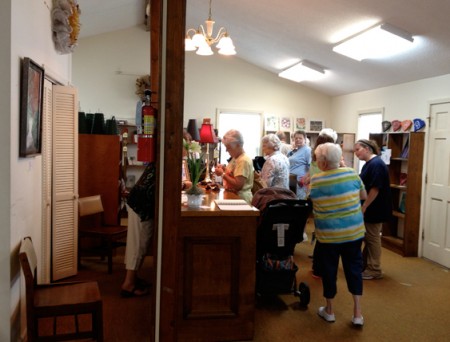 Now it should be noted that in this eclectic mix, there were a few things you might not see at any of the afore mentioned venues – anywhere. Jim Gleason's musical creations – made from recycled parts of musical instruments can't be found just anywhere. I get around a lot but I've never run across baskets made from recycled magazines which Joyce McDaniel makes. And, the big unexpected find of the hour for me was John Siderio, who was offering knives, arrowheads and arrows all made from chipped stones and other natural items – like animal gut.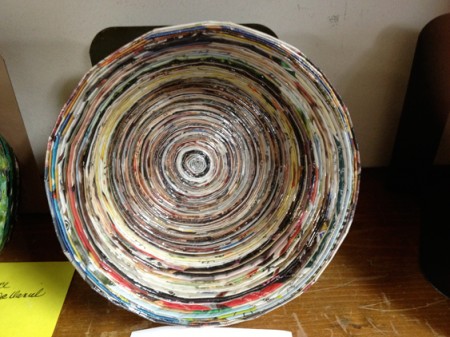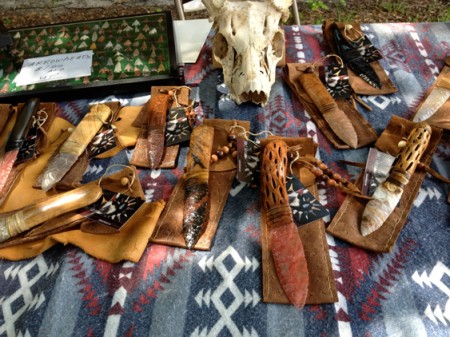 Siderio who moved to South Carolina from Linden, TN, used to travel the craft fair circuit for 20 years, has just joined the Artisan Outpost group, and I found his display to be the most interesting – this day. I'm not even sure what you would call him – a flint worker, stone chipper, or what, but other than the stones (which come from all over the world) all or most of his items he said came from his back yard. He makes his items the way Native Americans did hundreds and thousands of years ago. And, like those Native Americans he uses everything offered from nature and wastes no part of anything.
While we were talking with him, Siderio demonstrated how you would break a chip off a rock, use natural tools to make a saw that could cut a tree branch or a tool to skin an animal. He loves his craft, loves talking about it and loves showing folks who would take the time – how it was done. You can't do this with just any stone, but the chips he got off of those stones were like razor blades.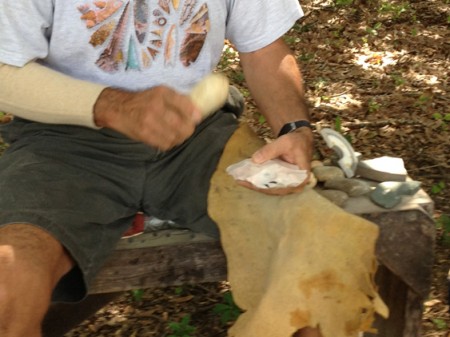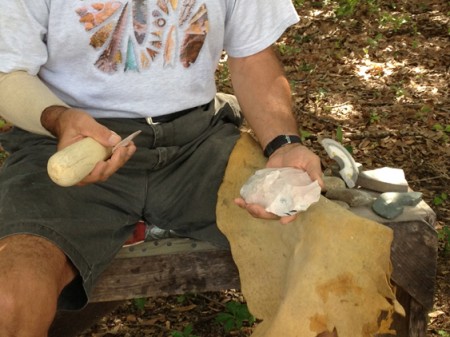 I know some re-enactor folks who would love to shop at Siderio's display. He doesn't have a website, so there is no online shopping so you'll have to go to Johnsonville's first Saturday Artisan Outpost to see his hand-crafted items. If the zombie takeover ever comes John Siderio will be a survivor for sure. If you see yourself as a survivor – you might want to check out Siderio's knives and arrow heads.
Jackie Stasney, with the help of Johnsonville city leaders, have created a wonderful event for locals and tourists alike which I feel will only get better and better as word gets out. Jane Madden who has assisted them in promoting the event is also one of the artisans offering silk scarves.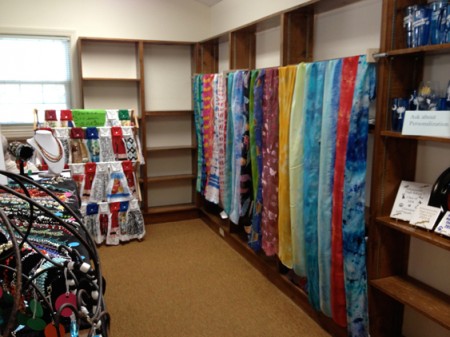 I'm sure I'll be back for a longer stay, and it sure would be nice to have something to check out in Lake City at the same time, but that will come in time. Before you know it SC will have a new heritage trail around the Pee Dee for folks to explore.
The next Artisan Outpost will take place on Sept. 7, 2013, from 11am to 5pm. And, if you go – don't forget to pay your respects to General Francis Marion over at Venter's Landing in Johnsonville where Alex Palkovich's statue rests. It was men like Marion and other men from the Johnsonville area who saved us from having to get all excited about a royal baby being born. Oh wait, that happens now anyway. Why – I'm not sure.
For more information, to volunteer, or to participate, persons may contact Jackie Stasney at 843/621-1751 or visit the Artisan Outpost Facebook page at (https://www.facebook.com/artisanoutpostjohnsonvillesc).