One of my encounters last Friday, Jan. 14, 2011, during the opening reception of the exhibit, A Celebration of Many Talents: Artisans of the Cotton Trail & the Tobacco Trail, on view  through Mar. 4, 2011, at the Art Trail Gallery in Florence, SC, was with Alex Palkovich. He is a sculptor who has a studio which shares space with the Art Trail Gallery in the old Kimbrell's building at 135 South Dargan Street.
We talked about his friend Jack Dowis' wonderful paintings that fill the walls of his studio, various projects he is involved in and the upcoming installation of a very large statue of Francis Marion and his horse "Ball" soon to be found at Venters Landing, just north of Johnsonville, SC, which is the historical site where Marion received his commission to lead the Williamsburgh Militia during the Revolutionary War at what was then called Witherspoon's Ferry on the Lynches River.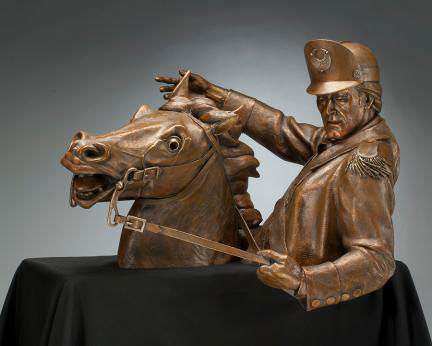 The statue will be 10.5 ft. wide and 7 ft. tall, just less than 3 times life size, placed on an 11ft. tall pedestal. We don't have the exact date for the installation, but we'll let you know when we know.
Apparently Palkovich is a big fan of The Swamp Fox and so am I.
My first knowledge of Francis Marion came in my youth through watching TV back in Michigan – the Walt Disney TV Series The Swamp Fox, played by none other than Leslie Nielsen. Set during the American Revolution, the show relates the exploits of Francis Marion (Disney style), an American general nicknamed "The Swamp Fox," as he attempts to thwart British advances in the South with his loyal band of rebel soldiers. In this series his men called him Fran. And, one of his sidekicks was Sergeant Jasper. Leave it to Disney to run fast and loose with history.
Days after one of the episodes would air the kids around my neighborhood would be singing, "Swamp Fox, Swamp Fox, Tail on his hat, nobody knows where the Swamp Fox is at…" that's about all we could remember of the song, but we'd sing it for hours trampling through a patch of woods near our neighborhood – acting like it was a dangerous swamp – full of "gaders", snakes and red coats.
Now, I live in Berkeley County where the real Francis Marion is buried.
I've never been to Johnsonville. My travels have never taken me in that direction. It's in another one of those parts of South Carolina – not many people know about – because it's not located near one of the major highways. But, I'm going to go there when this statue is installed. Palkovich says you'll be able to see it from two miles away as you approach the landing where it will be placed.
Now, I know a lot of folks will be wondering, "Why place such an important statue way out in the middle of nowhere?" But that's the beauty of it all. Way out in the middle of nowhere is where The Swamp Fox took the British troops chasing him – so he could pick them off – one by one. Before long, there was a big part of South Carolina's back country where the British didn't dare go. The Swamp Fox and his men broke down the British supply lines and communications.
Of course the folks in Johnsonville, who raised the $100,000 for this project are hoping a lot of folks will be coming to their community to see The Swamp Fox to learn more about one of the pivotal characters of the Americans winning the Revolutionary War. Marion and his band of militia tied up the British in South Carolina for so long it gave General Washington time to reorganize the American army. And, any town that can raise $100,000 for a statue of Francis Marion is not "nowhere" in my book.
In real life Francis Marion was no Disney character – no way close. Leslie Nielsen, cut a handsome figure of a man – 6ft. plus. Marion was 5ft. tall and I've never heard the word handsome used to describe him, but he did the job. Of course now years later it's hard for me to get a picture of Leslie Nielsen in my head without it being one from one of his later – less heroic movies. And, I just have to laugh.
There are no pictures of Francis Marion, but Palkovich has given him a face we can believe in – a face of a hero riding a fierce looking steed – a horse Marion stole from a Tory rival.
You can see more of Alex Palkovich's works at his website (http://www.alexpalkovich.com/) and installed around the Florence, SC, area.
Hey, maybe one of Colonel Banastre Tarleton's relatives can come and finally find The Swamp Fox when he's stuck up on a pedestal.