On Friday, Dec. 11, 2009, the family made the two hour journey to Columbia, SC, to select a gift from One Eared Cow Glass. We have a trade agreement and we wanted to get something special, but at a reasonable price, for one Christmas gift. Of course we could have gotten a special gift of art just about anywhere in the Carolinas, but the word "trade" is key in this instance.
A trip to One Eared Cow Glass is always a delight, but getting three people to agree on a gift is always a challenge – and with so much to choose from – it can take awhile. I tend to spend more time watching the glass makers at work as I have a fast eye and it only takes me one trip around the gallery.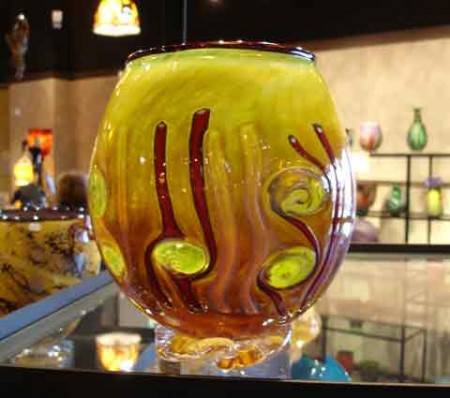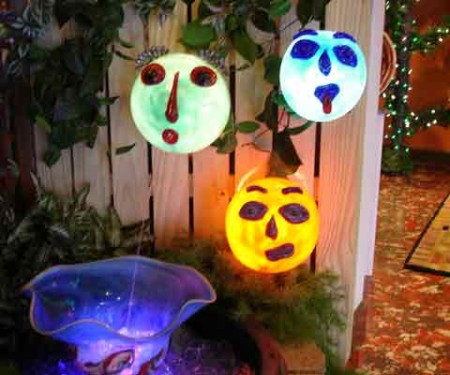 On this day, Mark Woodham, Tom Lockart, Ryan Crabtree, and a  fourth person, whose name I forgot to get, were working on making 50 ornamental balls – during this time of year – Christmas ornaments. What a dance of movement – dipping in the vat of 2300 degrees F molten glass, spinning the rod, adding color crystals, remelting, blowing out the ball shape, spinning and more spinning, more blowing and bingo – another Christmas ornament – at least after it cools down.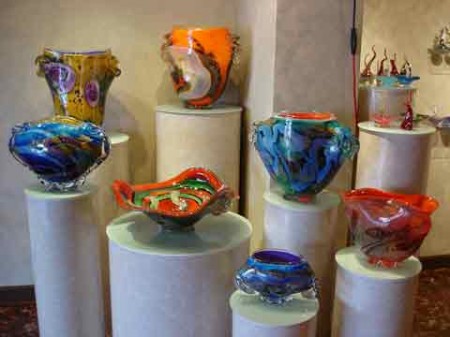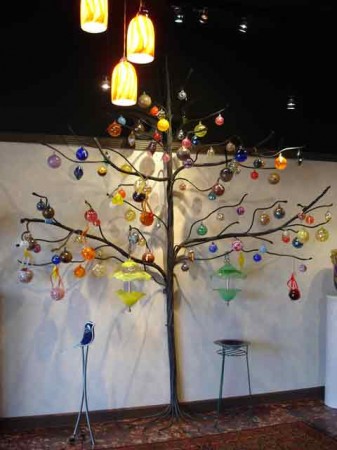 Who in Columbia won't wake up to a handmade glass ornament from One Eared Cow Glass on Christmas morning? Maybe a few naughty folks. And, the really good folks will get maybe a glass bowl, a glass vase, or a colorful glass garden ornament.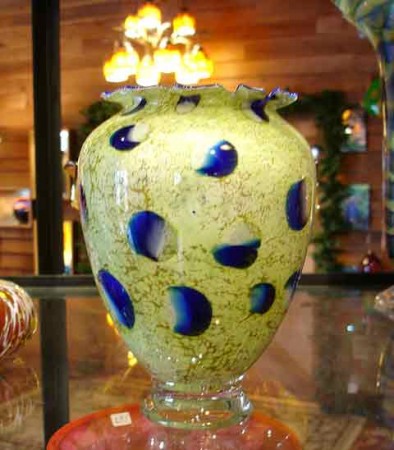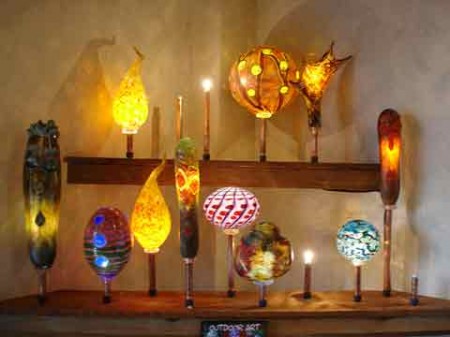 If you haven't gotten your glass gifts there yet – don't worry – they're making more everyday, right up to Christmas. That is when they're not making more videos for YouTube. The latest video is about the making of a lighted glass and copper sculpture commissioned by the Riverbanks Zoo's Botanical Gardens in Columbia in memory of Margot Rochester. The new video can be found at this link.
After viewing the new video check out This Is How We Roll on the same page if you haven't already seen it, but do not pay any attention to the one made by someone associated with the Columbia Museum of Art. There is nothing wrong with the video – it's the soundtrack from Appalachia that kills me – as if this studio in the heart of Columbia's Upscale Vista area (our Capital City) was in some hollow, back around the bend – up over that there hill. The Museum, or who ever put that thing up on YouTube needs to take it down – for the Museum's image alone and for the guys at One Eared Cow Glass. I'm not saying I want to hear ballet music instead, but listen to the music on the videos One Eared Cow has made and that's more like it. Maybe someone thought they were doing these folks a favor in producing this video, but they'd be doing a bigger favor by taking it down and hiding it somewhere.
Check out the metal sculpture of a deer by Greg Fitzpatrick. I'm told he is an artist who is working under the radar in Columbia, yet so busy with commissions that he doesn't have to worry about people knowing who he is and about the wonderful works he creates. That's a nice problem to have, but being in the media – I'm telling. Find out what you can about this guy – he's a wizard with metal.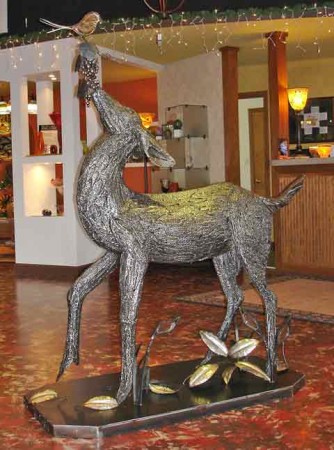 metal sculpture by Greg Fitzpatrick
After all three of us finally made a decision on the gift, we were off to the Columbia Museum of Art to see the best Ansel Adams photographs – at least his favorites in the exhibit, Ansel Adams: Masterworks From the Collection of the Turtle Bay Exploration Center, Redding, CA, on view through Jan. 17, 2009.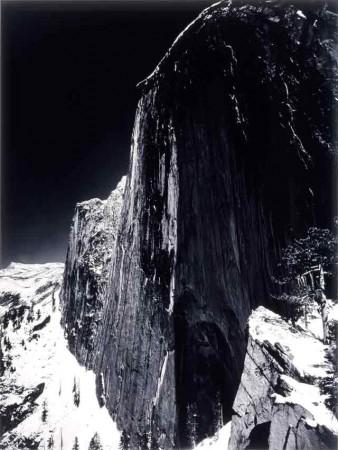 This collection of 47 gelatin silver prints by Ansel Adams (1902 -1984) represents a selection Adams made late in his life to serve as a representation of his life's work and what he felt were his best images. Called "The Museum Set," the full selection of 75 images reveals the importance Adams placed on the drama and splendor of natural environments. Included in Ansel Adams: Masterworks are many of Adams' most famous and best-loved photographs that encompass the full scope of his work: elegant details of nature, architectural studies, portraits, and the breathtaking landscapes for which he is revered.
You can read an article about the exhibit at Carolina Arts Online at this link.
At one time in my life I wanted to be a photographer. At the time I couldn't think of anything better to do than travel to some of our country's most exotic natural landscapes and spend time trying to capture them in photographic images that would move folks to want to go see these places up close and personal – like Ansel Adams did. Adams was the man and he still is in many ways in my view.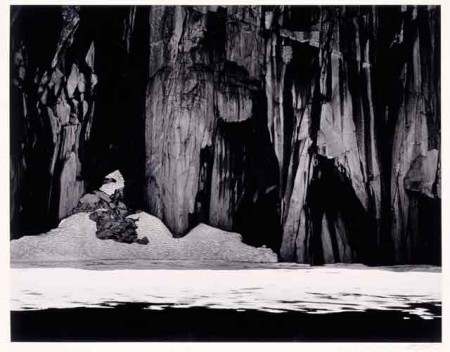 I've been lucky enough to have traveled to many of our western National Parks – pre-arts newspaper and its monthly deadlines. Nothing can replace the act of being there, but Adams' photographs come darn close – even in black and white.
There is no use trying to describe the images presented. If I could write that well, I wouldn't be doing this blog. You just have to go see the exhibit for yourself. And, this exhibit is an excellent opportunity to drag a friend with you who might not normally go to an art museum – as no one would not enjoy seeing these photographs.
The Museum Shop also has an excellent selection of Ansel Adams related items – great for holiday giving or for giving yourself – so you can have a little bit of Ansel Adams' imagery with you on a daily basis.
We had a late lunch and headed back home arriving in time to still have some daylight left – although that Friday was one of the most wintery days in South Carolina – as was the whole weekend – wet, cold and gray. It was a perfect day for looking at glass and Ansel Adams photographs.
Oh yeah – what happened to my career as a nature photographer? Well, I came to Charleston and ran into a group of nature photographers who changed my mind – Tom Blagden, Jr., T.R. Richardson, John M. Moore, and Luke Platt. After hanging with them a few years and seeing the work they were producing made me think my future was in photo processing. But, that's another story of a time long gone.