On July 20, I went down memory lane about man's first steps on the moon. In order to do something as exciting – on our own scale – some high school friends of mine from back in Michigan decided to make a trip to Montreal, Canada. It was a big adventure for us. I also mentioned that during that same time frame Woodstock had taken place – about 100 miles south of Montreal. Timing and location is everything.
I've spent some of this weekend – after I finished my part of the Sept. 09 Carolina Arts – watching some of the 40th anniversary director's cut of the movie Woodstock and some of the new documentary materials included about the making of the movie. Looking back it is still amazing that they pulled it all off – the concert and the movie.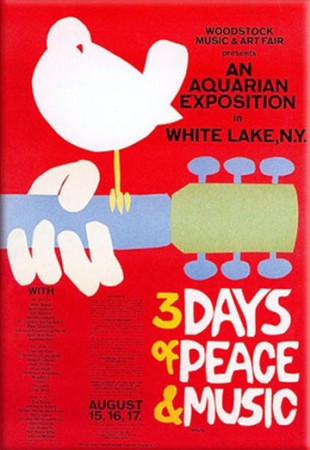 It seemed like such a promising time for my generation and the future was ours to remake. Well, as some people ask today – "How's that going for ya?"
Myself – I'm considerably disappointed – especially when I see people my age at townhall meetings across America acting like asses over health care reform. How can so many people be so uninformed about this issue. My only reasoning is talk radio – where most of these folks get their "facts". I don't know anyone who is happy with what they are paying for health insurance, but all of a sudden they think it is just fine the way it is. And, I've never heard so many references to Adolf Hitler. I'm ashamed for my generation and it was just a few months ago when I felt such pride in electing the first black man as President of our country.
Don't get me wrong – I don't think all is lost yet. I'm just waiting for my generation – the real Woodstock generation to wake up and take the lead on this issue. We have to stop letting a few "talking heads" whip a few screamers into hysteria over non-issues for TV cameras and YouTube.
Forty years ago we fought to end war, we fought for racial equality, we fought for women's equality, we fought for a better society. Have we had amnesia for 40 years? It seems like we're right back where we started.
As Joni Mitchell wrote 40 years ago in her song named Woodstock – we've got to get ourselves back to the garden.
Mitchell didn't make it to Woodstock, her agent booked her on "The Dick Cavett Show" instead that weekend – she was at the time dating Graham Nash of Crosby, Stills, Nash & Young who did play at Woodstock, and they made the song a big hit. She wasn't there that weekend, but she captured the feeling of those four days on Max Yasgurs farm.
I came upon a child of god
He was walking along the road
And I asked him, where are you going
And this he told me
I'm going on down to yasgurs farm
I'm going to join in a rock-n-roll band
I'm going to camp out on the land
I'm going to try an get my soul free
We are stardust
We are golden
And we've got to get ourselves
Back to the garden
Then can I walk beside you
I have come here to lose the smog
And I feel to be a cog in something turning
Well maybe it is just the time of year
Or maybe it's the time of man
I don't know who I am
But you know life is for learning
We are stardust
We are golden
And we've got to get ourselves
Back to the garden
By the time we got to woodstock
We were half a million strong
And everywhere there was song and celebration
And I dreamed I saw the bombers
Riding shotgun in the sky
And they were turning into butterflies
Above our nation
We are stardust
Billion year old carbon
We are golden
Caught in the devils bargain
And we've got to get ourselves
Back to the garden
If you haven't seen the movie Woodstock lately – rent it or buy it and take the four hours to get back to the garden. If you can't do that – at least download the song Woodstock on iTunes or where ever you get your music – either version by Joni Mitchell or CSNY will do. Just make sure you pay for the download – it's cheap.
Chill out and think hard about where you want your health care to be in the next six months or the next decade of your life. If you want reform – stand up for it. If you're happy with things the way they are – too bad – it going to get more expensive and more restricted – if we do nothing. So we have to do something – stop screaming and join the debate to come up with the best plan we can. It's not a done deal yet – but we have to do something soon.
Of course Talk Radio geniuses can afford any kind of health care they want – the people who listen to them are making them rich. And, they just think of themselves as entertainers. I'd rather get my entertainment somewhere else.