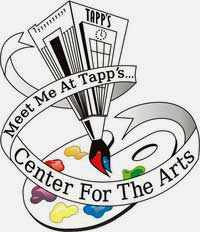 This is NOT a critical review! I can just see the Internet alive with chatter about Susan Lenz's death after a few people see this headline. In reality, Lenz will just die for two and a half hours in one of the window displays at Tapp's.
In collaboration with "radical evolutionary" artist Michael Krajewski and fine art photographer Heather Bauer, installation artist Susan Lenz will create a tableaux in a Main Street window at the Tapps Center for the Arts. The curtain will open at 5:30pm on Thursday, June 2, 2011, and the curtain will close at approximately 8pm.
Update: Eric Parton will also take part in this performance.
Please come by to see the Pre-Raphaelite inspired Ophelia laying in a tub of artificial flowers collected from cemetery dumpsters with a graffiti-inspired suicide note, "I LOVE YOU, HAMLET". After the one-evening performance, Heather Bauer's photo will be suspended above the "scene of the crime".
For more information visit Lenz's blog post at (http://artbysusanlenz.blogspot.com/2011/05/preparing-for-my-first-performance-art.html) or go to her Facebook page at (http://www.facebook.com/susan.lenz).