I've been talking with a good friend who lives in Interlochen, MI, near Traverse City, MI, which is finally seeing seasonal Michigan weather – cold and snow. They have been having some unseasonably warm weather – highs in the 50′s – burr!
Because we've been talking on a regular basis I bookmarked the local newspaper the Traverse City Record-Eagle to check the weather and keep up with what's going on in her area. The other day I came across an article about a big art show which opened on Jan. 14, 2012 – Northwest Michigan Regional: A Juried Exhibition of Michigan Fine Art. The exhibit will be on view at the Dennos Museum Center in Traverse City through Apr. 1, 2012.
I know – Carolina Arts. I turn down e-mail everyday about shows in New York City, FL, GA, and CA – telling the folks we only cover exhibits taking place in the Carolinas. But this show does have a connection of sorts. Plus this is sort of my personal blog.
Here this Museum is showing a big regional show from Jan.-Apr. – the heart of the Michigan Winter. During the Summer, the Traverse City area's population probably expands 4 to 5 times it's Winter population. Some may say the Museum is using a show of local artists as a filler for the Winter – I say they're not closing down – which some people do in the Carolinas – not just in the mountains where they might see a few flakes of snow, but in the coastal areas too. Why?
If Northern Michigan's visual art communities can still keep working during the Winter, what are we doing taking time off in the Carolinas?
I'm from Michigan – I know what Winter is or was. And, yes, now after 38 years of living in the South, I get cold when it drops into the 50′s and is cloudy. If the sun is shinning I might be reminded of Michigan Springs.
Anyway – just wondering why things slow down during the Winter here in the Carolinas. Back to that exhibit.
The Northwest Michigan Regional: A Juried Exhibition of Michigan Fine Artfeatures 100 + works selected from 457 entries by nearly 250 regional artists.
This juried exhibition of fine art by regional artists celebrates the 20th anniversary for the Museum. Visit this exhibition to witness the creativity and talent of Northwestern Michigan artists. Susan Bandes of Michigan State University juried the exhibition.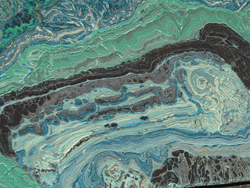 Work by Janelle Dahlberg, Traverse City, MI
Artists living in the area bordered by and including Oceana, Newaygo, Mecosta and Isabella counties on the south and Clare, Roscommon, Crawford, Otsego and Cheboygan counties on the east, and all of the Upper Peninsula are featured.
Juror's Statement
"From grandly scaled paintings to intimate objects, art is very much alive and well in Northern Michigan as this regional exhibition attests. Given this most beautiful of locations, it is hardly surprising that landscapes, weather, and the seasons are prevalent subjects.  Even when a painting verges on the abstract, it may still be based on viewing and experiencing these surroundings."
"While unintentional, the exhibition reflects the proportions submitted in each medium with a predominance of painting compared to three-dimensional art or photography.  This is a large show but it could have been even larger since less than one-quarter of the 457 pieces could be included. Jurying was a daunting but enlightening task as I was pleased to become acquainted with so many highly talented artists, each of whom has a unique and distinctive vision."
"Whether small or large, the art on view engaged me for a myriad of reasons including mastery of a technique or a new twist on it, a sense of energy and/or urgency, an emotional impact or a personal message. Obviously, a juror brings her own prejudices and preferences to the process, but quality and resonance guided my choices.  I found that my repeated viewing was well rewarded as I hope yours will be too. I thank all of the participating artists for sharing their formidable talents with us."
Susan Bandes – Juror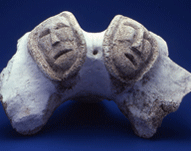 Janus Faces/Animal Head, Kakee,
1980, Whalebone
The Dennos Museum Center's Power Family Inuit Gallery present a survey of Inuit stonecut, stencil, lithograph, etching, aquatint and chine-collé prints, tapestries, sculptures and artifacts from the late 1950s to the present. Selected from more than 1000 objects in the Museum's permanent collection, the exhibition features artists from numerous communities within Nunavut, a Canadian territory in the Canadian Arctic.
For further info about the Museum and this exhibit visit (http://www.dennosmuseum.org).