On my most recent trip to the Pee Dee area in South Carolina, my list of exhibits and galleries to visit was larger than usual – so much was happening there in February. After I got back home I posted on Facebook that, "I pulled a Francis Marion today. I was in so many different places in the Pee Dee that if the British were chasing me they wouldn't know if there was just one of me or hundreds of me roaming in and out of their lines." And, this time I got all the words right. Making quick posts on Facebook can result in sloppy wording.
My travel list included two commercial galleries, two art spaces, a museum, and a library, but before I was finished I added a visit to an artist's studio. Unlike other not-so-well planned trips to the Pee Dee, this time I made sure my first stop would be to the Lynda English Gallery-Studio. On two other occasions I had gotten there after they closed and ran out of time before I had to be somewhere else. But not this time.
The Lynda English Gallery-Studio, is located at 403 Second Loop Road in Florence, SC.  The gallery is known as "The Meeting Place for Art in Florence". They have been there forever – long before Florence started developing an arts district in the downtown area. They feature works by local and regional artists in a variety of media, offer art supplies and teach art classes on a regular basis.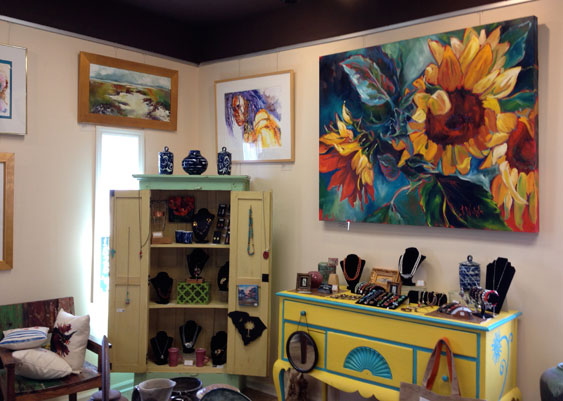 A corner shot of the gallery, with painting of big flowers by Jackie Wukela.
When I arrived, Jackie Wukela, partner with Lynda English was talking with a possible future art student, English was not there. So I took a few pictures and looked around a bit. I couldn't remember the last time I was in this space. It was back when I was delivering the printed paper, but we didn't always include Florence in our deliveries as it was hard at times to get info out of the Florence area as to what was on exhibit there. It was kind of crazy as I was driving right past Florence to get to other areas that I delivered to every month, but in those days every extra stop added time to my already long trips. My feelings were if an area couldn't bother to inform us about their exhibits – why take the paper there. So, the last time I was inside the gallery there was more gallery than classroom space, but there is still a lot of art on display.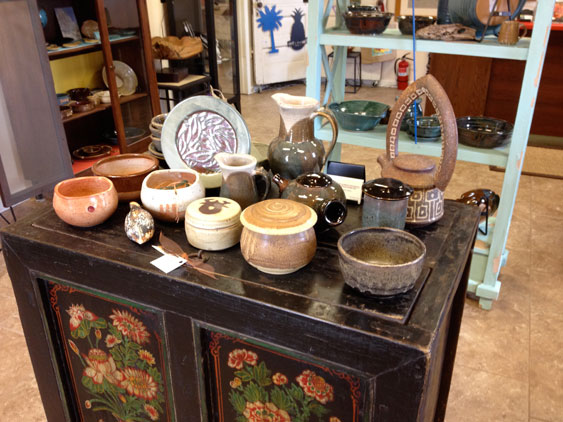 A selection of ceramic works by Douglas E. Gray, a Professor of Art at Francis Marion University.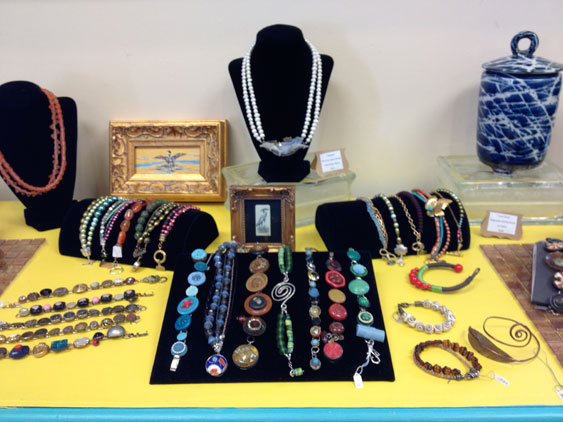 A selection of jewelry by Lynda English.
Once the prospective student was finished and left, Wukela and I dove into a number of subjects: the growth of the visual art community in Florence, ArtFields© in Lake City, and the new Florence County Museum. She knows a lot about what's going on – her son is the Mayor of Florence. But, before long another customer arrived and I said I better move on – customers always come first. After 36 years in business I know that creed well.
My next stop was not too far away at The Purple House, home of The Earring Lady (Barbara Mellen), at 2717 Second Loop Road, where they were having a Valentine's Day Colorific Event that weekend featuring works by The Earring Lady and Silks by Jane – Jane Madden that is.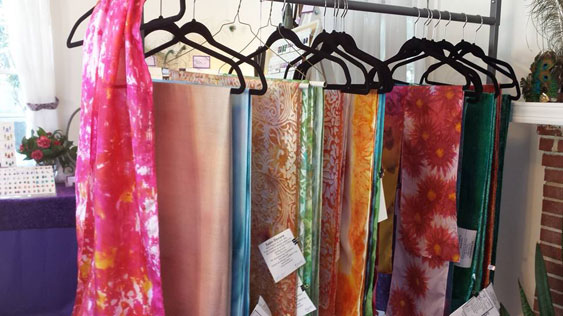 A selection of silk scarves by Jane Madden.
Madden was the person who called me, now many years ago, asking me to take another look at what was going on in Florence. Back then she was helping to develop the Art Trail Gallery, and eventually running it. Others have taken over but she is still involved in putting out the word on what is happening there. She is also one of our main helpers in getting the word out about Carolina Arts. Madden was also the first person to tip me off as to what was about to happen in Lake City, SC. She is a resource for a wealth of information.  She claims to have a job at Francis Marion University, but I can't see how that could be true with all she does – don't get me wrong, she's putting in a full time work at FMU in a part time job. If the power grid ever goes down in SC – we just need to hook up to Jane.
Unfortunately, Madden had left The Purple House before I got there. I had seen the work of The Earring Lady and Madden's scarves at various other shows so I didn't stick around too long and I still had a long list of stops. Good thing Linda, my better half, wasn't on this trip or we would still be there. If you like earrings and scarves – check this place out. The two artists seem to have a like mind when it comes to colors.
The Second Loop Road runs right into Palmetto Street that takes you right back into the heart of Florence's developing arts district. My next stop was the Waters Gallery, which is not located in the main building of the Florence County Museum, but in the former location of the first Art Trail Gallery at 135 South Dargan Street. That's were the 2015 Pee Dee Regional Art Competition exhibition was being presented. The exhibit is sponsored by Chick-fil-A and will be on view through Mar. 29, 2015. The 38 works on display were selected from a total of 172 submissions by Lese Corrigan, of Corrigan Gallery in Charleston, SC.
The space where the Art Trail Gallery used to be has been remodeled and the Waters Gallery pretty much takes up the space that used to be sculptor Alex Palkovich's studio/gallery space. (I'll have more on what Palkovich is up to these days in Part II). Corrigan selected what turned out to be an exhibit pretty much representing the college and university faculty of the Pee Dee including: Coker College in Hartsville, SC, Coastal Carolina Unversity in Conway, SC, and Francis Marion University in Florence. A few weeks earlier, after I received a press release about the artists who were selected for awards I called Corrigan to see if she knew what had happened and she asked me back who were the people I was talking about. She is not familiar with much of the Pee Dee visual art community – which made her a good judge for the exhibit.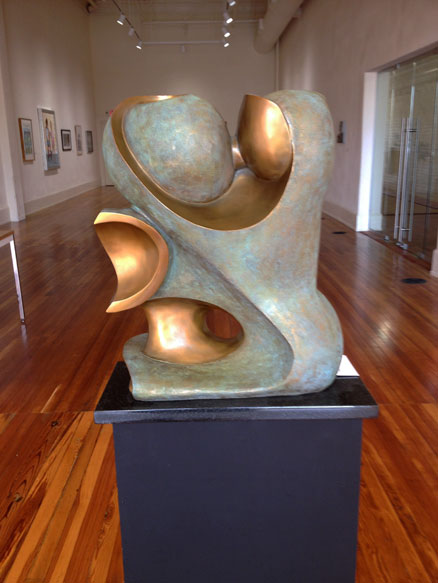 Here's a bronze work by Townsend V. Holt of Florence titled "The Kiss". I took this to also show a little of the gallery. But I wasn't having too much luck so I'm showing some of the photos the Florence County Museum provided me.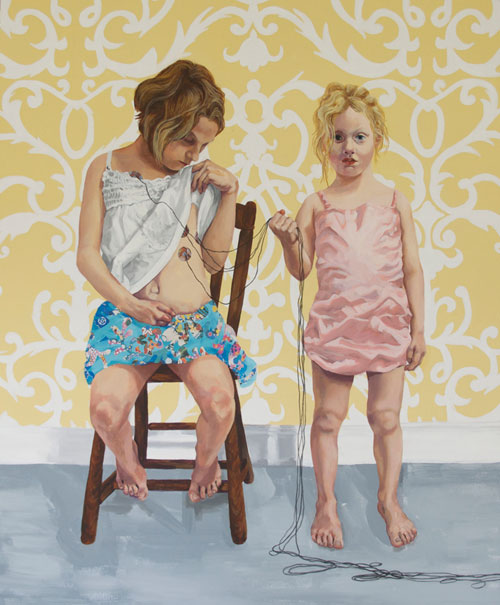 "December" by Yvette Cummings of Conway, SC, acrylic collage on canvas.
I would love to see all the works that were entered, but regardless, Corrigan selected a heck of an exhibition. The group selected represented a little over 20% of the group that entered the competition. Having seen a number of shows highlighting the works of the visual artists of the Pee Dee and not seeing a lot of names by some very good artists, just goes to show – the Pee Dee has a lot of talent. And, I agree with some of the people I talked with during this trip that it would have been nice to see a bigger show. The Florence County Museum has more space in that building. But like I always say about juried shows – you're a winner by just making the cut, any awards after that is a bonus.
One thing I want to say about the exhibition is that Corrigan selected a painting, Sirens I, showing nudity by Jim Boden, who is an art professor at Coker College, for the second place award, and it is on view with all the rest of the works. My hat goes off to the folks at the Florence County Museum, Chick-fil-A,  and the overall Florence community for realizing that nudity in the arts in no big deal. Unfortunately it is in many other cities in SC and in some you wouldn't think it would be so. I know a lot  of stories about what happens when a juror selects a work with nudity in it or an artist tries to enter a work with nudity in it. It's a point that is essential for the development of any truly creative community – nudity is and always has been a big part of the arts. Another work in the show by Cat Taylor, who teaches art at Coastal Carolina University, titled The Genesis of Jihad, has religious connotations – a hot topic in today's world.
Look folks, they're serious about the arts in the Pee Dee – much more than folks who have had an abundance of it for a long time. I say that to let you know it is worth the trip to go see some of these exhibits. You might see some kinds of art you're not going to see in your own area.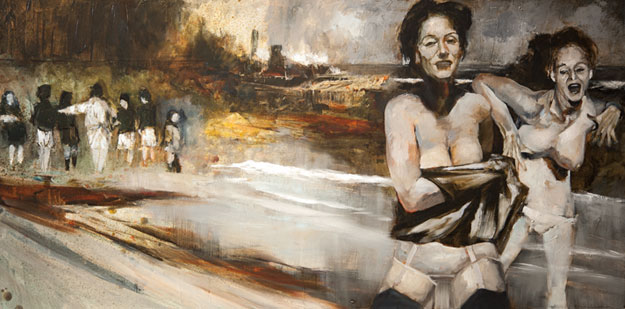 "Sirens I" by Jim Boden of Hartsville, SC, oil on canvas.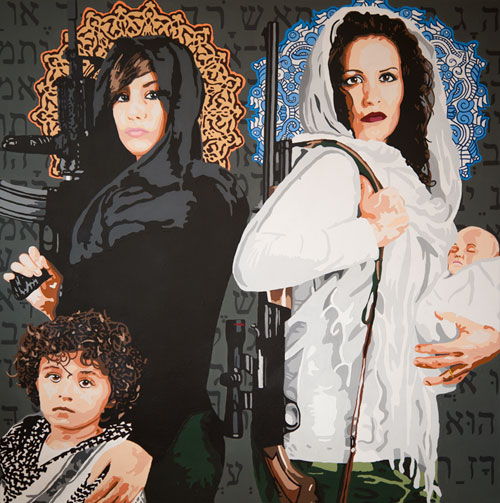 "The Genesis of Jihad" by Cat Taylor of Longs, SC, acrylic on canvas.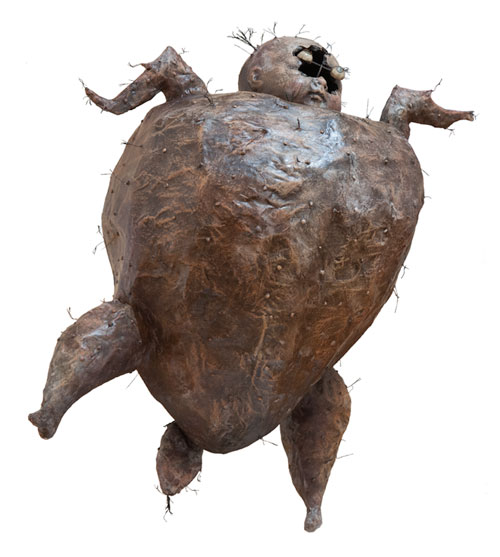 "Obeast/GMO" by Mike & Patz Fowle of Hartsville, SC, mixed media encaustic.
Before I left the Museum complex, I went over to the Main building to check on one particular artwork hanging in the Museum's lobby. And thankfully I found this sign.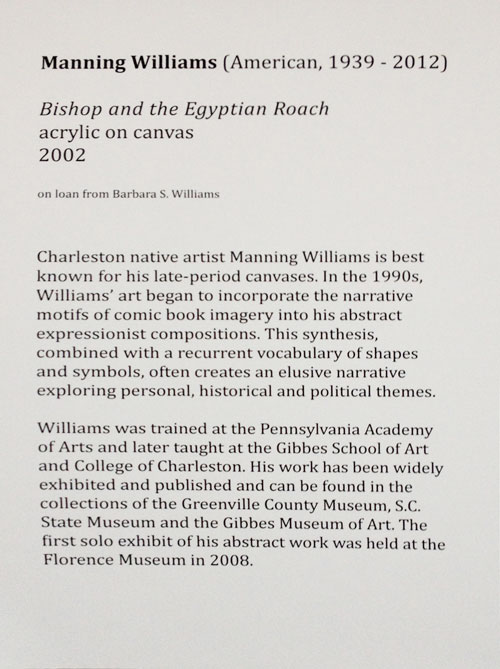 Sign identifying Manning Williams as the artist of the work hanging in the Florence County Museum lobby.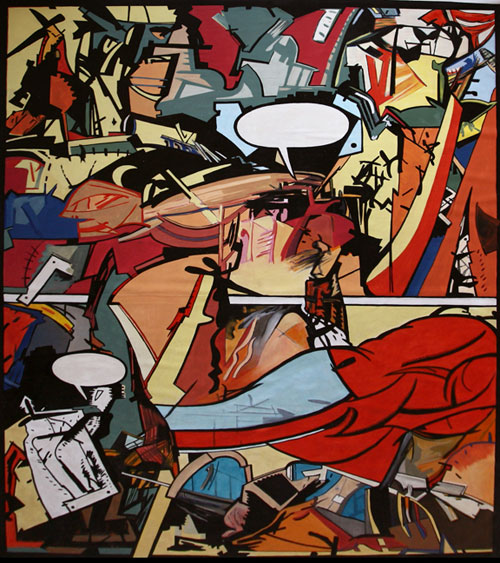 "Bishop and the Egyptian Roach" by Manning Williams of Charleston, SC, acrylic (house paint) on canvas 12' x 9'
This work of art has been hanging unidentified since the Museum opened back in Oct. 2014. I've complained about that twice in my blog and commentary and I'm very happy to report – as you can see – it is now identified. And, I've been told the other signs – or lack of signs identifying objects in the Museum and on its grounds are in the process of being made.
So, I'm happy to say that you should make a visit to the new Florence County Museum, located at 111 West Cheves Street, across the street from the Francis Marion University Performing Arts Center. They have two wonderful exhibits on view including: William H. Johnson: New Beginnings, on view through Oct. 5, 2015, which features twenty one works from the life of Florence native, William Henry Johnson (1901-1970) selected from the collections of the Smithsonian American Art Museum, the Florence Museum Board of Trustees, the Johnson Collection, and a private collector in Denmark and Selections-from-the-Wright-Collection-of-Southern-Art, on view through Jan. 1, 2016. This exhibition features thirty works from the Florence County Museum's recently acquired Wright Collection of Southern Art. At its center is work by noted artists like Thomas Hart Benton, Alfred Hutty, Helen Hyde, Florence native artist, William Henry Johnson, Alice Huger Smith, Anna Heyward Taylor, Elizabeth O'Neill Verner, Palmer Schoppe, Mary Whyte, and Stephen Scott Young.
The Florence County Museum is a nice new facility – it still has that new car smell and admission is free. I always find plenty of free parking in the area and you can check out the show at the Waters Gallery, just around the corner.
And if you are there during the lunch or dinner time, there is a strip of restaurants on S. Dargan Street, right across from the Museum which offers a nice variety including: the Thia House, The Clay Pot Coffee Shop, 1031 American Grill, The Library, Dolce Vita, and Wholly Smokin BBQ. And if you want to make it an overnight stay, don't forget that just around the corner on West Evans Street is Hotel Florence and Victor's Bistro. I've stayed at Hotel Florence, thanks to the good folks at Florence Unlocked. It's a great place to stay and there is plenty of art to see there. A new pizza shop is about to open across from the hotel. Things are opening up all the time in this new arts district.
OK I think this is a good place to stop. We have three more exhibits to talk about and a studio visit in Part II and I don't want to wear anyone out.