We received this press release at Carolina Arts about an exhibit tour of fresh works by seasoned artists representing some of the best artists in South Carolina.
Here it is:
Art Museum Offers Tour of Milestones Exhibit
Bobbie Lawson, a retired Art History professor from Coastal Carolina University, will provide a guided tour of the Milestones: Celebrating 70 and Beyond exhibit at the Franklin G. Burroughs-Simeon B. Chapin Art Museum, in Myrtle Beach, SC, at 2 p.m. Saturday, February 27. The tour is free and open to the public.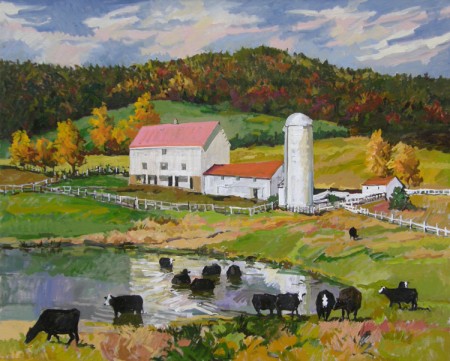 Joseph Cave, Blue Ridge Dairy Farm, 2008, oil on canvas
Milestones are those momentous occasions that mark our lives, from birth to death and all the important events in between. Milestones: Celebrating 70 and Beyond, (on view through Apr. 25, 2010) comprises 27 South Carolina artists who have reached their 70th year and are still actively creating. The exhibition, features two works by each artist completed within the last two years, includes sculptures, paintings, prints, quilts, batiks, photographs, collages and hand-carved bowls.
Come enjoy the works of the "Who's Who in South Carolina Art". This exhibition features works from, Deane Ackerman, John Acorn, Bobbi Adams, Betty Bee, Carl Blair, Ethel Brody, Carrie Burns Brown, Edward Byrd, Joseph Cave, Ray Davenport, Jeanet Dreskin, Dixie Dugan, Maxie Eades, Tom Flowers, Darell Koons, Jean McWhorter, Rose Metz, Dottie Moore, Boyd Saunders, Marlene O'Bryant-Seabrook, Laura Spong, Barbara St. Dennis, Jo Ann Taylor, Carole Tinsley, Leo Twiggs, Sam Wang and Don Zurlo.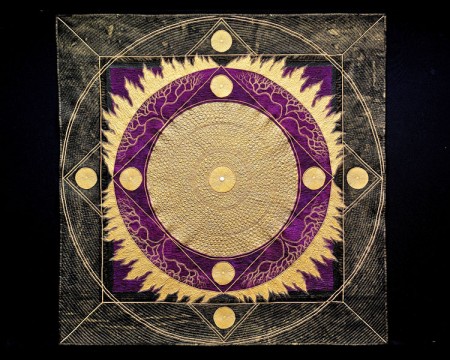 Dottie Moore, Om, 2009, art quilt-hand painted cotton fabric
The Franklin G. Burroughs-Simeon B. Chapin Art Museum is a wholly nonprofit institution located across from Springmaid Pier at 3100 South Ocean Boulevard in Myrtle Beach. Components of Museum programs are funded in part by support from the City of Myrtle Beach, the Horry County Council and the South Carolina Arts Commission, which receives support from the National Endowment for the Arts.
Regular gallery hours from 10 a.m. to 4 p.m. Tuesday through Saturday, 1 p.m. to 4 p.m. Sundays. Admission to the Museum is free at all times, but donations are welcomed.
For further information call the Museum at 843/238-2510 or visit (www.MyrtleBeachArtMuseum.org).