Once again, an exhibit in the Saul Alexander Foundation Gallery at the Main Branch of the Charleston County Public Library in downtown Charleston, SC, has caught my attention. I was delivering the Nov. 09 issue of Carolina Arts to the Library when I got the chance to see an exhibit of mixed media works by Jerry Comstock – on view through Nov. 30, 2009.
Here were works of a type that I have not often seen in Charleston. It seems the Library's exhibit selection committee has really selected a wide variety of work to be presented this year. And, this time I had my camera with me so I can show more of the work without trying to stretch my limited vocabulary in describing them. I don't speak "art speak" – good thing – it's hard enough to read it at times while editing some articles for Carolina Arts.
Comstock did not offer much info about himself as an artist – as far as the kind of info you would find on an resume. He didn't even offer any info as to where he is from, except that his phone number had an 843 area code – which could be anywhere in lower SC. And, you just can't assume he's from the Charleston area as the Library has been presenting exhibits by artists from all over South Carolina. Does it matter where he is from? I don't think so, but it's always nice to know. I could call – but he didn't offer this info and it could have been a deliberate decision on his part for some reason.
Comstock did offer an artist's statement which told about how he was creative early on as a child. And, it said that he is primarily a carpenter and cabinet builder who doesn't get much time for his creative endeavors – like those shown in the exhibit, but for most of us – anyone who can do carpentry and make cabinets (with doors that align) – is pretty creative. The works on the wall proved that too.
Like some visionary and outsider artists, Comstock uses leftover materials in making art. In this case, various sheets of wood for his canvases. He also uses other materials found in his work area like Liquid Nail – a bonding glue which Comstock uses to add texture and designs to his works. All the works in this exhibit are on a wood background, except one which is painted on glass. That work is untitled and may have been a late minute addition to fill space in the gallery.
The reason I say that is that Comstock offered some unusual tags to identify each individual work – except the one on glass. He made small glass frames with white lettering printed on the glass. They may have looked good in his studio or work area, but because of the tight lighting in the Saul Alexander Foundation Gallery, a shadow was cast along the top half of most of the frames making them hard to read. A different take on titles, but not the best for this venue.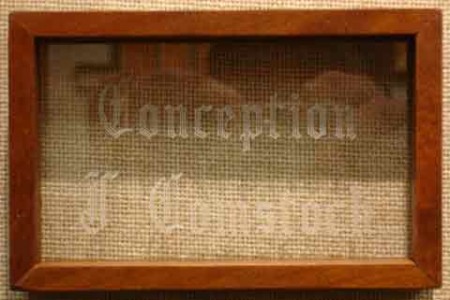 It's no big deal – just an observation. You have to give Comstock credit for trying something different and in another venue they may have worked fine. The good thing is – they didn't distract me from the main attraction, but it's worth mentioning so that artists don't go overboard in making fancy titles that could distract the eye from the artworks. It's like the problem too many artists have with putting artwork in frames that are more interesting than the artwork. And, sometimes two to three times the size of the artwork. I may be getting in trouble with some framers, but come on – it's just supposed to be a frame – not a statement of one's wealth.
What about the work?
The piece, Devil's Daydream, was the most elaborate work of the exhibit, with many things going on in the image. The work is on fiber board (compressed wood chips) which can still be seen through the layers of paint and textured designs. In some places there are layers of colored cartoons or comic strips embedded behind the designs. The two main images offered tell two different stories – in fact the helter skelter designs may indicate that the devil has dreams like the rest of us – bits and pieces of our life being linked together to tell a tale – out of time and out of place. The close-up photo gives a hint of the what is hidden, but cannot show what the human eye can see when peering close into the images details.
The work, Jacob's Ladder is also very detailed but more organized with a lot of wood grain being offered as part of the overall image. This work will keep you busy trying to figure out all the meanings behind the images and symbols offered.
This wide shot of the gallery space is the only way I could get a decent image of the work entitled, Duet. The overall size, its backwards angle and shiny surface prevented me from getting a good close-up image – believe me I tried. Here again, there are patterns and designs layered behind the surface colors and the Liquid Nail glue. The idea of two together comes across plainly, but are the two – unborn, trapped in time and space, or encased in cocoons? It's the largest work in the exhibit and you can see how it dominates the space. So, I can only assume this image has greater meaning to Comstock than perhaps the message I was receiving.
There was no price sheet offered, so I assume – like most people will, that the works are not for sale, but that could be wrong. I was there early on in this exhibit's life – perhaps more materials have shown up to provide more info.
I hope you find enough interest here to spark a trip to the main branch of the Charleston County Public Library. You should be going to a library near you on a regular basis anyway – and not just for DVD's of Star Trek or Sex in the City.