New info added at bottom 11/25/09
We have received some notices about pottery events which will be taking place in North Carolina this December. So here's a rundown of what we have received at this point.
UNC Asheville's Art Department will hold its annual holiday ceramic and art sale from 4-7pm on Friday, Dec. 4, 2009, and 10am-2pm Saturday, Dec. 5, 2009, in UNC Asheville's Tucker Cooke Gallery, located on the ground floor of Owen Hall in Asheville, NC. The sale is open to the public.
A wide variety of functional and decorative items crafted by UNC Asheville students will be on sale with prices beginning at $5. Proceeds will benefit the Art Department.
For more information, call UNC Asheville's Art Department at 828/251-6559 or visit (www.unca.edu/art).
Did you see that folks – prices starting at $5!!!
Courtney Martin and John Geci will be opening their studios in Bakersville, NC, as part of the Toe River Arts Council's TRAC Studio Tour, being held Dec. 4, 2009, from noon-4pm and Dec. 5 & 6, 2009, from 10am-5pm. Maps can be downloaded at the Tour website (www.toeriverarts.org).
The two will be offering new works in glass by John Geci and works from Courtney Martin's kiln opening. Special guest artist Zack Noble will be joining them for the Tour event.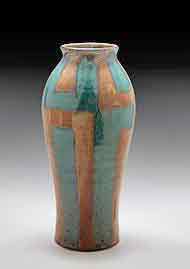 Courtney Martin
If you can't make it to the tour event, Martin and Geci will conduct an online sale on Dec. 9, 2009, beginning at 9am on Esty – for further info check back at Martin's website at (www.courtneymartinpottery.com).
For further info call 828/467-1414 or 828/467-4956.
Linda and I purchased a work from Courtney Martin at one of the fall Crafts Fairs of the Southern Highland Craft Guild in Asheville, NC. Of course that was before the economy crashed. But you don't have a struggling arts newspaper so you can buy in our place.
On Saturday, Dec. 12, 2009, Molly Lithgo and Jim Rientjes, who own and operate Earthworks Pottery Studio in Greensboro, NC, will offer their Annual Holiday Open House & Studio Show, from 9am-5pm, at 636 South Cedar St., in Greensboro. That's off the Elm Street area in Greensboro.
Both artists are passionate about working with their hands, but each present a separate vision about working with clay.
Lithgo is primarily a wheel thrower and is inspired by nature and organic form. These decorative pots easily exemplify her love of color and the drawing process. She also enjoys manipulating the wet clay by altering the pots after they are thrown.
Rientjes is primarily a handbuilder and is inspired by geometric shapes and massive form. He also enjoys surface decoration created by various texturing tools and found objects. His poured glazes interact with one another and flow together into beautiful abstract patterns.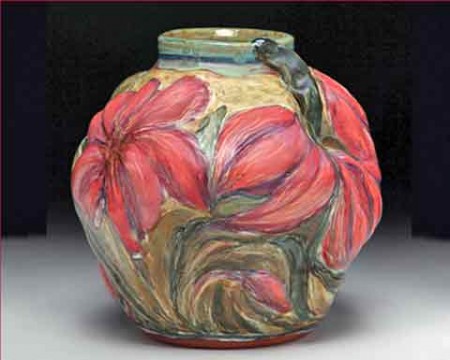 Molly Lithgo
Lithgo and Rientjes each use rich red earthenware clay to produce functional pieces for daily enjoyment. Both support and believe that choosing to use beautifully handcrafted items enriches daily life.
For further info call 336/275-1202, e-mail to (mlithgo@triad.rr.com) or visit (www.mollylithgo.com).
I know this stuff as I took it right off their website.
New – added 11/25//09
In association with The Artery, the new UNC-Chapel Hill student art gallery, the UNC-Chapel Hill Art Department will present the Third Annual Student Holiday Print & Art Sale – one day only, Friday, Dec. 11, 2009, from 9am to 9:30pm.
Here is your opportunity to purchase original student artworks at very reasonable prices. You will find great art gifts for the Holidays including etchings, ceramics, screenprints, photographs, drawings, digital works, and paintings.
Come visit our new gallery space at 137 East Rosemary Street in Chapel Hill, NC (or just follow the signs through the Bank of America building atrium) and see what UNC's best young artists have been up to.
For further info contact: Mike Sonnichsen, Lecturer, Print & Photo Labs Coordinator
UNC Department of Art by e-mail at (msonic@unc.edu) or check (http://thestudentartery.blogspot.com/).
So there you go some info about upcoming pottery events in North Carolina.