One of the many plans we had for the big Memorial Day weekend was to make a trip to Seagrove, NC, to attend the Cousins in Clay event at Bulldog Pottery and a spring kiln opening at Whynot Pottery – both taking place on Saturday, May 26, 2012.
For a couple of weeks before that Saturday, I was sharing posts made by Bulldog Pottery and Whynot Pottery on Facebook so that others would know about these two events taking place in Seagrove. I kept injecting into the conversation a question as to whether their would be cookies at Whynot Pottery's kiln opening – as a joke. Cookies are a big part of an event Whynot has earlier in the Spring, but they were not advertised as a part of this kiln opening.
I like to banter back and forth with the folks in Seagrove about different subjects just to make our Facebook and blog postings a little more interesting. Sometimes it's about cookies – sometimes it's about Michigan vs. Virginia Tech football.
Linda and I went to the Cousins in Clay event first as it is the first location we come to once we arrive in the area, but I want to talk about what happened at Whynot first.
When we arrived at Whynot Pottery, Meredith and Mark Heywood came out to greet us as we got out of our car and Meredith invited us inside for a slice of cake, I thought I heard her say pineapple upside-down cake, I said sure, but insisted that we came to see fresh pottery – right out of the kiln. Within 2 seconds of entering their showroom/gallery I found a plate of cookies and had one in my mouth.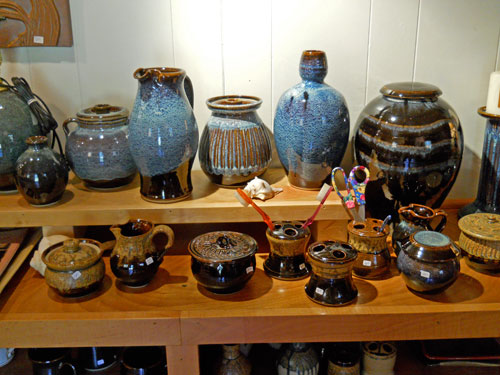 You see the joke there was – way back – sometime after we first met in person, pineapple upside-down cake made its way into a conversation and I told Meredith that was my mother's specialty and one of my favorite foods – which I haven't had in years. She told me if I gave her a heads up before I was coming to Seagrove she would make me one. Well, it was several years later now and I had never made the request. It always seemed like I was going there at the last minute and to an occasion where they would be too busy to be making cake for me. So when I heard it mentioned – I just took it as more banter about my begging for cookies.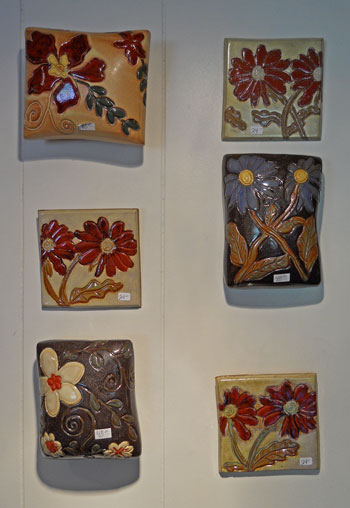 After that first cookie I started taking some pictures, but soon realized she wasn't kidding around. She had a fresh pineapple upside-down cake waiting.
You ever have an experience where lightening flashes in your brain and when the clap of thunder comes you forget everything before that time? I really planned to get some pictures of Whynot pottery and the surroundings for future blog postings, but when I got home and downloaded my camera – I had three images from Whynot – and they were not what they should have been. That was a darn shame, but the important thing to me was I got some pineapple upside-down cake and a flood of memories of my mother that afternoon.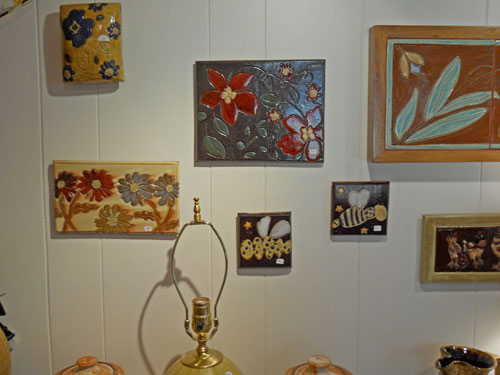 Looking back, this was a real bummer. I totally blew my mission and let them down – as far as having more images to use, but I assured Meredith that I would pay them back ten fold in any way I could. These are the same folks who sent me fruitcake during the last Christmas holiday when I was jonesin' for fruitcake. And, it was super-fruitcake – much better than I ever had (Southern Supreme from Bear Creek, NC – (www.southernsupreme.com). They didn't do it because they knew they would get anything out of it – they're just good folks.
And, when you buy art, you want to buy quality art, but don't you also want to buy art from good people? That's one of the reasons I keep going back to Seagrove. It's not only about the great pottery being produced there it's about the great people we've met there too. Seagrove doesn't have a lock on that in the Carolinas, we know great people all over the Carolinas, but it is a special place.
The pineapple upside-down cake was really good too. A little different than the way my mother made it, but then what isn't. Most of the time your mother's food is the best or at least that's the way you remember it. This was southern style and of course my family is from the mid-west.
I hate that most of this posting about Whynot is about cookies and cake, but I didn't plan on either of these items getting in the way of our plans. But, as you'll read a little further on down – food can be a distraction for me.
So while other people were coming and going at Whynot Pottery and buying pottery – we were off eating cake. I'd be ashamed, but it was so long since I had some and so good. Man can not live on art alone.
Believe me, they have some great pottery at Whynot, check their website and blog – then go there and buy some. I make no promise of cookies or cake, but you will meet some good folks.
You can check out the Whynot Pottery's blog at (http://whynotpotteryblog.blogspot.com/) or visit (www.whynotpottery.com).
I'll refer you back to a blog posting I made before going to Seagrove to show I'm not always distracted. Click this link (http://carolinaarts.com/wordpress/2012/05/20/making-plans-for-a-big-weekend-next-weekend-may-25-27-2012/) to see what our plans were.
So, at the Cousins in Clay event at Bulldog Pottery it was a different set up this year in case of possible bad weather, but it was a beautiful day in Seagrove. The event was taking place in the breezeway between their industrial looking home and studio. I don't have a picture, but you have to see it to know what I'm talking about.
On hand were pottery displays by Bruce Gholson and Samantha Henneke, of Bulldog Pottery, joined by their mountain "clay cousin" Michael Kline of Bakersville, NC, and two special guest potters, Ron Meyers, an icon of American ceramics from Athens, GA, and Judith Duff, a full-time studio potter from Brevard, NC. We have pictures!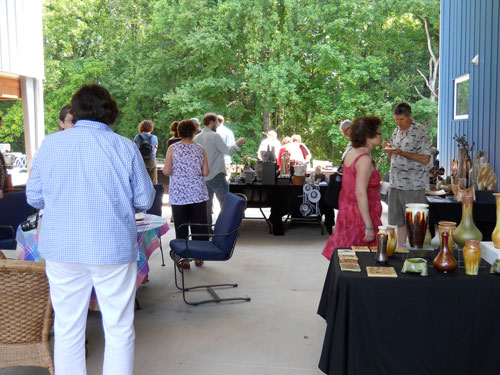 Several other area and regional potters were on hand and from pictures I saw later on Facebook and blogs – many Seagrove potters came to see the pottery and talk with the potters. Potters are great fans of other potters.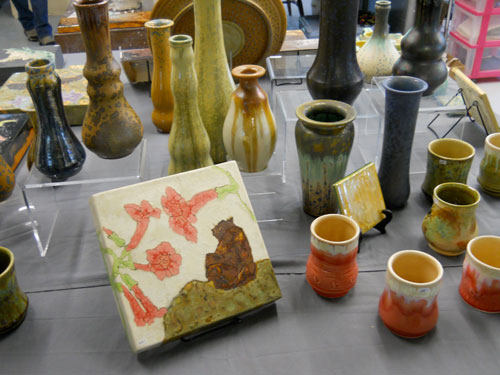 Works from Bulldog Pottery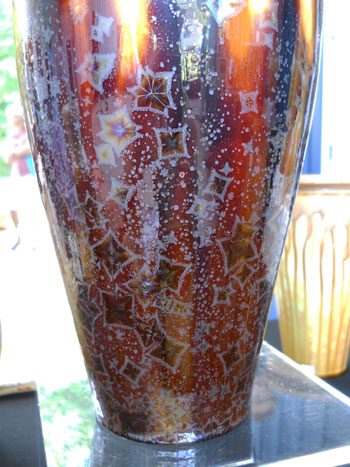 A close up of some of the crystalline glaze on one of Bulldog's pieces. (I hope I have that right) Anyway it's pretty amazing.
Linda and I spent a lot of time "looking" at pottery before we got into any conversations. Like many of our visits to Seagrove of late, or anywhere else, we spent thousands of dollars with our eyes wishing we could have known we would win the lottery that evening so we would be taking lots of pottery home with us, but even though we had lottery tickets for that Saturday's drawing – we were stuck in "looking" mode. And, as it turned out – neither of our tickets had one number selected that evening – which is usually the case when we buy a chance at wealth.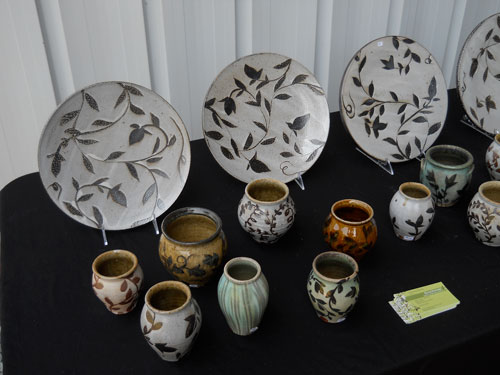 Works by Michael Kline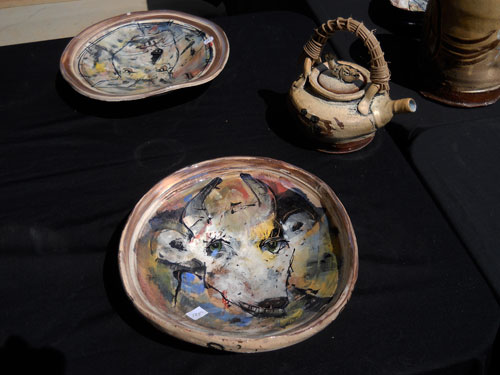 Works by Ron Meyers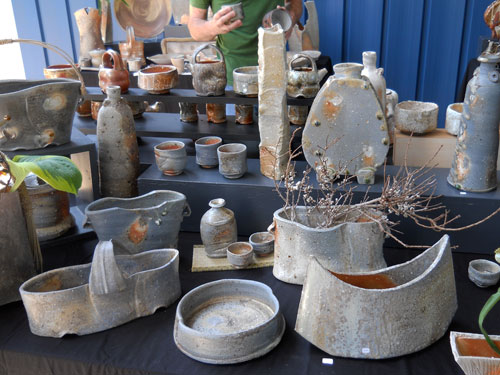 Works by Judith Duff
To ease my pain I turned to conversation, something that springs freely from me and is always rewarding – when I let others speak. I also concentrated on taking photos. And over time, I've learned that there is some pleasure in looking at great works of art and there was plenty to see on this day.
At one point I was in deep conversation about the NC Pottery Center (www.ncpotterycenter.org) in Seagrove with Michael Kline and Ed Henneke, both on the Board of the Pottery Center when Linda appeared in the corner of my eye with a plate of amazing looking food.
It turned out that Chronis Pou Vasiliou's wife, Mary Jane (Bruce Gholson's sister) from Greensboro, NC, was providing a feast for the guests. Vasiliou was providing Greek music for the event. I guess it helps to have talented relatives close by, but then a lot of folks in Seagrove seem to also be gifted musicians and gifted with food too.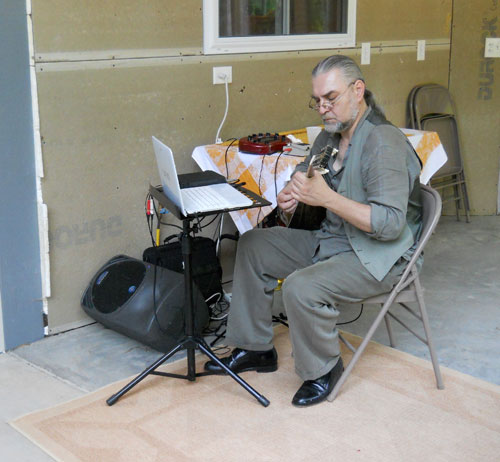 Chronis Pou Vasiliou
So are you getting a picture of our day? A nice drive to Seagrove (3 1/2 to 4 hours), great weather (not hot), great pottery, great conversation, great folks, and to top it off, great food and pineapple upside-down cake! After all, it was our anniversary and my birthday weekend.
By the way, we got gas for $3.15 a gallon in Cheraw, SC, within 20 miles of the NC border. Sorry NC, we need all the help we can get. It's probably even lower now.
Some folks back in the Charleston, SC, area asked me earlier in the week and some later that weekend – "so let me get this straight, the Spoleto Festival begins on Friday in Charleston and you're planning a day trip to Seagrove, NC?". I said, "Yes and had a great time – always do. You should go there sometime and check it out". And, many of them think it must be something special as it keeps drawing my attention from what they keep reading on this blog.
I told Meredith Heywood back at Whynot Pottery that sometime I might have to check into renting a bus from Charleston and making a magical mystery tour to Seagrove to get some people to come there.
And I'm telling you – you should go there. Seagrove is open for visitors and business – most of the time, but make plans. Your plans may turn out differently, but sometimes you'll get rewards you didn't plan on getting.
The next Cousins in Clay event takes place on Aug. 25 & 26, 2012. Michael Kline hosts potters Mark Shapiro, Sam Taylor, Bruce Gholson and Samantha Henneke, at Michael Kline's Pottery (http://www.klinepottery.com/) in Bakersville, NC. For further info visit (www.cousinsinclay.com).
You can keep up with Bulldog Pottery at their blog, Around and About with Bulldog Pottery at (www.bulldogpottery.blogspot.com).
And, what about Mad Max the Wonder Dog? At some point I saw a flash of something dark and red out of the corner of my eye up on the skywalk between the two buildings at Bulldog Pottery, but no close encounters this time.
To learn more about Seagrove's pottery community visit the Seagrove Area Potters Association's website at (http://www.discoverseagrove.com/).