Betsey Carter of Cone 10 Studios, located at 1080-B Morrison Drive in Charleston, SC, (in the heart of NoMo) writes that the group has finished scraping, painting, hammering, and sawing. The wheels are turning, the kilns are firing, and the gallery is stocked with fresh new work. They're ready to show off the fabulous new studio and gallery. So mark your calendars for Saturday, Dec. 4, 2010, from 5-9pm as a reminder to attend their Winter Wonderland Welcoming.
Cone 10 Studios & Gallery moved from Meeting Street over the summer to Morrison Street, which I'm told is the up and coming NoMo area of Charleston – North Morrison Street. At least that's the hope as the developed area of Charleston moves into that "in-between" area known as the "neck" between North Charleston and Charleston. Out with the old industries of Charleston – In with the new residential and shopping districts. And, artist's studios, art galleries, and artist's colonies.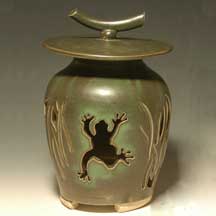 Work by Anne John

Work by Betsey Carter
Cone 10 Studios is a working studio and gallery of potters and sculptors featuring affordable and distinctive handcrafted pottery, sculpture, jewelry, handmade paper, and paintings. The gallery presents member and invitational exhibitions and the studio offers classes in wheelthrowing and clay sculpture as well as studio memberships to advanced ceramicists. Visitors are welcome to tour the studio.
Founded in 2000 by Susan Filley as Clay Works, the community gallery and work space has been home to hobbyists and professionals, those practicing forms and those nationally collected. It is a schoolhouse blend for the sharing of ideas and techniques and provides the ability for clay artists to combine the financial and physical responsibilities of firing in a gas reduction kiln. Cone 10 Studio offers memberships for studio space, classes in wheelthrowing and clay sculpture as well as exhibition events.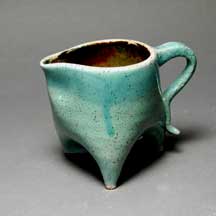 Work by Sally Burrell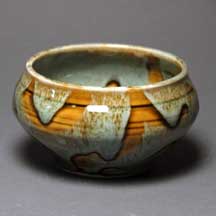 Work by Susan Gregory
Artists with works featured at this event and on a regular basis include: Betsey Carter, Caroline Cercone, Fiorenzo Berardozzi, Susan Gregory, Anne John, Bev Ballow, Barbara Bergwerf, Arthur McDonald, Edwina Powell, Juliann Bannon, Pana Wilder, Sally Burrell and others.
For further information call 843/853-3345, e-mail at (info@cone10studios.com) or visit (www.cone10studios.com).