The June 2012 issue of Carolina Arts is up on our website at (www.carolinaarts.com) – all 67 pages of it. We had an amazing month during May with over 121,734 downloads. That's more than 9,000 more from April. It proves that size matters for the moment – our largest issue brings in the largest amount of downloads, but we'll see if that's true next month.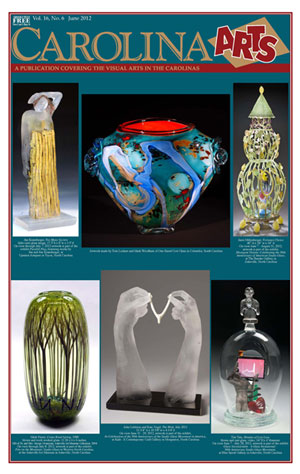 We ask that you help us bring the news about the Carolina visual art community to others by spreading the link for the download around to your e-mail lists and posting it on your Facebook page. Once people see all that is going on in the visual art community they will spread it around to their lists and on their Facebook pages.
The link is: (http://www.carolinaarts.com/612/612carolinaarts.pdf).
If you would like to get direct notice that our latest issue is ready to be downloaded you can send us an e-mail to (info@carolinaarts.com) to be placed on our mailing list.
So download that PDF and dig in – it's going to take a while to get through this issue. And, don't forget to find a way to thank our advertisers – they make the paper possible.
Thanks – Tom and Linda Starland
Carolina Arts
843-825-3408
info@carolinaarts.com