Some of these came in late – after our Jan. 24 deadline and a few came from folks just discovering us. Some think we should just add them to the paper – after all it's not printed – it's electronic, but I say no. That's what deadlines are for and I don't want several editions of the paper out there and people hearing about items they missed after they first viewed the paper. And, we might not always give these late articles a second life atCarolina Arts Unleashed. So people need to make that deadline.
If you haven't seen our Feb. 2011 edition of Carolina Arts, you can find it at this link (Warning – this download can take several minutes) (http://www.carolinaarts.com/211/211carolinaarts.pdf).
Coker College in Hartsville, SC, Features Works by Koichi Yamamoto
An exhibition of prints by Koichi Yamamoto, an assistant professor at the University of Tennessee School of Art, is on view through Feb. 25, 2011, in the Cecelia Coker Bell Gallery located in the Gladys C. Fort Art Building in Hartsville, SC.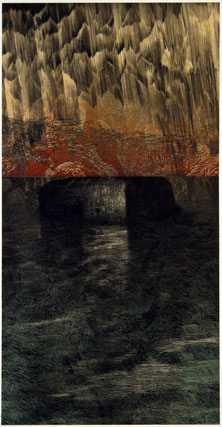 Tochika Ni, by Koichi Yamamoto, a 12″ x 24″ intaglio print
Yamamoto's show, 00 To 10, includes a selection of intaglio prints (a printing process wherein an image is engraved or acid etched into a metal plate, inked then printed) and prints made with a monotype process, a procedure that yields only a single impression from each plate.
Merging traditional and contemporary approaches to printmaking, Yamamoto has worked with meticulous metal engravings, large-scale relief and intaglio prints. His current work is in large-scale monotypes and exemplifies a contemporary, international aesthetic developed from his upbringing in Japan and his education in Europe and North America. His prints explore issues of the sublime, memory, atmosphere, light and history through various representations of landscape.
"Surface only provides a record from recent events," Yamamoto said. "Making critical judgments requires an understanding of what lies underneath. Addressing the landscape as subject, my work attempts to describe cross sections of history. I seek to slow down and take time for a deep level of investigation."
Yamamoto is a graduate of the University of Alberta and Pacific Northwest College of Art. He has also studied at the Bratislava Academy of Art and the Poznan Academy of Art. His work has been included in a number of recent juried print competitions including the Boston Printmakers, the 7th Bharat Bhavan International Biennial Print Art in India and the Lujubljana International Printmaking Exhibition in Slovania. Yamamoto's prints are in the collections of University of Hawaii at Hilo, the Vivian and Gordon Gilkey Graphic Center in the Portland Art Museum and the University of Alberta Museum and Collection.
The Cecelia Coker Bell Gallery is located in the Gladys C. Fort Art Building on the Coker College campus. Gallery hours are from 10am to 4pm, Monday through Friday, while classes are in session.
Coker College upholds and defends the intellectual and artistic freedom of its faculty and students as they study and create art through which they explore the full spectrum of human experience. The college considers such pursuits central to the spirit of inquiry and thoughtful discussion, which are at the heart of a liberal arts education.
For more information, contact Barb Steadman by calling 843/857-4199.
UNC Asheville in Asheville, NC, Features Laura Hope-Gill's Poetry and Photographs by John Fletcher Jr.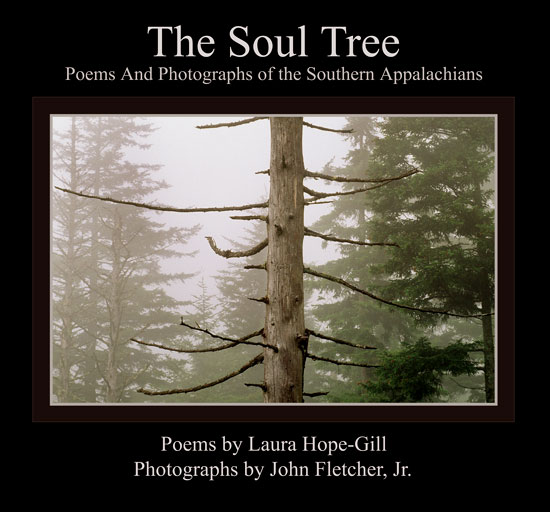 UNC Asheville's Ramsey Library will present the collaborative work of poet Laura Hope-Gill and photographer John Fletcher Jr., on view in Ramsey Library's Blowers Gallery from Feb.  1- 28, 2011. Hope-Gill and Fletcher will also present a slideshow and poetry reading at 12:30pm, Tuesday, Feb. 8, 2011, in the library's Whitman Room.
Hope-Gill and Fletcher's book, The Soul Tree, features photographs of uniquely beautiful southern Appalachian landscapes accompanied by lyric poems, which illuminate themes of vision, faith, healing and the sacredness of nature. The Blowers Gallery exhibit will feature some of the images and poems from the book as well as more recent work inspired byThe Soul Tree.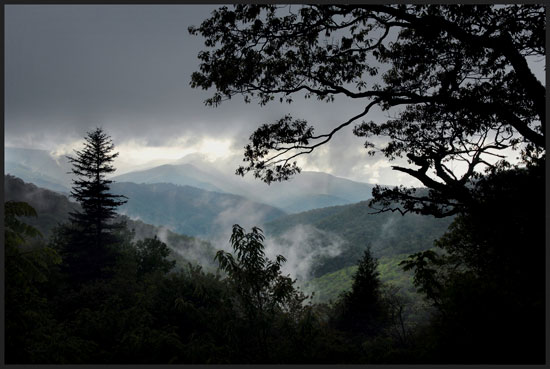 The exhibit and the slideshow/poetry reading are free and open to the public.
Hope-Gill is the Poet Laureate of the Blue Ridge Parkway and a recipient of a North Carolina Arts Council fellowship. She is also the founder and director of WordFest Poetry Festival in Asheville, and an instructor in UNC Asheville's Great Smokies Writing Program. Fletcher is a photographer for the Asheville Citizen-Times. His 20-year career has included clients such asUSA Today, The Associated Press, The Washington Post, and The New York Times.
The gallery is free and open to the public daily and most evenings.
For more information, call 828/251-6336 or visit (http://bullpup.lib.unca.edu/library/exhibits/blowers/exhibits.html).
Greenville Technical College in Taylors, SC, Features Works by Faculty of SC Governor's School
The Department of Visual and Performing Arts at the Greer campus of Greenville Technical College in Taylors, SC, is presenting an exhibit of works by members of the South Carolina Governor's School of the Arts and Humanities, on view through Feb. 18, 2011.
Impressive for its scope, the show includes works by photographer Carlyn Tucker, sculptor Joseph Thompson, painter Paul Yanko, ceramists Alice Ballard and Sharon Campbell, printer Katya Cohen, metals artist Ben Gilliam, and graphic designer Neil Summerour. We are pleased to showcase the creative excellence that exemplifies the commitment of arts faculty at this unique Upstate program.
For further information check our SC Institutional Gallery listings call Lisa Smith at 864/848-2044 or e-mail to (lisa.smith@gvltec.edu).
Mesh Gallery in Morganton, NC, Features An Exhibit of Iron Works
Mesh Gallery in Morganton, NC, will present an exhibition showcasing the work of Oak Hill Iron that includes both fine art and utilitarian wares titledIronology. The exhibit will be on view from Feb. 14 through Apr. 8, 2011, with a reception taking place on Friday, Feb. 18, 2011, from 6-9pm.
Oak Hill Iron was born out of necessity and driven by true talent and sheer determination to create beautiful products. Founded over a decade ago by Dean Curfman, Oak Hill Iron produces custom ironwork that meets the needs of countless utilitarian applications as well producing works of fine art that are at home in a gallery space. Both high art and craft are integral parts of a healthy arts community and with this exhibition Oak Hill Iron will demonstrate it's ability to wear both those hats.
Oak Hill Iron is staffed by a team of highly trained artistic craftsmen and offers a wide selection of ironwork for both residential and commercial projects. There is no job that is considered too big or too small.
As always events at MESH Gallery are free and open to the public. Appetizers (hors d'oeuvres) for this event will be provided by Mountain Burrito of Morganton. Wine will be served by Sour Grapes Wine Distribution.
There will be a free concert starting at 8pm on Feb. 18, during the reception with a performance from Pimalia recording artists Moolah Temple $tringband hailing from Jackson County, NC. The duo of Johnny Favorite & Eden Moor co-pilot their goat-drawn deathcart, trailing the detritus of Old Time, Musique Concrète, Honky Tonk, IDM, Minstrelsy, songs of wounded affection, cautionary tales for our age, and the aesthetics of the Fraternal, Temperance, and Evangelical Movements. Moolah Temple $tringband rarely makes public appearances, but the duo is pleased to be invited by MESH. One clown is merely a clown, but two clowns make a circus.
Mesh Gallery is located at 114-B West Union Street, Morganton, NC.
For further information call 828/437-1957 or e-mail to (eliot@meshgallery.com).
Charleston County Public Library in Charleston, SC, Features Works by Cheryl Baskins Butler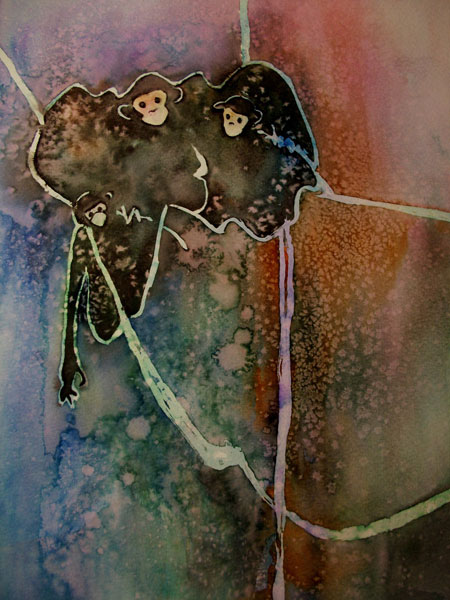 The Charleston County Public Library in Charleston, SC, will present the exhibit, A Day at the Zoo: Impressions of Riverbanks, featuring works by Cheryl Baskins Butler, on view in the Saul Alexander Foundation Gallery, located in the Main Branch of the CCPL system in downtown Charleston, SC, from Feb. 1 – 28, 2011.
Butler began her sketch "safaris" at the Riverbanks Zoo in Columbia, SC, when it first opened in the mid 70's. Throughout the ensuing years, she has returned regularly to observe, sketch, paint and spend personal time with the Riverbanks residents. A Day at the Zoo: Impressions of Riverbanks is a compilation of paintings, collages and site sketches from her visits.
The Main Library is located at 68 Calhoun Street in downtown Charleston.
For further information call Frances Richardson at 843/805-6803 or visit (www.ccpl.org).