We just received this today – a little late for our Oct. issue, but an important event that readers should know about. The PR for such events should be handled better, but such is life in the art world – art first – worry about publicity later.
Here's the press release:
if ART Gallery Presents The International (Mural) Project at Gallery 80808 in Vista Studios, located at 808 Lady Street in the Vista area of Columbia, SC, from Oct. 5 – 16, 2012.
The group exhibition and mural project features works by: Roland Albert, Stephen Chesley, Jeff Donovan, Ralph Gelbert, Mary Gilkerson, Tonya Gregg, Klaus Hartmann, Jorg Heieck, Peter Lenzo, Reiner Mahrlein, Janet Orselli, Anna Redwine, Silvia Rudolf, Laura Spong, H. Brown Thornton, Mike Williams, and David Yaghjian.
An artists' reception will be held on Friday, Oct. 5, 2012, from 5- 9pm.
A panel discussion about the Columbia/Kaiserslautern Artists Exchange will be offered on Sunday, Oct. 7, beginning at 2pm.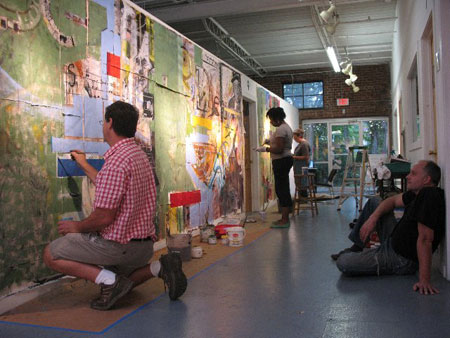 Sunday, September 30, afternoon: Kaiserslautern artist Klaus Hartmann contemplating his next move as his Columbia colleagues Mike Williams, Tonya Gregg and Mary Gilkerson work on the mural.
For more than a decade, Columbia, SC, artists and those of the Kunstlerwerkgemeinschaft (KWG) in Columbia's German sister city of Kaiserslautern have been going back and forth across the Atlantic Ocean. Columbians Mike Williams, Stephen Chesley, Jeff Donovan, David Yaghjian, Tonya Gregg, Laura Spong and others went to Kaiserslautern to work and exhibit. KWG members Roland Albert, Ralph Gelbert, Klaus Hartmann, Reiner Mahrlein and Silvia Rudolf came to Columbia, and their work graces the walls and backyards of many a local home.
The informal artists exchange's next installment is Columbia/Kaiserslautern: The International (Mural) Project, an if ART Gallery exhibition at Gallery 80808/Vista Studios, Columbia, SC. Seventeen artists – six German, nine from Columbia and two formerly of Columbia – will participate in the event, which will consist, first, of the creation of a collective mural and, second, the exhibition.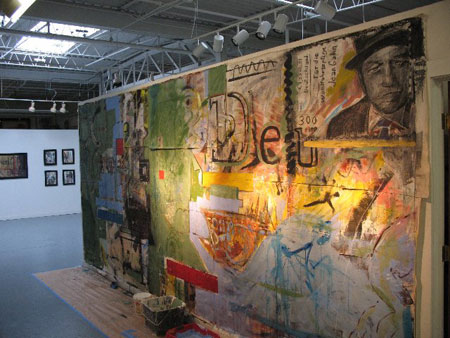 Monday October 1, 2012, morning: Detail of the mural in progress.
Two Kaiserslautern and nine Columbia artists collectively will create a mural at Vista Studios between Sept. 29 – Oct. 5. The mural will be on a patchwork of canvas pieces mounted to a wall as one single work of art. The German mural participants are Klaus Hartmann and Silvia Rudolf; the Columbia artists will be Stephen Chesley, Jeff Donovan, Mary Gilkerson, Tonya Gregg, Peter Lenzo, Anna Redwine, Laura Spong, Mike Williams and David Yaghjian. The mural will be the centerpiece of the Columbia / Kaiserslautern exhibition.
"It'll be interesting to see how the mural turns out," said if ART owner Wim Roefs, who is organizing the event. "These are artists with often rather different approaches and styles. On the other hand, they all have great affinity for each other's work and all are talented and assured in their own abilities, so I suspect they will work to compliment each others' contributions rather than artistically fight each other. I wouldn't be surprised we if we were to end up with a work of art in which the various styles are beautifully integrated."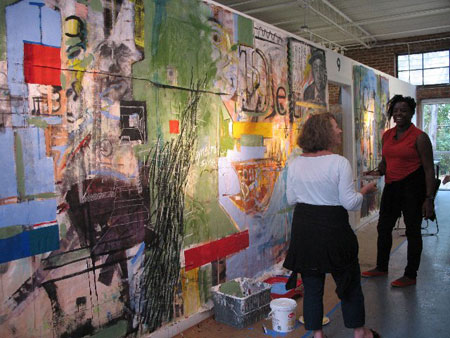 October 1, 2012, Monday afternoon: Kaiserslautern artist Silvia Rudolf and Columbia's Tonya Gregg in front of the mural.
All mural artists also will be showing individual works in the exhibition, which will run Oct. 5 – 16, 2012. Others participating in the exhibition are Kaiserslautern artists Roland Albert, Ralph Gelbert, Reiner Mahrlein and Jorg Heieck; Aiken, SC, artist H. Brown Thornton; and Columbus, NC, artist Janet Orselli, who is a Columbia native.
On Sunday, Oct. 7, starting at 2pm, during a panel discussion, participants in the Columbia-Kaiserslautern exchange will talk about their experiences. "Columbia artists typically come back highly energized from their trips to Kaiserslautern," said Roefs, who has visited Kaiserslautern several times. "The KWG, which has it's own collective studio, is a vibrant group of artists that also includes literary and performing artists. It's a membership-by-invitation-only club and its members are highly respected, serious artists who have organizational talents to boot. It's an inspiring combination."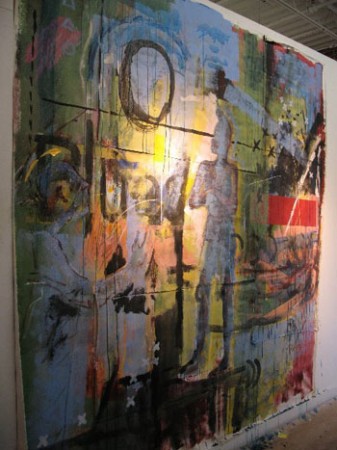 Monday afternoon, October 1, 2012: Detail of the mural in progress.
The collective mural will be shipped to Kaiserslautern after the exhibition. In Kaiserslautern, the mural first will be exhibited in its original form. Next, KWG members will add to the mural, exhibit the new version and then ship it back to Columbia.
"It should be good week," Roefs said of Hartmann's and Rudolf's visit. "Silvia and Klaus will be working here alongside their Columbia colleagues. Artists will be going in an out of Vista Studios, working on the mural, exchanging ideas, drinking coffee. We'll have a series of luncheons and dinners, and I am sure everyone will come out of the week energized."
You can see more images here (http://ifartgallery.blogspot.com/2011/12/columbiakaiserslautern-mural-project.html).
Gallery hours during this event at Gallery 80808 will be: Weekdays, 11am-7pm; Sat., 11am-5pm; Sun., 1-5pm; and by appointment.
For further information contact Wim Roefs at if ART by calling 803/238-2351 or e-mail to (wroefs@sc.rr.com).