Starting this Thursday evening with Columbia, SC's 25th Annual Vista Lights celebration and ending with Seagrove, NC's 3rd Annual Celebration of Seagrove Potters – this week offers some great visual art events – for both viewing and buying. Make your plans now.
Columbia, SC's 25th Annual Vista Lights celebration, sponsored by the Vista Guild, will take place on Thursday, Nov. 18, 2010, from 5-10pm in Columbia's Congaree Vista area along the Congaree River. Click on the name of the event to read an article from Carolina Arts newspaper).
Some of the highlights include:
Fabric artist Susan Lenz will be collecting socks for her art project called, Looking For a Mate, a community based art quilt. The public is invited to bring their "mate less" socks to River Runner, at 905 Gervais Street, as donations to the project. Lenz will be hand stitching these "found objects" onto recycled acrylic felt in order to create a unique art quilt. The felt was formerly packaging material for canoes and kayaks being shipped by distributors to retail shops like River Runner. If you bring a sock – children or adult; serious or comic – you may discover it in the final quilt, which will be unveiled at Artista Vista in Apr. 2011. Here's a link to a blog entry I wrote about this project.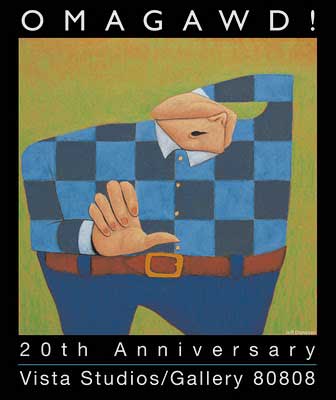 Poster image by Jeff Donovan
Vista Studios, one of the first art venues to locate in Columbia's Vista area is celebrating its 20th anniversary this year with a special 20th Anniversary Show which will be on display from Nov. 16-30, 2010. The show will open on Nov. 18 in connection with this year's Vista Lightscelebration. At Vista Studios, more than 30 artists (current and past members) will be exhibiting paintings, drawings, mixed media, and sculpture in Gallery 80808. For further info call the gallery at 803/252-6143 or visit (www.vistastudios80808.com). Here's a link to a blog entry I wrote about this exhibit.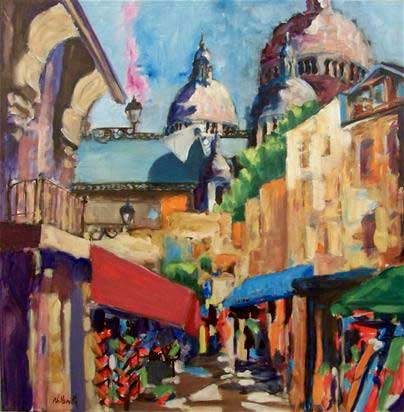 Work by Bruce Nellsmith
Homeland, a collection of new paintings by Bruce Nellsmith, is another highlight of the Vista Lights celebration in the main gallery at City Art Gallery. This exhibition will be on view from Nov. 18 through Dec. 30, 2010. Various other types of art including textiles and jewelry will be featured at City Art Gallery during the celebration. For further info contact Wendyth Wells at 803/252-3613 or visit (www.cityartonline.com). Here's a link to an article we presented in Carolina Arts. A collection of handmade jewelry by Cindy Saad will also be featured during the Vista Lightscelebration.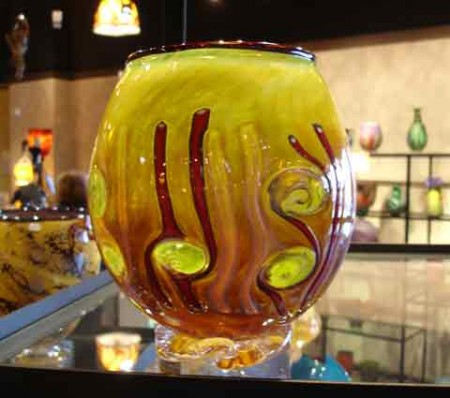 And, no Vista event is complete without stopping by One Eared Cow Glasswhere Tommy Lockart, Mark Woodham, and their assistant, Ryan Crabtree will be doing the dance of glass blowing for everyone to see. They'll have plenty of wonderful glass objects – just right for holiday gift giving and some pretty spectacular fine art objects for collectors. Here's a link to a blog entry I've done in the past showing you just a peek at what you'll be able to witness during Vista Lights.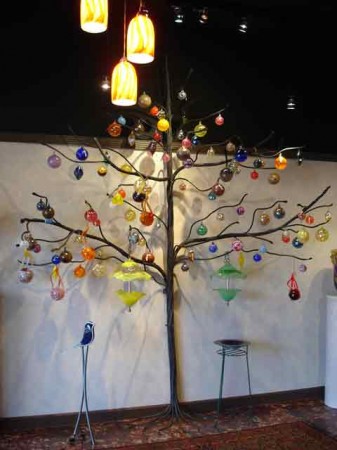 To learn more about the Vista Guild, call 803/269-5946, e-mail to (staff@vistacolumbia.com) or visit (www.vistacolumbia.com).
The 3rd Annual Celebration of Seagrove Potters will open on Friday evening, Nov. 19, 2010, at 6pm with a Gala Preview Party at the historic Luck's Cannery in Seagrove, NC. Meet the artists and enjoy the opening night festivities of this fabulous event as visitors have the first opportunity to browse and purchase from the thousands of pieces, sip a favorite beverage and enjoy hors d'oeuvres, while listening to the jazz band of Joe Robinson. In addition, attendees will have the opportunity to preview a select collection of unique collaborative pieces to be auctioned. This highly successful venture, teaming Seagrove artists, to produce highly collectable one-of-a-kind pieces was very popular in prior years. This artwork will be auctioned at 8pm on Friday evening.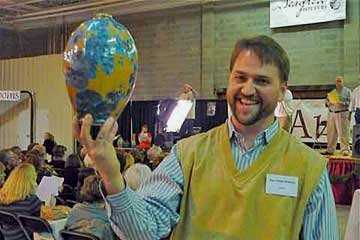 Ben Owen III holds a pot created by himself and Will McCanless
Tickets are limited and must be purchased in advance. They may be purchased on-line at (www.CelebrationOfSeagrovePotters.com). Gala ticket price includes admission to the event on Saturday and Sunday as well. Here's a link to an article we offered in Carolina Arts newspaper.
Saturday, Nov. 20, 2010, the show is open from 9am to 6pm and from 10am to 4pm on Sunday, Nov. 21, 2010. For further information visit their website at (www.celebrationofseagrovepotters.com).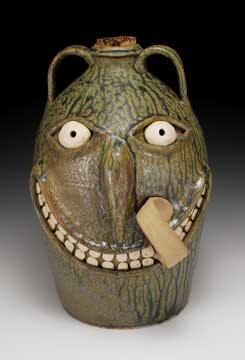 Jug made by Sid & Matt Luck
But here's a link to a blog entry we posted at Carolina Arts Unleashed.
And, finally, this is the last weekend to see the South Carolina Watermedia Society's 33rd Annual Exhibition, on view at the Center for the Arts in Rock Hill, SC, through Nov. 21, 2010. Here's an article we offered at Carolina Arts newspaper (http://www.carolinaarts.com/1110centerforthearts.html) and a link to a blog entry we posted on this exhibit, with more images.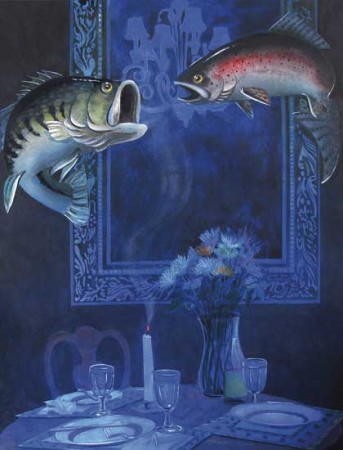 Work by Steve Garner
The gallery at the Center for the Arts is open Fridays, 9am-5pm; Saturdays, 10am-2pm; and Sundays, 2-4pm. For further info call 803/328-2787 or visit (www.rockhillarts.org).
There, that's three good possibilities to fill your weekend.