Both the Spoleto and Piccolo Spoleto Festivals are over, but as usual with the art community, while most of the performing arts groups have packed up their seasonal offerings – the visual arts are still here and you can still see both of these exhibits I'll be talking about.
While the festivals were still going on I found a nice parking space very close to the front door of the Marion and Wayland H. Cato Jr. Center for the Arts at the College of Charleston School of the Arts in downtown Charleston. Lucky me! I wanted to see what Mark Sloan, curator at the Halsey Institute of Contemporary Art was offering festival viewers this year. It's always something funky and very interesting. I liked what I had already seen of publicity images.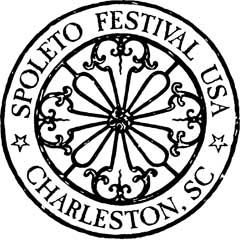 This year it was the exhibit, Call and Response: African to America/The Art of Nick Cave and Phyllis Galembo, on view through July 16, 2010. Sloan's exhibitions are so popular that both Spoleto and Piccolo were claiming it as one of their offerings, but I think Spoleto would win that tug of war.
(We just received new info this afternoon. Mark Sloan has told me that they changed the ending date of this exhibit to June 26, 2010. That's unfortunate for us and a lot of folks who won't get to see this exhibit. Our July issue of Carolina Arts will still carry the July 16 ending date. We're sorry to bring you this news. We now have an answer why this exhibit is being closed early – Sloan says the College has decided to tear up the concrete floors of the Cato Center and replace them with blue tile during July.  They had no choice.)
I wasn't disappointed and I doubt anyone else who saw this exhibit was either. Nick Cave's "sound suits" were spectacular as were the photographs of Phyllis Galembo of African costumes. Right off, walking in the gallery I was blown away by the lineup of several of Cave's colorful costumes. That's what you want in an exhibit – a knock out visual as people enter the gallery space.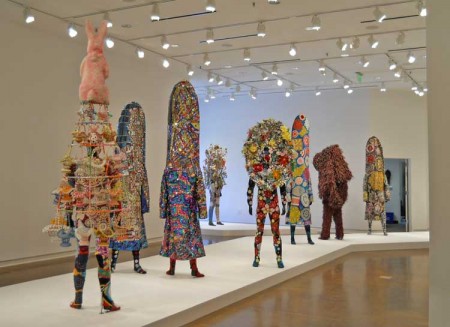 After a quick look around I sat and watched a video of Cave's "sound suits" in action. The first part was set to music and the repeated phrase, "This is a journey into sound". The second part was just the sound the suits made on their own as a dancer moved around. I liked the second part better, but sat there in the cool viewing room imagining what an event it would have been to have live dancers in each of Cave's suits – coming to life – off and on, as viewers jumped when the dancer began to move. Now that would have been a heck of a performance art event, but I wouldn't want to be the person inside one of those suits – for very long. But, the video gave us enough idea of what we would see – when the suits are in motion.
You would think that photos hanging on the wall wouldn't stand a chance next to Cave's "sound suits", but Phyllis Galembo served up striking images of real African costumes which hold their own next to an "Americanized" version. In fact, I tended to appreciate these costumes more as they were made by people reflecting their natural surroundings and local customs. Actually, I think I felt that way as Cave's suits reflected America's culture – which isn't always the prettiest picture. And, at that moment I felt a little embarrassed of what Africans would be thinking about us if this exhibit was shown there. Which is what I expect Sloan wanted us to see in this exhibit – the contrast of cultures. Maybe not, but then you have to go see this exhibit and come up with your own ideas.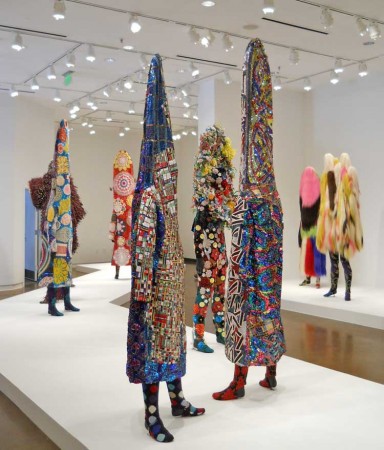 I ran into Sloan while I was at the exhibit and he said that a few gallery spaces in Japan were interested in this exhibit. That was no surprise to me as the new generations in Japan have developed a pretty funky culture themselves – funkier than ours.
You can read a press release we posted at Carolina Arts about this exhibit at this link.
After viewing this exhibit I looked at the art on display in the Hill Exhibition Gallery just outside the Halsey Institute. I've got to find a way to get the folks at the College to inform me of these exhibits – how long they will be up, so I can inform readers about them. Upon viewing what was there, my favorite was a print by Samantha Theall entitled Rachel in nice Lighting.
Next, I went to the City of Charleston's City Gallery at Waterfront Park to see the exhibit, Contemporary Charleston 2010, on view through July 3, 2010. This show has a shorter life than the Halsey Institute show, so you better go see it – if you're going.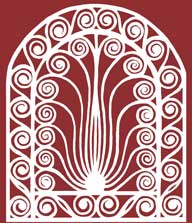 This exhibit is a production of the City of Charleston Office of Cultural Affairs, curated by Erin Glaze, (City Gallery at Waterfront Park) coordinator and artist Max Miller.
The premise of this exhibit was to have 10 local visual artists create works specifically for the exhibit that have been inspired by the work of 10 local poets. So ten artists were matched up with ten poets.
My first impression was that this year's show was not as strong as last year's offering. (See my entry on the 2009 exhibit at this link. I guess since I hadn't the time to attend the poetry readings by the poets matched up with the visual artists – I was missing the connections or inspiration that was supposed to have inspired these works. I tend to like my visual art – straight up – stand alone. That's me, but I wasn't seeing a lot of connections, but I also don't have the inclination to work too hard to find connections. It's like having to read an artist's statement (several pages long) telling you what a certain work means. If I'm looking at the work and I don't get the message – I usually don't see it after reading the statement either. It's either there or it isn't. Anyway – I wasn't feeling the connections. The closest I came is when painter Sarah Haynes painted a portrait of Dennis Ward Stiles, the poet she was matched with, entitledDenny.
I don't think that's what the curators had in mind, but the good thing is – I really enjoyed Haynes' works – whether it had a connection to Stiles poetry or not. To me, her paintings were one of the high points of the exhibit. Of course I would have liked to see the Waterfront space filled with her work over a group show any day.
There were other works I liked there too. I liked the (sort of bleached out looking photos) by Timothy Pakron. Having spent almost 20 years working in a darkroom, I'm still thinking about his process, but I'm not concerned if I ever figure it out completely – I liked the technique. Why get hung up on the process?
I also liked the pop art style works by Juilo Cotto. Perhaps I'm showing my age, but I'm not a conservative when it comes to art. I like works that make other people cringe too.
Maybe I wasn't falling in love with a lot that I saw, but it's worth the visit and you'll probably think I'm nuts or at least find things that speak to you. Frankly, if I see a show that I really don't like – you probably won't see anything written about it from me, and there was enough of that to go around this year, but I didn't see everything. There is never enough time to see everything. So, don't just assume that all the shows I haven't mentioned were unmentionable.
Hopefully the powers that be will step out of the formula they are using to select Piccolo Spoleto exhibits next year. The formula is worn out and the results are showing. At least that's how I felt when looking at the lineup of offerings, but then again – this whole festival thing is nothing new to me – like others.
You can read a press release we posted at Carolina Arts about this exhibit at this link.
Now, lets see what wonders the dog days of summer bring. I mean as far as the visual arts goes – as most of the performing arts community will be taking the summer off.