Well, it may not seem that wintery in Bluffton, SC, by Nov. 20, 2009, but it could be cool after sundown. It seems we've been having Indian Summer  in the Carolinas – we just had a tropical storm go through the area – so don't look for snow flurries anytime soon. But, anything could happen – it snowed in our area last year in November or was that the year before?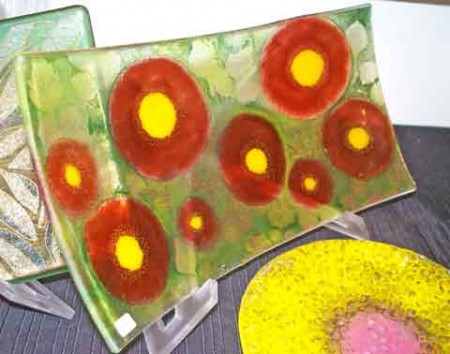 Work by Julia Smoak from Pluff Mud Art
For you readers who do not know the area of South Carolina where Bluffton is located (almost in Georgia) – we could count on one hand how many times it has snowed in a few decades – even fewer the number of times the snow actually accumulated on the ground for more than five minutes. And, if snow does come – it's usually in February – not November. But, lately – it's not unusual to have a tropical storm and snow come in the same month. What does that tell you global warming naysayers?
Anyway, in Carolina Arts' continuing coverage of the visual arts community in the Carolinas – from the mountains to the sea and from one end of I-95 to the other – we're bringing you news about a gallery walk in Bluffton – a small community in SC, that is bursting at the seams. You wouldn't think of the word "small" if you were driving down Hwy. 278 from I-95 to Hilton Head Island, SC, but if you're standing on Calhoun Street – you'll get what they mean by – Old Town Bluffton. Pay no attention to what's happened along 278 in the last ten years – please.
So here's a little press release from the folks in Bluffton about their gallery walk.
WINTER GALLERY WALK in OLD TOWN BLUFFTON
Friday Nov 20, 2009,  3 – 8pm
Old Town Bluffton's thriving and eclectic art community will host its annual Winter Gallery Walk on Friday, November 20. Wine and refreshments will be served by each gallery. Visitors can also enjoy live music and browse through Old Town's "walkable" galleries on Boundary, Church, May River and Calhoun Streets throughout the entire event. The event is sponsored by the Old Town Bluffton Merchants' Society with funding from local A-tax dollars. Hundreds of visitors to the area and local art patrons have traditionally enjoyed this local art experience.
Participating Galleries include:
Society of Bluffton Artists (48 Boundary Street) 843/757-6586. The SOBA will be presenting an exhibit of works by Helen Evans entitled, Thru My Eyes, plus the artwork of 70 other local artists will be on display.
Old Town Vintage Posters (49 Boundary Street) 843/837-3311.
The exhibit, David Klein Travel Poster, will be on display. Klein is best known for his 1950's and 1960's work designing and illustrating travel posters for Howard Huges' Trans World Airlines (TWA). These works defined the excitement and enthusiasm of the early years of post-war travel.
The Filling Station (Calhoun Street)  843/263-4796.
Art Cornell, painter, photographer and poet, will be signing his books of poetry. Kathy Levey, will be doing woodcut block prints and finishing them with acrylics, Kelly Graham, local lowcountry painter, will demonstrate. David Musial, painter and sculpture of quirky slice of  life images will begin the festivities a 2pm and continue until dark.
Maye River Gallery (37 Calhoun Street) 843/757-2633.
Local ceramic artist Laura Silberman's collection of holiday ornaments, functional and decorative creations will be featured along with a variety of holiday gift selections from 17 other artists.
Pluff Mudd Art  (27 Calhoun Street) 843/757-5590.
The gallery welcomes five new artists to the gallery including: kiln formed glass by Julia Smoak, jewelry by Pegg Carvell, sweetgrass baskets by Michael Smalls & Daurus Niles, and paintings by Laura Cody. In addition to these new artists, visitors to the gallery will see photography, original paintings, prints, jewelry, fiber art, soda-fired pottery, wood turning, and blown glass by local artists.
Jacob Preston Pottery (10 Church Street) 843/757-3084.
Jacob Preston will be working at his craft in the old Bluffton Tabernacle on Church Street. Visitors can catch a glimpse of the artists as he creates custom sinks and decorative pieces. Keep an eye out for his distinctive glaze-on-glaze feather patterns and carved and inlaid designs reflecting the local environment.
Four Corners Art Gallery and Fine Framing (1263 May River Road) 843/757-8185.
Four Corners will be featuring the Lowcountry photography of Marge Agin. Here in the area for 3 years now, Agin shares her digital manipulative eye in a number of formats. She will introduce a small series of some of her more popular images, some in oversize and some on canvas. Her artistic manipulation of her photos turn them into a painterly expression of what we see each day here in our splendid environment.
For more information contact one of the participating galleries.