Linda, my better half, had to work the whole weekend so I decided it was a good time to run down to Charleston, SC, again to catch a few more visual art exhibits taking place during the Spoleto/Piccolo Festivals. I knew it was going to be hot on Saturday so I had planned to get an early start to avoid the hottest part of the day. But I made the mistake of checking out the Facebook pages.
A few items on Facebook caught my attention, which led to making a few comments and then checking out a few items there that took me to a few blog entries and before you know it that early start was lost. And of course Mickey Williams – Charleston's Facebook DJ had reminded me of a group I hadn't listen to in a while so I had to listen to a few songs by the Zombies.
I could tell when I finally got to the I-26 exit for Meeting Street that it was going to be another crazy day of navigating through traffic in downtown Charleston. I was hoping to get to the Charleston Visitor Center where the27th Annual Piccolo Spoleto Juried Art Exhibition is on view through June 10, 2011. After circling a few blocks and finding no available parking spaces I decided to head to my second destination first at the other end of the peninsula – Lowcountry Artists, Ltd. The area around Marion Square seemed to be in grid-lock – much worst compared to last Sunday. Good for the artists in the parks – I hoped.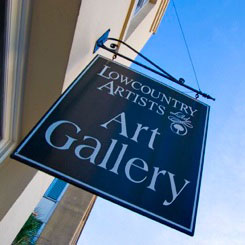 Lowcountry Artists, is located at 148 East Bay Street and I found an almost empty parking lot next to the Exchange Building just a half block away. Not a good sign for that part of town, but good for me. Lowcountry Artists is presenting the exhibit, The Power of Glass, featuring works by Robert Clair and Stephen Hazard, on view through June 11, 2011.
The gallery had promoted this exhibit to be perhaps the largest showing of art glass ever to be seen in the area, which I think just might be true. The exhibit featured blown glass by Robert Clair and fused and etched glass by Stephen Hazard, two local artists.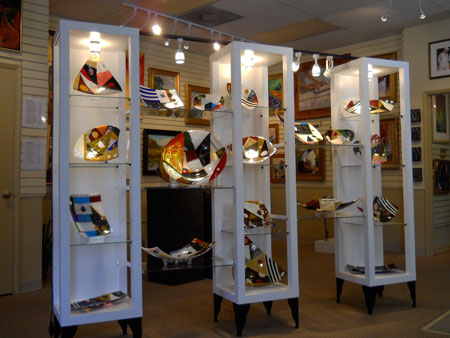 A display of Stephen Hazard's works
Now Charleston isn't Western North Carolina and fine art crafts in this town take a distant second, only in numbers, to paintings hanging on the walls of Charleston's galleries, although most galleries use crafts to fill in spaces where they can't hang or place a painting. You'll find some outstanding galleries presenting a variety of works in various craft media, but it is paintings that rule Charleston, and works in glass in large numbers are rarely presented here. It's too bad, but that's the facts, Jack. Go to Asheville, NC, and that case is reversed.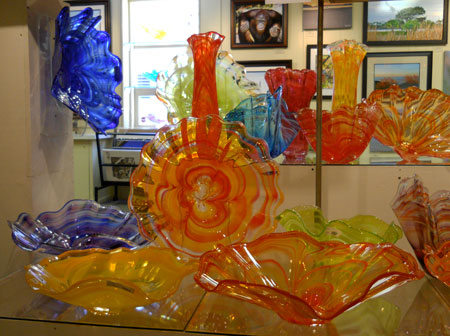 Works by Robert Clair
Lowcountry Artists had done a good job of making space for a lot of glass works to be displayed in this exhibit. And there is nothing like seeing a lot of colorful glass objects clustered together – it's like viewing a Christmas tree for the first time of the season. Glass can shimmer in light like no painting can and being 3 dimensional it can do it from all angles.
Many of Clair's works were clustered in one big display that was like being in a candy shop during Christmas. The many colors in many shapes was a festival in itself for the eyes. And, the real wonder is that the basic ingredient, besides the artist's skill, is molten sand.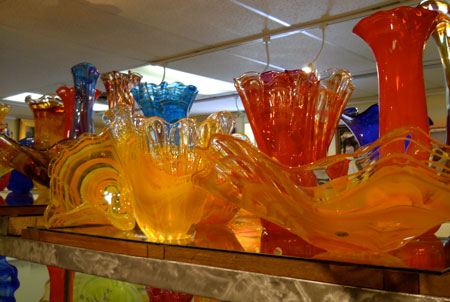 Works by Robert Clair
For Clair, this show represented four years of working as an assistant in the hot shop of his teacher and glass blowing mentor, Herman Leonhardt, being paid in hot, clear glass and studio time. Leonhardt, whose studio is located deep in the swamp off the Edisto River, comes as close to being the Lowcountry's resident glass artist as anyone.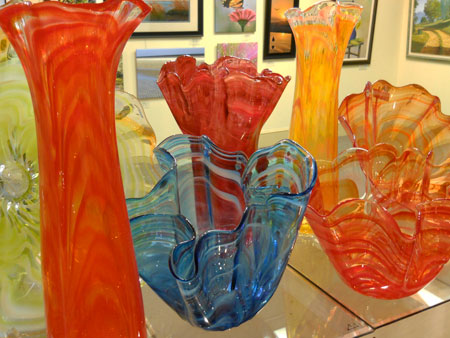 Works by Robert Clair
In a press release we offered in our May 2011 issue of Carolina Arts, it offered that, "Steve Hazard's art draws upon Africa's rich and diverse artistic traditions from the past, but thrusts the viewer in the present and the future. From patch work quilts of the South, West African sculpture and ceremonial masks to the complex patterns of multi-cultural textiles, Hazard creates iconic art works that captivate the viewer and transports him to sacred, ancient and/or lost cultures, while allowing the viewer to possess a bit of history in functional contemporary glass art."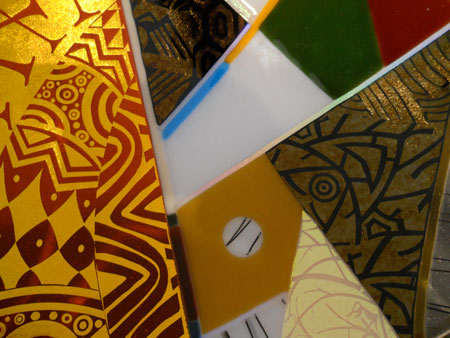 Detail of one of Stephen Hazard's works
I found that a lot of Hazard's works did remind me of quilts, with so many patches of different colors and patterns thrown into a mix, but a mix that was engaging to the eye and mind.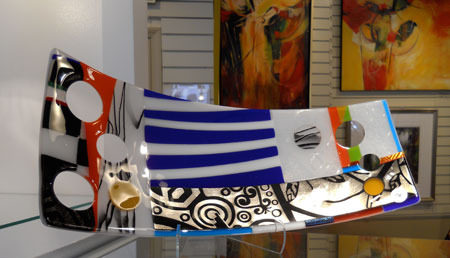 Work by Stephen Hazard
Fused glass is something I've always been interested in – thinking that one day I might try my hand at it, but I've seen and learned enough about it to respect the really skilled artist. Like all art – anyone can make a quilt, melt some glass together, mold some clay into a shape and brush some paint on a canvas. But, unless you are totally blind, it's easy for anyone who takes a close look before they open their mouths and say those infamous words – "I could do that" – to see it takes time and skill to reach a level before something they make becomes art.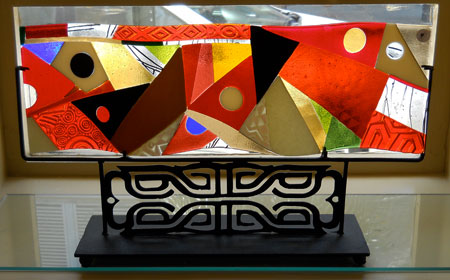 Work by Stephen Hazard
And, it's not hard for me to recognize that Hazard is working at a high level in creating these works. Maybe I'll stick with my day job.
Although Lowcounty Artists may be featuring works by these two artists on a regular basis, you won't see so many glass works presented together, so it is advisable that you make an effort to see this exhibit before it is over. It might be some time before Charleston is offered another display of so much glass art.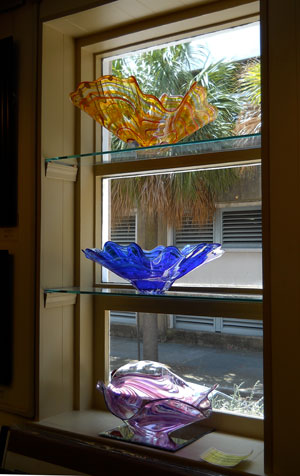 Works by Robert Clair
On the way back to my car I popped into Mickey Williams Studio Gallery to razz him about delaying my trip for me. Mickey wasn't in, but his wife, Jenlu, was and I talked with her a while. The back room door was closed so I suspected that Mickey was in the back taking one of his cat naps. Jenlu and I talked about our respective children, the job market for college students, the cost of having children in college and Mickey's addiction to Facebook. I needed to find out how to control Linda's growing problem. If you want to know the hard truth about someone – you go to their spouse.
While taking with her I remembered that I had gotten an e-mail card about the fact that during Spoleto Susan Mayfield (West) was going to be showing works with Mickey at the gallery. It's been a while since I've seen her work and what I was seeing was very different. My mind was telling me Mayfield did pastels, but these were works in oils. Although the works are a little darker than the way pastels look I liked what I was seeing and according to Jenlu, so were others who had seen the works displayed.
If you go see the show at Lowcountry Artists, you should stop in and see both works by Mickey Williams and Susan Mayfield. Mayfield has moved out West I think and you might not get a chance to see her work that often in Charleston.
Next stop – the Charleston Visitor Center at 375 Meeting Street, but the closer I got to Marion Square or Wragg Square where the 2011 Piccolo Spoleto Crafts Fair was going on – the traffic and lack of parking spaces increased. After a few times around the area I found a space on King Street – not too far from the Visitor Center.
I got to the Visitor Center just in time. I wasn't spending a lot of time out in the heat, so my body fluids were not being sweat out and by this time of the day I needed to make water. What a saying. If I can say anything nice about the City of Charleston – the government – not the city itself – they keep a clean set of rest rooms at the Visitor Center. They probably need to double the size of the women's facilities – there is always a line up there when tour buses are in the house, but as far as I know they are clean too. But from comments my wife says about public rest rooms, she gives me the impression that some women have very bad habits. Men probably do too, but fortunately for me it's a big difference in the physical process in making water.
Oooh – potty talk during a blog about the arts – how real.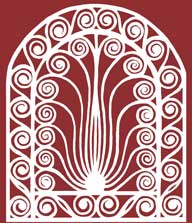 Excuse this abrupt transition, but… So, I'm looking at the 27th Annual Piccolo Spoleto Festival Juried Art Exhibit, on display at one end of the Visitor Center. The show is co-sponsored by the Charleston Artist Guild and the City of Charleston Office of Cultural Affairs, and it's divided into two categories – paintings and photography. I don't like that subtle slight toward photography and don't know why they are doing this, but it's their show. I would think that now that the Charleston Artist Guild has photographers as full members they would change this about the show and have all the art judged on the same basis.
Photographers everywhere – one day you shall overcome too! Just not anytime soon.
I'm noticing that this exhibit has several things in common with the juried art shows presented during the 2011 North Charleston Arts Festival – bad lighting, ID tags which are placed in positions which are hard to read, and for a statewide opportunity – very few entries on display from around the state of South Carolina. This fact probably really burns the folks at the City of Charleston Office of Cultural Affairs as they always assume they are several levels above anything in North Charleston. But, I'll give them credit for having an informative program available for viewers. It's so important.
After looking through the show once I looked over the program and confirmed my suspicions that beyond a few entries from the Columbia area and the Pee Dee area, most works were by artists from the Lowcountry. I can't imagine that all the works from the Upstate and other areas of SC didn't make the cut, but both jurors were from the Lowcountry, but I doubt that Alex Powers, who judged the paintings and Rick Rhodes, who judged the photography would be that biased. So my conclusion is – they didn't enter this show.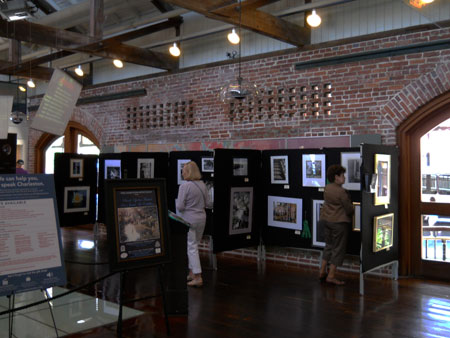 Again, I think the problem is that the show's cash prizes and the exhibit venue are not attractive enough to draw artists from that long a distance to enter this show – even if it does expose you to the Spoleto/Piccolo Festivals audience. But does it? More about that later.
If there was a better exhibit venue in Charleston I would think that this would be the perfect opportunity to have a knock-out statewide juried show, but that might take the involvement of a strong state arts agency, but we all know I don't think we have anything like that in SC.
Both the painting and photography presented were very strong. And, I only recognized a handful of the artists' names in this exhibit – which is a good thing – meaning we have a lot of talented artists in SC working their way up the ladder.
I did take note that Denise L. Greer, who has been the Queen of juried shows lately, only received a Honorable Mention in this show, but watch out next year.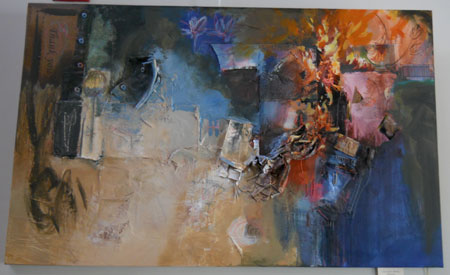 From the Ashes by Christopher E. Murphy
The 1st place winner in the painting category was Christopher E. Murphy of Mt. Pleasant, SC, for the work, From the Ashes. And the 1st place winner in the photography category was Ellen Yampolsky of Charleston, forColorful Canoes. But I, as usual, had different favorites.
The work that attracted my eye on this day the most was a pen and wash work titled, St. Peters Rome, by Hank Pulkowski of Myrtle Beach, SC. In second favorite was the work, Thoughts, an oil on canvas by John Tecklenburg of Edisto Beach, SC. It was an abstract/ realism work – go figure. I can't help myself.
Like I said before, the lighting was bad and it's not the best place to try and get photos of works, but I got a few, but not of the ones I really would have liked to show in this blog.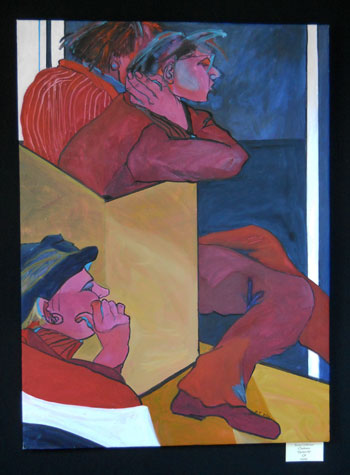 Spoleto IX by Betty Thalheimer
I found Betty Thalheimer's paintings to be interesting. Her color pallet was different and if I had to describe why I was drawn to it I might just say – the noses of the women in the works. Ron Anton Rocz had a compelling photograph titled, Cityscape Havana, which was drawing a crowd while I was there. I liked it too. And, I found a work titled, Jelly Ball, by Matt Broome in the photography grouping, but it had that crossover look of a photograph made to look like a painting. I didn't find the image that interesting, but I find it interesting that photographers are doing this. Can you blame them – trying to get just general respect from the public? But I wouldn't have entered it in the photography category if I was trying to fool anyone. Of course, he might not have had the choice or not been trying to fool anyone.
What really amazed me about this exhibit was how people could just walk right past it without even giving it a glance. A lot of folks were flowing through the Visitor Center on this day, but very few took the time to look at the exhibit, and many who came in the building from the other end, probably never knew it was even there. I didn't notice any banners outside the building or in the main info part of the Center announcing that the show was there. Actually a few signs in the rest rooms would have been the best place to announce this show – hardly anyone coming to this facility would have missed those signs. It's just another sign that all the folks coming to Charleston are not really here for the festivals.
While I was at the Visitor Center I picked up a card for Art For Charity, which when you look at it would give you the impression that this is some sort of non-profit, but what you're looking at is a commercial business that is now using charities to draw people into the door of a commercial gallery – in this case the Michael Mitchell Gallery, located on King street near the Visitor Center. I'm told that this is the new trend in galleries. I don't care for it myself. I always have to wonder how much of the sale of a work of art goes to the charities and we all know that most charities are not too concerned about how much money they receive from these relationships with collectors of such funds -as long as they get some money and are getting the publicity generated.
When I went to the web address on the card I found this statement – "What started as a pop-up for Art for Charity has evolved into one of Charleston's premier galleries." I don't think that is true – I only seem to hear about this gallery during the time of Spoleto. Where are they the rest of the year? I'd think you'd have to have a higher profile to be one of Charleston's premier galleries. The gallery doesn't exactly have a big footprint on the Internet either beyond it's activities surrounding the festivals since 2010. Yet already they call themselves one of Charleston's premier galleries.
The gallery does seem to be the entry port into Charleston's art market for many artists from Columbia, SC – which is a good thing. But the strong tie to charities would concern me. I found nowhere on the website for the gallery/design shop which tells how much (what percentage of a sale) goes to charities. That's something I'd want to know as a consumer. And, nowhere did I find how much they have raised for any of these charities last year.
This mingling of charities with buying art reminds me of a gimmick – much like the official "Certificate of Authenticity" offered in some galleries. And I'm sure it doesn't make the charities who rely on art auctions as fundraisers happy.
The art industry is like all industries – buyer beware at all times. That's why it's important to have a good relationship with your gallery. Don't be afraid to ask what might seem like hard questions and pay attention to the response you get. Don't assume details.
There might be nothing wrong with this way of selling art, but it concerns me. Perhaps it's a way of fighting back against the charities who use art for fundraising.
In my own experience I've learned that not everything involving a charity is a good thing, but this in no way is a reflection on the greater charity community. It just means that the word "charity" or "non-profit" is not a certificate of good and up and up. That's all I'm saying.