Talk about your best kept secrets or events that don't get much publicity in the shadow of the Spoleto and Piccolo Spoleto Festivals – this event takes the cake. I picked up a flyer at one of the local library branches – otherwise we haven't been sent a lick of info about this event at Carolina Arts.
Here's some info: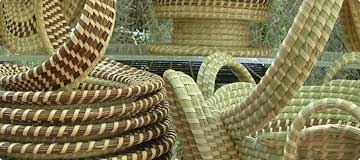 6th Annual Sweetgrass Cultural Arts Festival Takes Place at Memorial Waterfront Park in Mt. Pleasant, SC – June 5, 2010, from 10am to 8pm.
Memorial Waterfront Park is located at 99 Harry Hallman Jr. Blvd. in Mt. Pleasant, SC, under the Arthur Ravenel Bridge.
The highly anticipated 6th Annual Sweetgrass Cultural Arts Festival will celebrate the rich Gullah Geechee cultural heritage and provides the most extensive showcase of sweetgrass baskets in the Lowcountry area.
This year's event features an assortment of unique handmade arts & crafts, paintings, live performances, and documentary films. Festival-goers will enjoy a day filled with entertainment that includes gospel songs and praise dance, storytelling and Gullah Geechee skits, basket-making demonstrations and the Adande African Drummers and Dancers. Visitors will be treated to a variety of authentic Gullah cuisine, classic barbeque, fish, chicken and beverages offered for sale by more than 15 Lowcountry restaurants and food vendors. Children and adults will enjoy family friendly activities including a waterslide. Publications on Lowcountry Gullah Geechee history, fiction, and cookbooks will be available for sale as well.
Admission and parking are free. The festival is a family event and no alcohol is sold.
For further info visit (www.sweetgrassfestival.org).