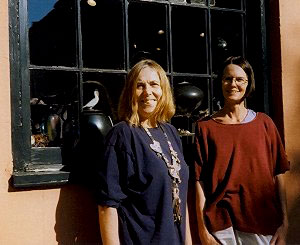 Nina Liu outside her gallery and friend Aggie Zed (r)
OK, this is meant to be a congratulation to Nina Liu – make no mistake about that, but it is also about the SC Arts Commission and SC Arts Foundation.
I think everyone would agree that in these days of cutbacks in funding for the arts it would have been better to make the announcement of who will receive these awards and let UPS deliver them, but instead the folks at the Arts Commission/Foundation decided to play their fiddle while Rome burns. And, they're letting visual artists have the honor of helping them raise money to put on a party, through another art auction.
If you're of my thinking on all of this – would we expect anything else? Yes, this is exactly what I've come to expect from them. But, like they say – even a broken clock gets it right twice a day.
So, congratulations to Nini Liu, the woman behind Nina Liu & Friends gallery in Charleston, SC. She has served artists and the art community in Charleston for 25 years as well as doing the same in Iowa, Louisiana, California, and Michigan, before landing here in South Carolina.
Liu has been a long-time supporter of Shoestring Publishing Company, including Charleston Arts, South Carolina Arts and now Carolina Arts. She helped start the French Quarter Gallery Association, providing coordinated art walks in Charleston. We worked with her and others to make it the largest art walk in the Carolinas. Now everyone has one.
And, I know she has done a lot to help other art organizations such as the Gibbes Museum of Art, College of Charleton School of the Arts, and Spoleto Festival USA, to name a few. But most importantly for me, she has been a regular sounding board – I rarely travel to Charleston without stopping to have a short or sometimes long conversation with her.
I'm glad she got her Verner before I told that to everyone.
So, Nina Liu and her gallery will share the spotlight at the 2011 Elizabeth O'Neill Verner Governor's Awards for the Arts (Business Category) with Carolina First Bank of Greenville, SC – that's if our new Governor doesn't want to take back her title from the award. I doubt she'll show up to hand the awards out – that would seem a little hypocritical, but maybe she will- it wouldn't be the first time for her.
As far as the other Verner Award recipients – I don't know who most of them are – which is the way I would guess others around SC would think when they read Nina Liu's name. I'm sure they have had similar impacts on the communities where they live – or at least we would all expect that they do or did. It helps to think of these things as regional awards to folks who have had some impact on a regional basis. Yet, I can't help but think that some awards over the years and this year (hopefully very few of them) are self-serving by the Arts Commission – rewards to a few good friends of theirs.
All I know is – we could all use a lot more Nina Lius as friends.