Our first mention of quilts on this blog was made in Feb. 2010, when we brought you news about the Oconee Heritage Quilt Trail being developed in Oconee County, SC. Since that time the Quilt Trail has expanded to Anderson and Pickens counties and has been renamed the Upstate Heritage Quilt Trail. We also talked about how developed these quilt trails are in Western North Carolina. You can read that entry at this link.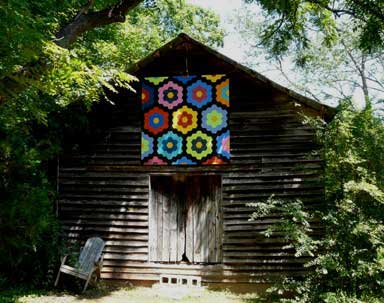 Now, I'm bringing you news about a Festival of Quilts and the official kickoff of the Upstate Heritage Quilt Trail.
The biennial Festival of Quilts will be held on Sept. 17 & 18, 2010, at the Shaver Center, located at 698 West South 4th Street in Seneca, SC. The show will be open on Friday from 10am until 6pm and on Saturday from 10am until 4pm. More than 200 quilts, all made by Lake and Mountain Quilt Guild (LMQG) members, will be on display throughout Seneca. Admission is $5, but children 12 and under get in free.
The Festival of Quilts features quilts produced by members in a variety of categories from traditional bed quilts to art quilt wall hangings, wearables and other quilted home decor. Demonstrations, special exhibits reflecting guild projects and challenges, and displays honoring special guild members are an integral part of the show. A donation quilt made by members, a Fat Quarters basket prize (a quilter's dream) and a charity auction are part of the excitement. Even a Car Quilt is featured – in the past it has been the hit of the show.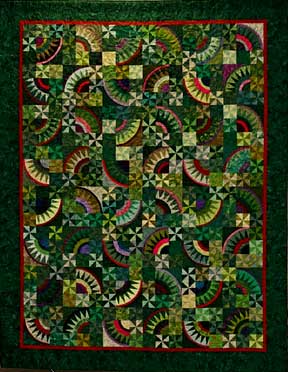 The Presentation Quilt – Eat Your Greens
The Festival of Quilts will also highlight two other special quilt related events, the recognition of the Oconee Quilter of the Year, Mrs. Jenny Grobusky, and the official kickoff of the Upstate Heritage Quilt Trail.
Jenny Grobusky began quilting in 1993, creating a king-sized bedspread in the Dresden Plate pattern for her husband, George, in honor of their 50th anniversary. It was the first quilt she'd ever made and it launched a whole new career for her of quilting and teaching others to quilt. She had been a seamstress all her life, teaching all aspects of sewing at the Fred P. Hamilton Career Center and elsewhere in the area. As part of the reward process in being named Oconee Quilter of the Year, her quilt pattern was painted and mounted on the barn at her family farm, becoming part of the Upstate Heritage Quilt Trail. She was also honored in May 2010 at a reception at the Blue Ridge Arts Council in Seneca.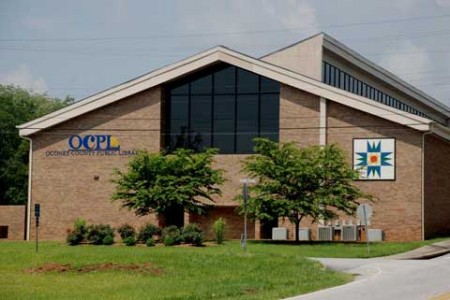 The Upstate Heritage Quilt Trail will celebrate their grand kick-off in conjunction with the Quilt Show. A sample of painted quilt blocks will be on display during the show and maps of the Quilt Trail will also be available. Several of the sites displaying show quilts also have Quilt Trail blocks mounted on their building. Thanks to a group of dedicated volunteers, the Upstate Heritage Quilt Trail (UHQT) was formally established in February 2010 with the mounting of four quilt blocks on buildings. Since then, local interest in the Quilt Trail has increased rapidly, and new painted panels (almost 30) are popping up throughout Anderson, Oconee and Pickens counties. The establishment of the Upstate Quilt Trail adds South Carolina to the National Quilt Trail, established in 2001.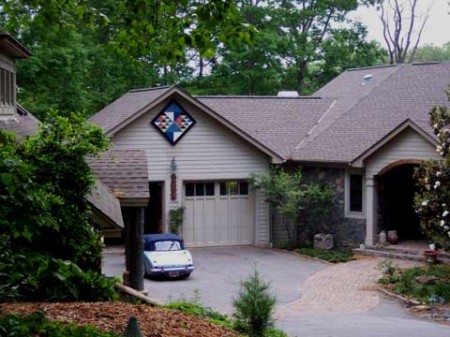 The LMQG and its members preserve the traditions, culture and history of quilting in Oconee, Anderson and Pickens Counties. They promote fellowship among quilters; contribute to the knowledge and appreciation of fine quilts; sponsor and support quilting activities, and contribute to the growth of knowledge of quilting techniques, textiles, patterns and quilt makers through educational meetings and travel. More importantly, they create Comfort Quilts for children and adults at Oconee Medical Center, Hospice of the Foothills and local nursing homes. When a non-local need arises, such as a Ronald McDonald House, or a catastrophe such as Hurricane Katrina, LMQG members rise to the challenge to provide the comfort of a soft, warm quilt to make the recipient's days a little brighter.
For more information on the festival, log onto (www.lmqg.org/quiltshow).