Carolina Arts received some more news about Spring pottery events – this time in Durham, NC.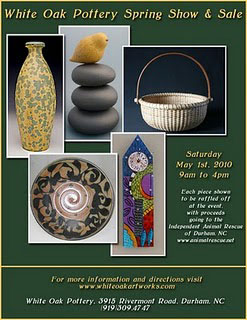 On Saturday, May , 2010, from 9am to 4pm, White Oak Pottery located at 3915 Rivermont Road in Durham will host its Spring Show & Sale, featuring works by Julie Olson of White Oak Pottery, pottery by Bruce Gholson and Samantha Henneke of Bulldog Pottery of Seagrove, NC, mixed media by Addison and Eric Paige of Raven Rock Artworks of Holly Springs, NC, baskets by Bev Nagy of Charlotte, NC, and pottery by Terry Gess of Bakersville, NC.
They will be raffling off pieces of "art", one from each participant, to benefit the Independent Animal Rescue of Durham, NC. The Rescue staff will be on hand with a variety of pets available for adoption!
Raffle tickets will be for $5 each (with a limit of 50 tickets sold per piece of art) Tickets will be sold during the show with the drawing to be held at 4pm. You need not be present to win.
Artist Demonstrations include:
Julie Olson will be demonstrating throwing from 10am-11am.
Bev Nagy will be demonstrating basketry from 1pm-2pm.
Lisa Brown will be demonstrating throwing from 2pm-3pm.
For further information call White Oak Pottery at 919/309-4747.