I got an e-mail at Carolina Arts from the management of the Carolina Renaissance Festival, located near Huntersville, NC, that nearly 20,000 attendees enjoyed the magic, mirth, and merriment at the 16th Annual Carolina Renaissance Festival this past weekend (Oct. 10 & 11, 2009). This comes as a pleasant surprise to Renaissance Festival management – who were prepared to experience a decline due to the tough economic climate.
"The Renaissance Festival has always been a place where people can go to set aside their daily cares while experiencing unique entertainments, shopping, and food. The turnout this past weekend shows that at the Renaissance Festival – escapism reigns!" says Matt Siegel, marketing and entertainment director for the Festival.
I wish I was going to the Festival this year – not with those 20,000 during the first weekend, but sometime this fall, but alas – I'll not be able to attend. I need an escape – back a few centuries.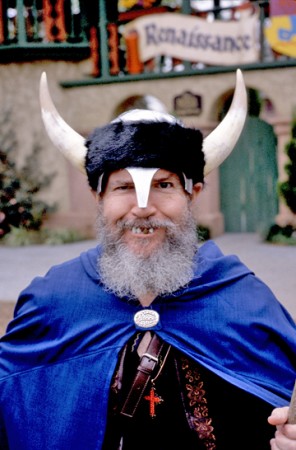 Rengarr the happy Germanic
Our family and some friends have attended the Festival many times – in costume – costumes so good, visitors thought we were part of the Festival staff – so good, some asked to take our pictures. At least I hope it was because of the costumes.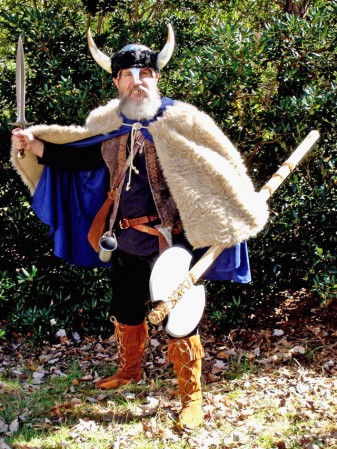 Rengarr in full gear
The Carolina Renaissance Festival is a medieval amusement park, a 10-stage theater, a twenty two acre circus, an arts and crafts fair, a jousting tournament and a feast – all rolled into one, non-stop day long adventure.
The Carolina Renaissance Festival is open every Saturday and Sunday, now through Nov. 22, 2009. Festival hours are from 10am-5:30pm – rain or shine.
The Festival Park is located just north of Charlotte, NC, between Concord and Huntersville on Highway 73 at Poplar Tent Road (between I-77 and I-85). Exit 25 on I-77 or exits 52 or 55 on I-85.
Parking is free courtesy of Harris Teeter. Thank you Harris Teeter!
Advance discount tickets are available at Harris Teeter stores region wide. They are $18 for adults, $7 for kids ages 5-12, children under 5 are always free. Tickets purchased at the gate are $1 more. Print your own tickets on-line. Senior discount tickets (60 and over) are $17 at the gate.
For more information visitors should call 704/896-5544 or toll free at 877/896-5544. Visit the Festival website at (http://www.royalfaires.com/carolina/).
Go escape for a few hours to a land – far, far away from today's troubles, but don't forget to take some money. The Festival also features a village of artisans offering a wide variety of hand-crafted items from hand-blown glass, pottery, and metalworks. Even way back when – money was the mother's milk of a good time. And, don't forget to taste the King's nuts – they're good!