Believe it or not – there are a few folks who don't know about Seagrove, NC – the center of North Carolina pottery. I mean – most around the world who know anything about clay – know about Seagrove, but some folks still don't and a few others appreciate a heads up on events taking place there.
When I want to know what going on there I just check out a few of the blog links we have listed to the right including: Around and About with Bulldog Pottery; Whynot Pottery Blog; or Three Corners Clay. You can usually find info there or at any number of the blog links offered by these blogs.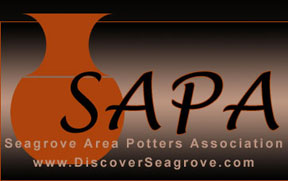 Then I go to the website of the Seagrove Area Potters Association where they have an events section which is pretty informative.
And, of course you can always check us out – we usually have posted something about Seagrove – just click the Category – About Seagrove Pottery on the right side of the page.
So, what's up or what's coming up?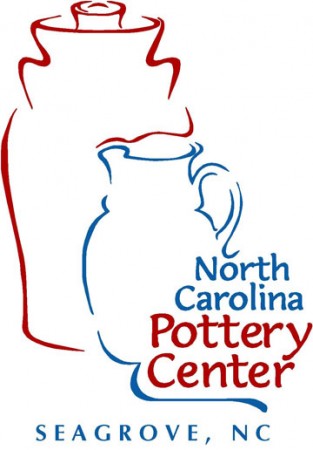 Well a good first stop in any visit to Seagrove is the NC Pottery Center. They are currently offering the exhibit, The Pottery of Buncombe County, A Historical and Contemporary Overview, on view through July 31, 2010.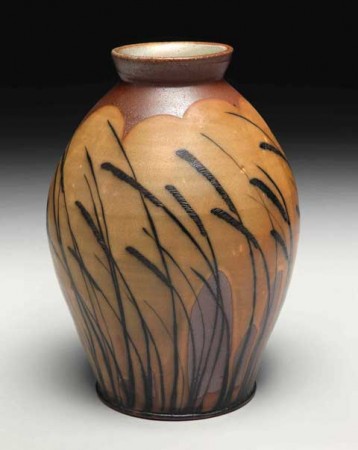 Work by Kyle Carpenter
Plus, you can always find out what's going on at the NC Pottery Center. They are an important resource for info about North Carolina pottery and pottery activities all over the region.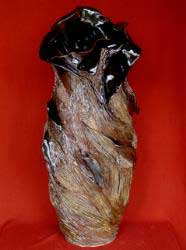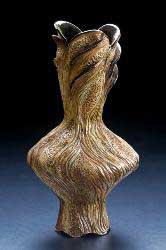 Works from Caldwell-Hohl Artworks
On July 17, 2010, there is the Caldwell-Hohl Artworks Garden Party. This is a fun day of music, pottery, garden art and light refreshments. the event is held at their studio in Seagrove from 10am – 5pm. Enjoy tours of the studio and log cabin. For more information call 336/879-9090 or e-mail to (caldellhohl@rtmc.net).
It seems like there is not much going on in July, but we learned during our coverage of the 2nd Annual Cousins in Clay event, that a lot more may be in the planning – we just don't know about them yet and some folks seems to be shy about getting the word out. So, it's always good to beat the bushes for last minute updates as to what's going on.
Now, getting back to what we do know. The NC Pottery Center will be opening a new exhibit entitled, Pottery from the Coastal Carolina Clay Guild, on view from Aug. 13 through Nov. 13, 2010. So if you've visited the Pottery Center recently you'll have a reason to return – as if you need one.
You can get a two for one by visiting Seagrove on Aug. 14, 2010, for the second Seagrove Potters for Peace event. This event was first inspired by Greg Mortenson's book Three Cups of Tea and his Central Asia Institute (CAI) which builds schools in remote, impoverished areas of Pakistan and Afghanistan. Some of the potters of Seagrove wanted to help build schools too. This year's event, Turning Stoneware into Schools, will be held on Saturday, Aug. 14, 2010 from 9am to 5pm.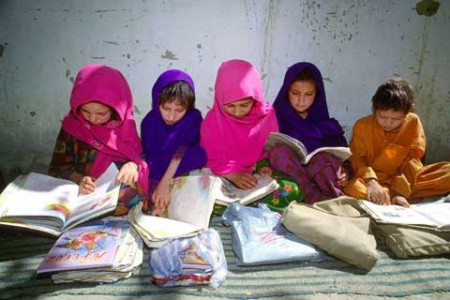 Young girls from Pakistan
Twenty-four potteries, a jeweler and a soap-maker are part of the Seagrove Potters for Peace this year. (Please note this group could grow with time.) A variety of vessels, including mugs, tea bowls and tumblers will be for sale, as well as miniature vases, jewelry and handmade soap. Proceeds will be donated to CAI. Copies of Mortenson's books will also be available at some potteries.
Each pottery will produce a unique item, specially signed for this event. The pottery will be for sale at the individual shops on Saturday. There will be no early sales, but any remaining items can be ordered by e-mail or telephone on Monday, Aug. 16, 2010 from participating potteries.
To learn more about Greg Mortenson, his books, or the Central Asia Institute  – click on this link.
Related Event: The Randolph Friends of the Library will hold a community discussion about Afghanistan and Mortenson's work on Tuesday, Aug. 17, 2010, at 7pm, at the Randolph Arts Guild, 123 Sunset Ave in downtown Asheboro, NC (just 12 miles from Seagrove). The discussion will be led by Dr. Jeff Jones, associate professor of Russian and world history at UNC-Greensboro. All ages are welcome. Copies of Mortenson's books and a variety of pottery vessels will be for sale. Change will be collected for "Pennies for Peace". Refreshments will be served.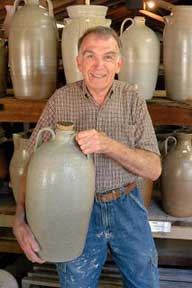 Sid Luck
The next event in August will take place at Luck's Ware Pottery Shop on Aug. 28, 2010 – Luck Legacy 12th Annual Kiln Opening, featuring Sid Luck, his past and present apprentices, and a groundhog kiln opening. The event starts at 9am and continues until 3pm with the Kiln opening taking place at 10am. Join them for BBQ, cold drinks, and bluegrass music by Steel Magnolia. For further info call 336/879-3261 or e-mail to (lucksware@rtmc.net).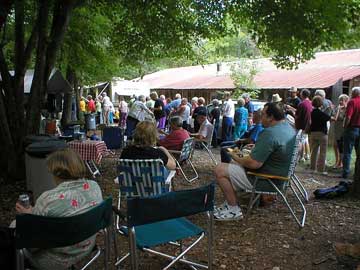 Image from 2008 kiln opening
I'm going to skip September for now, only because I don't know of anything going on in Seagrove in that month, but I'd bet my paper that something – several events will be taking place during that month.
So, at this point I'm jumping to October, 2010, and to Southern Pines, NC – not far from Seagrove, to an event which is the brain-child of Meredith Heywood of Whynot Pottery in Seagrove. Clay and Blogs: Telling a Story is an exhibit which will be presented at The Campbell House Galleries, from Oct. 1 – 29, 2010. This is the home of the Moore County Arts Council in Southern Pines. (That's right, you're thinking golf.)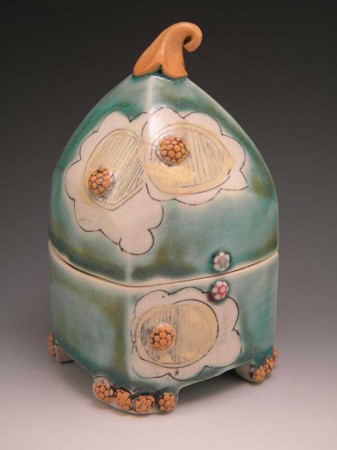 Work by Jennifer Mecca of York, SC
This exhibition will give viewers a glimpse into a unique community of 50 working potters (some from Seagrove) who are separated by distance, but brought together through the common language of clay and the written word in a digital world. These potters share their lives, skills, thoughts, triumphs and defeats through an on-line medium called a blog or web log.
So here's a chance to see some international pottery. Oh, and did I mention Carolina Arts is a media sponsor of this exhibit? Well, we are.
For more information and a list of participating blogging potters visit
(http://whynotpotteryblog.blogspot.com) and click the link at the top of the page.
Make your plans now.