The Center for the Arts in Rock Hill, SC, is presenting the, South Carolina Watermedia Society's 33rd  Annual Exhibition, on view through Nov. 21, 2010.

The exhibition includes 75 works selected from the Society's membership, SC's largest statewide visual arts group, by this year's juror, Barbara Nechis. The Top 30 Award winning entries will travel around SC to art venues throughout the following year.
Barbara Nechis, is an artist who has developed a style known for its masterful balance of spontaneity and control of the watercolor brush. She holds a BA in History and Fine Arts from the University of Rochester and an MS from Alfred University. She was a faculty member of Parsons School of Design for many years and has taught seminars at Pratt Institute, throughout North America, Europe, and Asia. Nechis has served as a juror and director of the American Watercolor Society. She is the author ofWatercolor From the Heart (Watson-Guptill Publications, 1993) andWatercolor the Creative Experience (North Light Books, 1979). Her work appears in many publications and collections, among them the Butler Institute of American Art, IBM, and Citicorp. Nechis resides in Napa Valley in northern California.
The Top 30 Award Winners and selections for the 2010 South Carolina Watermedia Society Traveling Show include: Best of  Show for $1000- Steve and Miriam McCrae Memorial Award – Kathy Caudill, (dry brush watercolor on paper) The Letter; Guy Lipscomb Memorial Award for $600 –  Denise Greer, (watercolor, some acrylic, painted collage paper) Daybreak; Williams and Fudge Award for $500 –  Steve Garner, (acrylic) After Dinner Confrontation; Springs Creative Products Group Award for $500 –  Barbara Stitt, (acrylic/collage on paper) Oracle;
Becca and Harry Dalton Award  for $500 – Steve Jordan, (watercolor on illustration board) Bottoms Up; Rock Hill Coca-Cola Bottling Co. Award for $300 – Trish Arnold, (watercolor on paper) Footprints and Raindrops;  Florence Visual Artists Guild Award for $250 – Harriet Goode, (acrylic, Caren Dache and charcoal on paper) Puzzle; Gatewood R. Kistler Memorial Award for $250 – Seth Rouser, (acrylic on paper) The Correspondence; In Honor of the William Randolph Sims Family given by Allen and Randolph Armstrong for $250 –  Rose Metz, (acrylic) Still Life; In Memory of Lena Massara Memorial Award for $250 – Lee Monts, (acrylic on canvas textured with gesso) Abstracting the Respite of My Childhood;
City Art/ Art Express Award for $200 – Carrie Burns Brown, (acrylic on canvas) Emerging Elements; The Artists of Studio South Award for $200 – Arnold Carrouth, (acrylic mix/ paper hand painted) Untitled; The Palmetto Bank Award for $200 – Anne Hightower-Patterson, (watercolor and casein)Power Lunch; Georgetown County Watercolor Society Award for $200 – Carolyn Epperly, (watercolor on paper) Alkmaar Market; Past Presidents Award – $150 – JoAnne Anderson, (watercolor, gouache, watercolor pencil on bristol board) Almost Done;

After Dinner Confrontation by Steve Garner
Artists Helping Artists Award for $150 – Terry Laughlin, (acrylic) Two Dozen; Fine Arts Emporium Award for $100 –  Joana Wardell, (acrylic on paper) Perilous Journey; Catawba River Art Guild Award for $100 – Maura Kenny, (watercolor/appliqué) Memories Like Paper Dolls II; Crooked Creek Art League Award for $100 – Nancy Clayton, (acrylic on paper) Pullet Surprise; Trenholm Artists Guild Award for $100 – John Davis, (watercolor/acrylic) An Old Friend;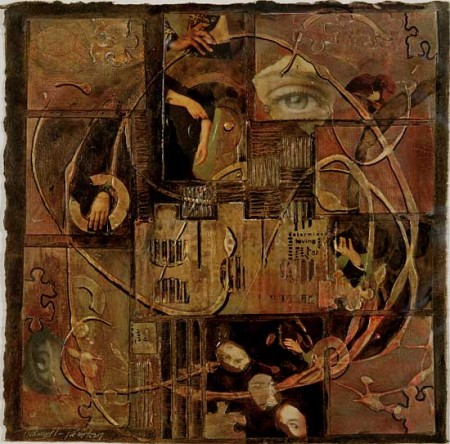 Life's Puzzle by Patsy Tidwell-Painton
Seven Oaks Art League Award for $100 – M.C. Churchill-Nash, (watercolor on bristol board) The Bulls; Friends of Ralph L. Hamilton Award for $100 –  Alice Bachman, (acrylic on gel medium illustration series) No Vacancy; Jean Kirby Plowden Award for $100 – Wendyth Wells, (watercolor on clayboard)Melt Away; Husbands and Wives and Friends of Artists Award for $100 – Al Beyer, (gouache, watercolor) Geoff; Friends of Steve McCrae Award for $50 – Randolph New Armstrong, (acrylic) The Daisy; Betty Caughman Award for $50 – Al Stine, (watercolor on paper) Verda Mae; The Art Emporium Award for $50 –  Marcia Murry, (watercolor) Front Porch Blues; Leroy Springs/Springmaid Workshop voucher redeemable for $547.40 at workshop – Patsy Tidwell-Painton, (acrylic) Life's Puzzle; M. Graham and Co. Merchandise Award worth $500 –   Barbara St. Denis, (watercolor and acrylic collage on #140 Arches) Time Series 140: Within; and Cheap Joe's Merchandise Award worth $250 – Blaine Tailer-Kimball Dixon, (acrylic on paper) Pone.
These 30 paintings will travel to art venues around SC during the next year under the direction of the SC State Museum's Outreach Program. For info about that program or booking this exhibit contact Jeff Powley at 803/737-4159.
Since 1977, the South Carolina Watermedia Society has been promoting the artistic and professional interests of its members as well as providing visual arts programs to the public. The Society works towards achieving its goals by making the accomplishments of its members available to a broad base of South Carolinians.
SCWS, the largest statewide visual arts group, is an active presenting organization. We nurture and promote South Carolina artists by providing exhibition opportunities, special programs to market their original works and coordinate educational programs. In addition, our goals include public outreach and participation in the arts.
For further information contact Damita Jeter by calling 803/351-2721 or visit (www.fineartsemporium.com).