The Setup
They say you can never go home again. Well, someone said it and they must of messed up, as I've gone home several times with no problems and this year had planned a major trip back to Michigan, my state of origin. I'd say my home state, but since I have now lived in South Carolina longer than I lived in Michigan, I think old SC will have to be considered my home state. After 36 years here I'm still coming to grips with that notion, but that's another story.
What that person should have said is – Oh, you can go back home, but it will never be the same. At least those things you remember will never seem the same and since no place stands still – there will be a lot of different things there. And, if I learned anything on this trip – my memory for the past is just not what it used to be and is surely not as good as some people's. I know I said this a lot – "I don't remember that."  I've been telling Linda, my better half, for years that I've got "old timers" disease and now after this trip I'm sure she believes me.
Well anyway, this trip was to be a reunion with some old high school friends, which included a few cousins. At least that was my plan. This idea was hatched last February when a few fellows from high school got together at a friend's home down in Merritt Island, FL, next to Cocoa Beach. One guy came from New Orleans, LA, two came from Saginaw, MI, I was coming from Bonneau, SC, and a fifth friend came for a day from a town 50 miles or so away from Merritt Island. Others from Michigan just couldn't fit the trip into the time frame we came up with. So, at that gathering we planned a summer trip up to Michigan – closer to many other old high school friends – hoping more people could get together.
We had done this in the past when pretty much this same group of guys came to Charleston, SC, and we rented a place out at Folly Beach on the Atlantic Ocean. It took me years to live that gathering down. And it's just getting to the point where I can show my face on Folly Beach again. It's a good thing we're a lot older now.
My friend (Jim) (no last names – to protect the innocent – right) who organized the Florida gathering took the lead in getting this reunion organized. A few friends in Michigan said they couldn't, wouldn't, be on the organizing end of anything. A big breakthrough came when we visited one of my many cousins on another trip to Florida when we learned that she (we'll call her Joyce) and her husband (Rick) had been spending summers up at Higgins Lake in Michigan – the middle of the lower part of Michigan. So we had a southern contact that would be up north by the beginning of Summer – this was progress. There was a State Park at the lake where we could have a gathering – if people actually came.
As things turned out, after all our efforts to find some folks and get them on board for the time frame we selected, it ended up that our trip was going to be in three or four locations – pretty much the folks we had planned to see and even (Jim's) plans changed at the last minute and he ended up in upper New York state. We're now planning to try and get folks together in two years – hoping that will give them time to get organized and make it happen. But if it doesn't – it doesn't.
And, at this point I want to state that this trip wouldn't have been possible without the generosity of our three hosts in Michigan. They treated us like royalty. We hope to one day be able to return that generosity.
For the purpose of keeping these entries as short as I can, I'm going to break this trip up into 3 1/2 parts. But, those who know me know – nothing is short once I start talking or writing.
So one evening after we finished our August issue of Carolina Arts after Linda got off work at her other job at 7pm, we packed up the car and headed north up I-26 to I-40 and then hopped on I-75 in Knoxsville, TN. From there it's a straight shot up to Michigan – except for Kentucky and OMG Ohio. A drive that is so boring it takes forever to make it through that state. But, I drove straight through for 19 hours – with one unscheduled stop in Berea, KY, at the Kentucky Artisan Center which I've already written about.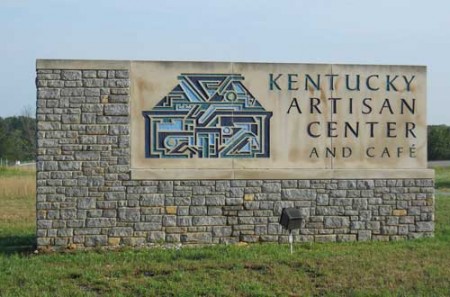 Of course we stopped at a million rest stops in-between. We crossed the border into Michigan about 5pm the next day and once we got to Ann Arbor we were headed West on I-94, going through Jackson – I had a relative who was the warden at the State Prison there – then Battle Creek – where most of your breakfast cereals come from – then Kalamazoo – where I attended my last years of college at Western Michigan University (I never finished, with just one more semester to go – that's another story) and then on to South Haven, MI, on the shores of Lake Michigan.
South Haven – Our First Stay
When we arrived in South Haven we got lost. Google maps sent us in the wrong direction. Get this folks. I stopped the car and called for directions. Does this make me any less a man? After 19 hours of driving I was ready for this trek to be over.
When we got to my cousin's home we parked that car where it stayed put for days. We'll give my cousin the name of (Rocky) and his wife (Sandy) – like the waters of Lake Michigan turn rocks into sand – lots of sand.
After a tour of their home and a little unloading of the car they drove us into South Haven to the Riverfront Park – catchy name – the Charleston, SC, area has three of them (Riverfront Parks that is). This park sits along the Black River which runs into Lake Michigan. It's a favorite place for folks there to walk along and watch the sunset.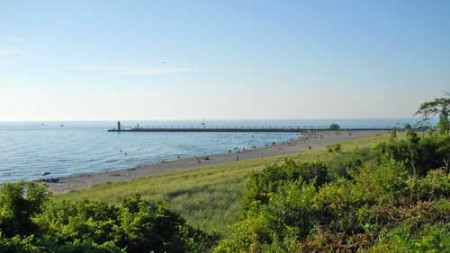 We see lots of sunsets on Lake Moultrie at home, but this lake is a little bigger – there's no seeing across to the other side. From South Haven, looking across the lake your left eye is looking at Illinois and your right eye is looking over at Wisconsin. There aren't many places where you can do that.
We have to stop the story for a little geography lesson. Lake Michigan is 307 miles long by 118 miles wide, with a maximum depth of 925 feet, but the average depth is 279 feet. The lake has 1,660 miles of shoreline – largely of sand and pebble beaches touching four states: Michigan, Illinois, Wisconsin and Indiana. Now that's a big lake. The Great Lakes – Superior, Michigan, Huron, Erie, and Ontario, form the largest group of freshwater lakes on Earth by total surface and volume.
It was here (back at the Riverfront Park) that our host learned how easy it was going to be to entertain us – at least me. We later learned that everyone was planning art adventures for us. They wanted to show off the arts in their area or thought that's all we were interested in since we do an arts newspaper – wrong. We get enough of that at home – everyday. Parading through a bunch of art galleries and art museums was the last thing I was interested in – I was on vacation. Linda and I also determined that this was the longest we've been away from South Carolina and our business – ever or at least in a long, long time. So we wanted to get away – far away – as much as we could.
So here's the deal. After the sunset on the walk back to the car I see fireflies and go nuts. They're (my cousin and his wife) amazed at my excitement. We used to see fireflies in our backyard when we first moved to Bonneau, but after we cleaned up the jungle in our backyard – we never saw them again. We'd have to go up to the mountains in Western North Carolina to see fireflies, and I can't remember seeing any on my nighttime delivery trips of Carolina Arts. So, this was an occasion. Everyone soon learned that we had no formal plans to see anything, do anything (with a few exceptions) – we had come to visit them. But we saw and did plenty.
At this point I think it's a good time to mention the temperatures in Michigan. The highest it ever got while we were there was 84 degrees, and there was little humidity – except when it was raining. Some days it never got above 74 degrees and one day it was cool enough to put on light jackets – well Linda got cool. I was born in Michigan. I only wore a coat for a few hours when it was raining.
In South Carolina we had been having months of 95 + degree days with lots of humidity. It was going to be hard going back and it was. The heat is still turned on here. But as someone said in Michigan – at least you don't have to shovel heat. They had a point.
After we got back we talked a little bit, but then we crashed – we had been up well over 24 hours at this point – it was time for bed.
My cousin and his wife have a backyard that is half garden, half wildlife preserve – they were feeding birds, squirrels, and chipmunks from miles away. There was always something going on back there to watch. And, we spent plenty of time out there – as it was nice enough to do so. Back in SC – I don't go outside unless I have to in the Summer. Their backyard also backed up to a cranberry bog – which was interesting. I've never see one of those before. Now, I can check that off my life list.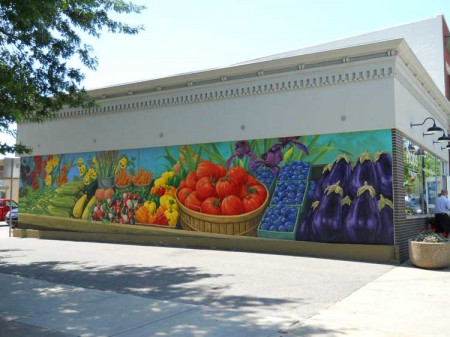 The next day we went back to the downtown area for a tour, first by car and then by foot. The homes along the lake shore were mostly owned by folks who lived and worked in Chicago – at least the big places. This seemed to be a theme all along the eastern side of Lake Michigan – which is all sand dunes, and I guess considered to be the best side of the lake. I saw the same thing in Maine when I was there. Most of all the land along the coast was being bought up by people from Boston and New York City. It's the same way at our lake in Bonneau – politicians, judges, teachers, business moguls, lawyers – they all live along the edge of the lake. Little folks like us have to live on the other side of the road across from them. Of course when one of our neighbors explains that his breakwall cost more than his house and he's replaced it twice – I always tell him I'm happy to be where we are. It seems that the more money you have, the more troubles you have. And, a lot of these folks staying in the big houses in South Haven are only there during the summer. But the town looked really nice with a lot of the old homes being restored.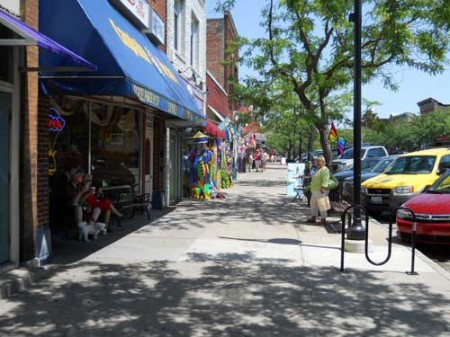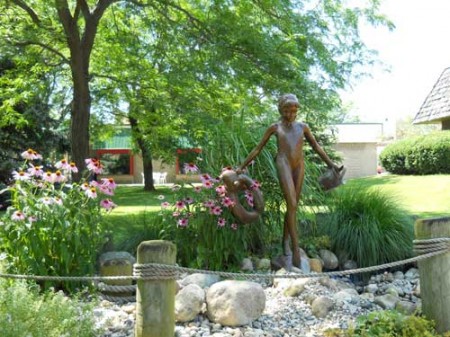 When we got to main street, which wasn't named Main Street, it was inevitable that we would come to an art gallery and end up inside, but I wasn't ready for what we would find there. I'm walking around and pretty soon I see a painting and mention to Linda – "this sure looks like an Eva Carter painting". She agrees and the next thing we do is turn it over and Eva Carter's name is on the back, but this is not an Eva Carter painting.
Eva Carter is a world famous painter from Charleston, SC. We've known her since the days we began our arts newspaper, we have some of her work in our collection and we know her work doesn't go for $650 – not a painting this size. My cousin and his wife (Rocky and Sandy) were amazed that I could identify a painter's work by sight and so was I as I didn't expect to see it in this gallery. I took a picture of the painting without anyone from the gallery seeing to deal with this later. You see, we should have stayed out of art galleries – now I had a duty to preform when we got back home.
I'm not going to mention the gallery, they probably don't even know they are helping rip off an artist. I later learned from Eva that this has happened many times to her now – it's the price you now pay when you're an artist who creates works that are popular all over the world – people rip you off and there's not much you can do. If you catch someone, it might cost you more to stop them and even if you do, someone else will pick up right behind them. If someone wants to rip you off these days – they can do it. There are plenty of people willing to pay less for a ripped off copy of good art.
I guess the only benefit, if you want to call it that, is that now works by Eva Carter are sold all over the world. She gets reports from friends all over who run into works where they shouldn't be, but if you want an original Eva Carter you'll have to get one from her. And, you're going to have to pay more than $650, but you'll be getting more than a $65 poster mounted on board or canvas. The good thing is – this is only happening to a few images – but, over and over again. Buyer beware!
As much as you try sometimes you just can't get away from your work.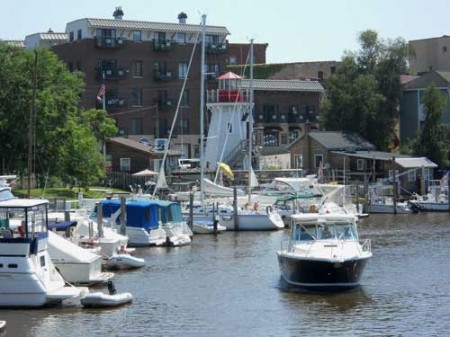 We had lunch that day at Joe's Bar & Grill (I'm not making these names up.) where (Rocky and Sandy's) daughter, (Laura) worked. I had two foods on my list of things to do – eat Michigan cherries and lake perch. They had perch on the menu and I ordered it. Oh man, oh man, if there is anything I miss from living in Michigan – it was fried lake perch and it tasted exactly like I remembered on the first bite. I later learned from (Rocky and Sandy's) daughter (Laura) that these perch were not from the lake. I'm like – what? Apparently restaurants can't serve perch from the lake because of the mercury levels. So where do these perch come from? She didn't know. And, what about all those perch people are fishing for in the lake and taking home and eating? She (Laura) said she didn't know.
What's this world coming to when you can't get Lake Michigan perch when eating in a restaurant in a town on Lake Michigan? This would have been perplexing until we found ourselves in a Wal-Mart and they had cherries, but the cherries were from Washington state! We were in Michigan, one of the biggest producers of cherries and Wal-Mart is selling Washington cherries. Go figure.
I learned on this trip that my cousin (Rocky) had become quite a cook, which was a bit of a surprise to me, but very good news – we were eating very well. I'm including a photo of one of the meals we had – it looks like something you would see in a magazine. We ate really well the whole trip. But, one of the things I learned about folks in Michigan I guess I never really knew when I lived there was that folks in Michigan are nuts about ice cream – not just the kind you buy in the grocery stores – the kind served by people who make it themselves – hand scooped.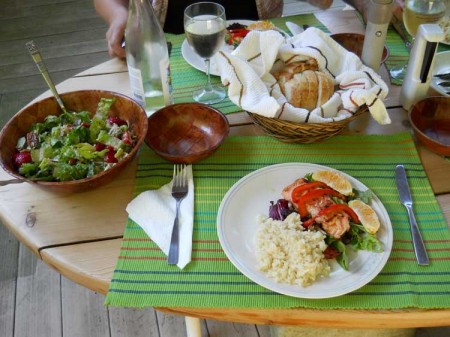 One afternoon they took us to Sherman's Dairy Bar. If you've ever been to South Haven you probably were taken to Sherman's. I'm glad we were taken, but this was just the beginning of one of the themes of our trip. Sherman's is the type of place where you get a number and wait and when you get your ice cream – you may have to wait to sit down and eat it. Well, you'll start eating it the second you get it – or you'll be wearing it. They believe in giving people their money's worth and more. They want satisfied customers and they get them every time.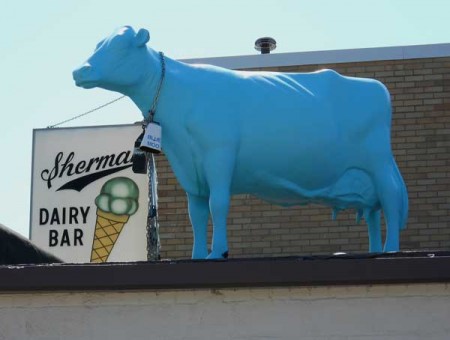 Another highlight of our South Haven visit was going to see the movie,Inception, at the Michigan Theatre (really, I'm not making these names up). It's just $3.50 for first run movies, and if you buy one of their popcorn buckets for $2, you can enjoy popcorn at every movie you go to there after for $.50 – and drinks were just $.50. Boy, I wish we had one of those kind of movie theatres in the Charleston area. The Michigan Theatre is one of those small town restored theatres right downtown – not a big multiplex outside of town.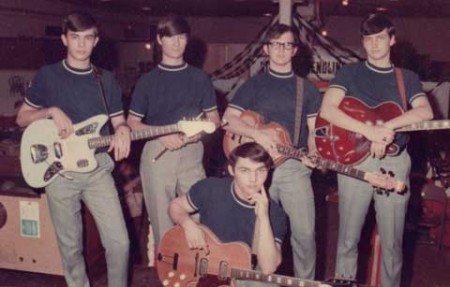 The 13th Hour
Back in high school, my cousin (Rocky) and I were in a rock and roll band – we lasted a couple of years before our own Yoko broke up our band (another tragic story of fame and glory cut short), but (Rocky) has kept up with his guitar playing, while the last time I played a guitar, I was playing The Beatles Rock Band game with our son. But, today, (Rocky) plays on Sundays for Jesus. On our last full day there, we went to one of the services at First Baptist Church in South Haven. This was one of those modern multi-media services – we have them in our area, where going to church is more like going to a concert. The minister did a power point presentation for his sermon. It's not the kind of church I went to as a youth, but if I was a church goer – I could get used to this kind of church.
On our way out we were spotted as someone new and a member of the welcome committee made sure we left with one of their welcome packages – which included a copy of the church's cookbook and a mason jar full of ready-to-make brownies. We had them a week or two after we got back home. (Rocky and Sandy) kept trying to tell the person we would be a 1,000 miles away in a week, but it didn't matter to them – they wanted us to feel welcomed – and we did.
The last event of our stay in South Haven was a private, after hours, visit to the training center at the Pailsades Nuclear Power Plant, just south of South Haven where (Rocky) works. He keeps the equipment running for the test they do to see how prospective employees would handle themselves under the pressure of something suddenly going haywire in the control room. We got to see a run through of all the bells, buzzers, and flashing lights going off – in case someone spilled a Pepsi on the control panel  or something like that.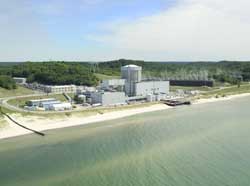 (Rocky) got his training in the US Navy and he assures me nuclear power is safe and I believe him. It's one of the only things France has gotten right. We need a Nuclear America and we can send all our waste to Iran – they seem to want nuclear stuff for some reason.
Early the next day we were headed north to Interlochen, MI, to visit an old high school friend (Pati) and her husband (Jim) who had just moved back to Michigan from Minnesota, where they had a fairly large maple syrup operation. But that's Part 2.