April 1st for us started on March 31, 2011, at about 10:15pm when we loaded up the April 2011 issue of Carolina Arts on our website at (www.carolinaarts.com) – all 71 pages of it. By midnight I had sent out an e-mail message to our growing list, posted notices on both our blogs,Carolina Arts Unleashed and Carolina Arts News, as well as making posts on our Facebook pages. At that point our job was done for another month and it was off to the races for May's issue.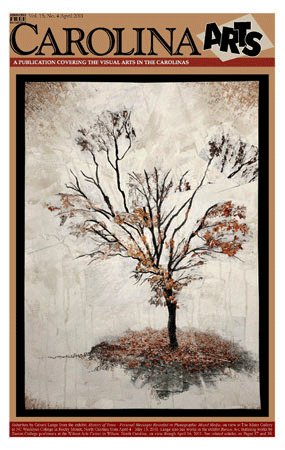 Well, we actually got to go to bed for a few hours. The morning was spent dealing with all the return e-mails, with comments, a few problems, and some congratulations. The day soon turned to the normal operating procedures – more e-mail, processing press releases and photos, and answering a few people's questions who are already thinking about the May issue.
Unlike some publications that throw a party every time they produce an issue – we go back to work.
In the old days, I would be heading for bed by 4pm to get up about 10 or 11pm to head out on one of my delivery routes – driving all night from city to town to city, dropping off papers at the door fronts of galleries, museums, art centers and tourism welcome centers. By the afternoon I would be back at home – reload the car, pack my breakfast and lunch, head back to bed to start the cycle all over again for four days. But, these days, once the paper is finished and launched it's just another day at the computer. I miss my trips, but I'm finding other ways to get my road miles in – like actually going to galleries, museums and art centers – while they are open and writing blog entries about what I saw there.
And one of the benefits of this change is that Linda and I were going to be able to go to our first First Friday art walk on Broad Street in downtown Charleston, SC. In the past, once every blue moon a first Friday might fall on the 6th or 7th of the month, but depending on when we got the printed paper – I could still be on the road, so we were not getting to many art walks. Which was a shame as we, through Charleston Arts, our first version of our arts newspaper helped start the thing off in Charleston.
Just before we were about to leave the house to head for Charleston I got a call from our biggest supporter, Morris Whiteside Galleries on Hilton Head Island, SC, which was strange as we knew they were in Scottsdale, AZ, for their annual art auction in that city. I can't go into the call's details, but it was about a BIG problem with the April issue and they weren't too happy. I could see my biggest supporter slipping away, but within a few sentences I stopped my caller and asked if he wasn't making a fool of me and he couldn't hold it back. Unfortunately for him and fortunately for me I had read an e-mail earlier in the day which usually goes to Linda from one of the other partners and everything was fine. It also helped that they have tried these crank calls a few times before and after all it was April 1st – the foolin' didn't last too long.
He had me for a few seconds, but I'm a natural born skeptic and as my old priest said a long time ago – I was named well – after the apostle known as "Doubting Thomas". He always said I asked too many questions.
The good news today as I'm writing this is that the Scottsdale auction did over $15 million in sales. That's no joke. But, I have to say, it's nice that everyone in the art world is not always so serious. People can be professional and serious and have fun too.
But getting back to Apr. 1st, after my heart rate returned to normal, we got in the car and headed toward Charleston, which is usually a little more than an hour's ride from the headquarters of Carolina Arts on the shores of Lake Moultrie.
I was giving us an hour and a half for good measure and once we hit I-26 around North Charleston we soon realized we were going to be late. It was the Cooper River Bridge Run weekend – cars were stacked up flowing into downtown Charleston. We were trapped in the slow moving parking lot until we got to a spot where I could turn off the main roads – East Bay, Meeting, and King Streets (in this case King Street). But having lived in Charleston for a third of our lives in this area we soon got to the Broad Street area – 30-40 minutes before most other cars in those lines would weaving through the back streets. And, we found a good parking space to boot.
The first place I wanted to stop at was Smith Killian Fine Art, which is not on Broad Street and not part of the Broad Street art walk, but I knew they were having an opening for the exhibit, Intersections: Figurative Works by Shannon Smith, featuring a solo exhibition by gallery artist Shannon Smith, on view through Apr. 30, 2011. She is one of my favorite artists. I love the way she paints light.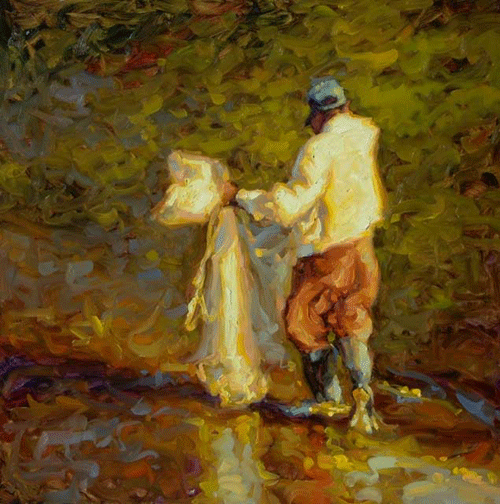 Work by Shannon Smith from the exhibit.
But on the way, I noticed that the door was still open over at Nina Liu and Friends, a few doors down State Street from Smith Killian, so we stuck our heads in the door and as usual Nina Liu was showing off her new exhibit,Icons for Meditation, featuring works by papermaker Arthur McDonald, which wouldn't officially open until Sunday, and would be on view through Apr. 30, 2011.
You see in Charleston, traditionally – things are done differently than anywhere else. Galleries are so condensed throughout the downtown area and parking is spread out throughout the downtown area that even if one area is having an art walk – all galleries in town may have their doors open and even when they are not open – people will knock on your door or ring your doorbell until you do open. If you're downtown and you find a good parking space – you want to see all that you can.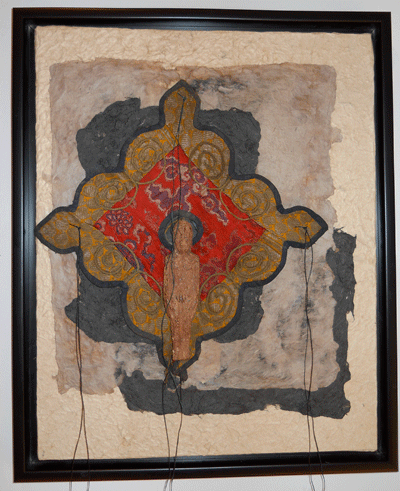 Work by Arthur McDonald
In Nina Liu's case – her gallery is officially open until 5pm on a Friday and at 6pm – she still wasn't able to close her door as people just kept coming and going. Just when you think the last person was going – another couple or group would stick their head in the door – "Are you open?" As a veteran of 25 years of managing an art gallery in Charleston, Liu knew she had no choice and was even gracious enough to be running up and down her stairs to bring a glass of wine to unexpected visitors. This was an opportunity for people who might not come back to Charleston for a Sunday reception to see Arthur McDonald's show and Liu has a reputation of going all out for her artists.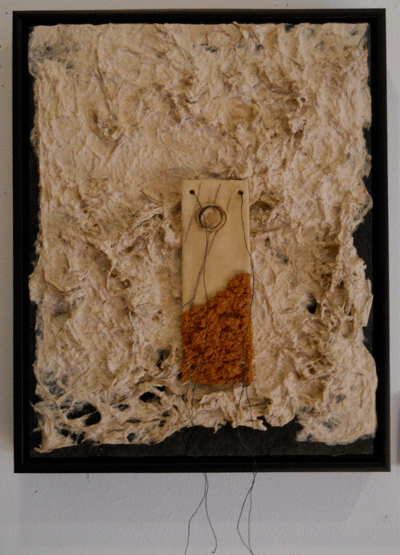 Work by Arthur McDonald
In fact, Liu actually retired two years ago and has been trying to sell her gallery/home in this historic district of Charleston, but in this housing market downturn has had no luck. Frankly, we don't want her to leave, but if you would like to live in historic Charleston or would like to have a ready-made art gallery you could live in – give her a call at 843/722-2724. She's had another home waiting for her for two years South of the Border. Perhaps you can help her leave, but like this evening – she just doesn't seem to be able to close the door on this chapter of her life.
Soon we head back to the plan – Smith Killian Fine Art, the home to the most talented family in Charleston – Betty Anglin Smith, and her grown triplets – Jennifer Smith Rogers, Tripp Smith, and Shannon Smith. Tonight the spotlight was on Shannon. This exhibit was the first time an entire collection of oil paintings exploring the figure was being presented by this artist. And, with most of her works – it's the glow of the lighting she paints which draws people to what might be considered ordinary scenes and subjects.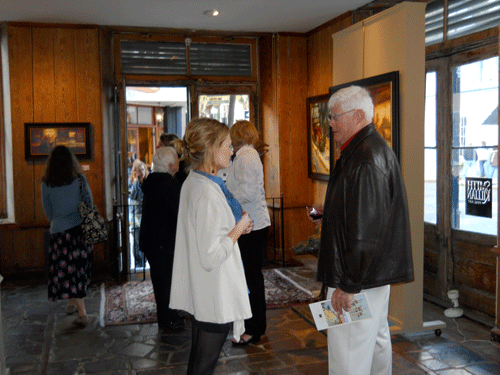 Before our stay at the gallery is finished I made the mistake which has probably been made a thousand times in addressing Jennifer as if she was Shannon. After all they are two of triplets, but it's no big deal to them at this point in their lives. They're both very attractive, talented and poised. Their mother taught them well. Tripp Smith – he's easy to spot – he has a beard.

This is Jennifer Smith Rogers, not Shannon – notice her name tags – I didn't.
It's been a while since we've had the opportunity to socialize in Charleston's gallery community so I was surprised to see a very abstract painting by Betty Anglin Smith. It seems mom still has a few tricks left to show us and if you've followed my writings you know how much I like abstract art. Betty does what might be called abstracted realism paintings – works with loose strokes, but plain enough to see what the work is, (Shannon's works in this exhibit were like this too – abstracted realism) but in this case she had let loose and gone totally abstract.
Both Linda and I really liked this work, Currents III. My photo doesn't do it justice. If you like abstracts, go see this fast before Linda and I find a way to put a second mortgage on the house.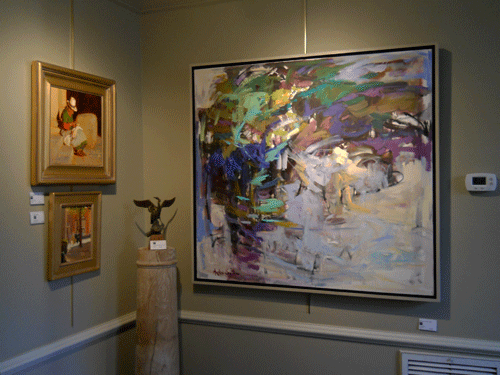 Currents III by Betty Anglin Smith
I'm not trying to take any of the spotlight away from Shannon's show – her works are fantastic and they'll be moving out the door pretty fast too, but I just get excited when I see well done abstracts. Most people can't see the beauty of abstracts – they want them to mean something or represent something – like the public expects from all art. They just can't see and enjoy the combination of colors and strokes placed on a canvas. They're always looking for something in what you might call missing the forest to see a tree. So, I admire an artist who ventures into the world of abstracts, knowing that the potential for sales is much lower and when they are done well – I can't keep my eyes off them. I call it the curse of William Halsey, but I thank William every time I see a good abstract – his works opened my mind.
I might be getting off track here – what else is new, but I think this is a good time to say – Eva's back! I'm referring to Eva Carter, another great abstract painter who closed her gallery in Charleston a few years ago to settle into painting at her Wadmalaw Island home and studio. I don't blame her one bit, but she recently opened a small studio at 6 Gillon Street, just around the corner from where her gallery was on East Bay street – now the home of Mickey Williams Studio-Gallery. I haven't been able to catch her there yet, but I will. Yes I will.
OK – Broad Street Art Walk. Broad Street, once the home to Charleston's lawyer community has become the home of a dozen or so art galleries. The lawyers, who make too much money in my opinion, but thank your lucky stars if you know a good one when you need one, have grown out of most of the smaller Broad Street spaces and have moved to towering palaces throughout Charleston. These Broad Street galleries, most members of the French Quarter Gallery Association (started 18 years ago), decided that four art walks a year were not enough so they started presenting art walks every first Friday of the month, so that during some months the French Quarter Gallery Association and Broad Street Gallery Row art walks are happening at the same time and during the month of November, it's the Gallery Row and the Charleston Fine Art Dealer's Association sharing a first Friday art walk. It's quite a gallery community that can host three gallery groups – all in a four square block area.
I see another side track ahead. I almost forgot to mention this, but when I was at Nina Liu and Friends, Liu handed me an old copy of Charleston Arts, Vol. 5, No. 11, our Mar. 1993 issue. I know the copy well. The headline is – "French Quarter Gallery Association Forms". The article goes on to talk about how the group came together and that their first art walk would take place on May 14 and 15, 1993 (not a first Friday). I say I know it well like I know the history of the FQ. You see we helped the group get started, I designed it's first logo, I used to layout their invitations and got them printed and distributed them to the galleries and around Charleston. We even ran free ads to promote the art walks for years. So some of you might be a little confused when I said in the previous paragraph that the FQ was only 18 years old.
You see, some folks decided to celebrate the FQ's 2Oth anniversary a few years back. I didn't make a big fuss about it then and I won't now, but I wouldn't take any part in it. The economy was crashing and they felt they needed a little boost to celebrate – hoping to bring people into the galleries. I wonder if they'll do it again in 2013 or will they shoot for a 25th anniversary? I've told you before – running a gallery and keeping the doors open – is a tough business. And most art communities don't have to deal with someone who has been around as long as I have and has an archive of accurate records of what took place – and when it took place. Most people writing about the arts today weren't even here five or ten years ago. Most were still watching the Smurfs 20 years ago. That's right, I'm old.
Nina Liu wants me to write a book about Carleston's art community – more like a history of what was going on during the years we've been publishing an arts newspaper here. It would make for some interesting reading. A few chapters would be revealing, to say the least, and I might do it – when I retire.  But, until them – a few of you still have time to leave town before the truth is told. If you think I don't pull any of my punches now – just wait. In Charleston, the truth is stranger than fiction.
Back on the main track. A few months back when we were making the transition from a printed newspaper to an electronic paper I was talking with Jerry Spencer of Spencer Art Galleries on Broad Street. He mentioned that it had been some time since he had seen me or Linda in their gallery, which was true – for good reasons as I have explained, so we definitely wanted to change that. He and his wife Catherine have two gallery spaces, next to each other on Broad – actually South of Broad – it's a big difference being South of Broad, just read Pat Conroy's book. They are both gallery owner/artists – which is a trick.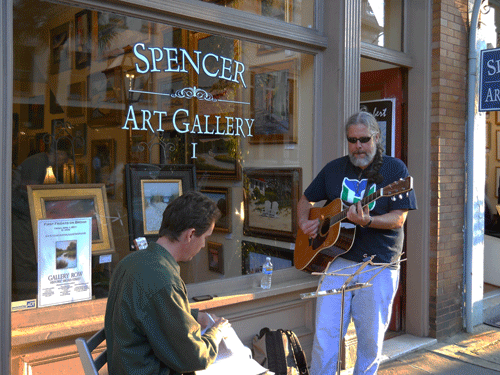 Outside one of their galleries was a musician playing a guitar. Music has become one of the differences between Gallery Row art walks and FQ art walks. It's a nice way to stop people walking the sidewalks and get them to wonder what's going on inside the galleries – if they didn't know about the event ahead of time. In a tourist town – that happens a lot. People can be out just enjoying walking around the city – the next thing they know – they're in a discussion about art and maybe having a glass of wine. But not at Spencer Art Gallery. They have made the decision to return the arts walks to – all about art – not tasting wine from gallery to gallery. And, I agree on that. The art walks were becoming an event where the art galleries were throwing a party for Charleston and College of Charleston students. It was becoming less about art and more about a party. That's changing.
As usual, when viewing lots of art all in a short span of time, I'm drawn to what is different and unusual. It might be a disservice to all the good art I see along the way, but it's just the way I am and at Spencer Art Gallery I found two artists who's works stood out. It's not that they were better than others. All art is subjective to the beholder, but some items catch your attention more than others for one reason or another. The first was a display of fine art prints by Pat Van de Graff. I just don't see fine art prints much in galleries. You see lots of paintings, crafts, and sculptures, but not that many prints. At least I don't see them that often. I'm not talking about reproduction prints of original paintings, I'm talking about images made by fine art printing processes. Van de Graff was showing some very nice works and some other folks were in agreement with me as some were being sold – right in front of me.
The other artist who caught my eye was Uriv Petrov, a Russian immigrant who now lives in Myrtle Beach, SC. I'd swear I've seen his work before, but I can't put my finger on it. It will come to me next week in the middle of doing something else.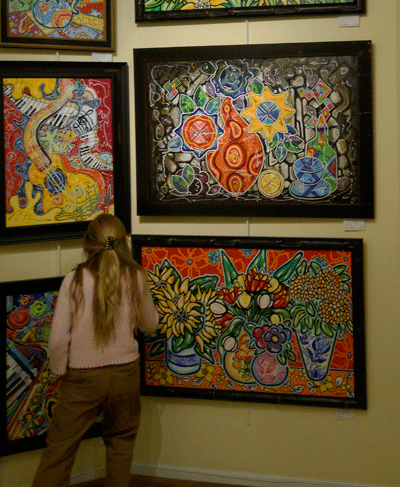 My photos again don't do justice, but the works are very colorful and the imagery and patterns of the works just seem to jump off the canvas into your eyes. They demand attention and the style and technique is different – something hard to pull off in a region full of talented, creative artists. Perhaps his edge is coming from a different environment – a different school of thought when it comes to art. But, this artist was untrained – maybe that was the key.
Anyway, it was a long eventful day, capping off a very long work week for us and we were headed to Myrtle Beach, early the next day, so we headed back to Bonneau.
If Linda and I could break away from our busy schedules to go see some art – so can you. You don't have to wait for an art walk.