Well, Saturday morning started with breakfast and a scan of the Greensboro newspaper, the News & Record to see if there was anything there about the Celebration of Seagrove Potters. There was an article there about the two pottery festivals going on in Seagrove, NC (from the High Point Enterprise). Things must be getting pretty bad at the News & Record– out of the four pages I pulled out of the paper which had the article about the festivals, most of the articles on the pages were from the High Point Enterprise, The Associated Press, Wire Reports, and the Charlotte Observer. I guess the N&R handled the obituaries. They're looking like a cut and paste newspaper. Maybe the N&R owns the Enterprise – lets hope so. Oh well, times are tough for newspapers – Carolina Arts included.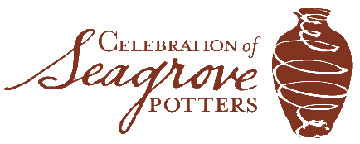 This article was a little one-sided, leaning toward the Seagrove Pottery Festival – with some info being supplied by the lesser of the two Bobbsey Twins of the pottery world. Having just stepped in a cow pie over numbers of potteries/potters participating at the Celebration of Seagrove Potters, I thought it was funny that this Bobbsey was using the figure – "80 of the area's potters" were at his festival. I guess that's a pretty liberal use of the word "area". At least he didn't use the word Seagrove, even though he and his boss got the NC Legislature to declare several neighboring counties to officially be considered to be in the Seagrove area too. Saying it don't make it so, but it gives them the excuse to call just about anyone they want a Seagrove potter. At least the article mentioned both pottery festivals. But, what's the deal with featuring a Civil War re-enactment at the Seagrove Pottery Festival. I guess it fits since pretty soon, Big Boss Bobbsey Twin will want potters from Seagrove to secede from Seagrove and declare Sanford, NC, to be the real Seagrove of NC. Wait for it.
So we headed for Seagrove. It was a much shorter drive from Greensboro for me – how about that? I guess they're right – location is everything. In my arrival Friday I only saw signs for the Celebration, but on Saturday there were a few signs for the other festival, but when it came for the turnoff from Hwy. 705 in Seagrove for the Seagrove Pottery Festival there were a couple of guys with a big sign saying "Pottery Festival" waving people to turn, but most people like us just drove right on by towards Luck's Cannery. That was the only sign of any pottery wars going on in Seagrove.
I had forgotten that the festival on Saturday started at 9am – so we were late for the start and lots of people were piling into the parking lots and many already leaving. I guess it pays to look at your ticket stub. We ended way back around the buildings from the night before, but in a better space – closer to the entrance. Outside food vendors were well at work in getting lunch ready and the smells were great. Getting in the front door took a little longer and when we finally got in – the place was really packed.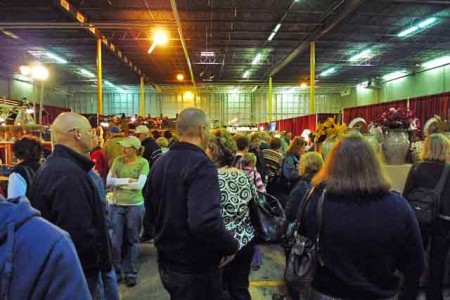 We sort of got to wave at some folks to let them know we were back, but the crowd didn't exactly let us talk to people again. Plus today, my friend and official photographer of the day, Will Ravenel, was shopping. Moving around took some skill.
While trying to get to Bulldog Pottery we noticed that there was hardly anything left at Jugtown Pottery. I asked Pam Owens, one of the Owens clan from Jugtown what they were going to do for Sunday or the rest of Saturday for that matter – she shrugged her shoulders and said – maybe we won't have to come back tomorrow? I thought that strange, but later learned that Jugtown doesn't usually do pottery festivals, but was doing the Celebration to be supportive, and I had forgotten for the moment that all these booths – also have folks manning their regular potteries in Seagrove – where there is much more inventory.
That was another thing different about Saturday. The Friday Gala Preview had all the folks from the potteries on hand, but come Saturday some had to stay at home to manage the potteries and on the drive in there were lots of people at the potteries too.
At one point we came across a booth that was unmarked by a sign as to which pottery it was – again it helps if you pick up a program or remember to bring the one to got from the night before. People were really crowding in around this booth. We finally got close enough to see some of the pottery and we both liked what we saw. We eventually learned that this was Ray Pottery. There was a line of people with pots and objects in their hands waiting to give these folks money. Later after a few more turns around the room – there was still a line of people waiting to buy. A nice problem to have.
During a pass by Whynot Pottery, still unable to get close, I picked up a flyer for the Catawba Valley Pottery & Antiques Festival, which will take place on March, 27, 2010, at the Hickory Metro Convention Center in Hickory, NC. They have a Friday Night Preview Party too, scheduled for March 26, 2010 – also advance tickets only.  The Festival is a fundraising event for two non-profit institutions, the Catawba County Historical Association and the North Carolina Pottery Center. More about this event in another blog entry, but you can check the link now, but come right back – I'm not finished.
Will was making purchases and some of my weekend anxiety was relieved by carrying one of his packages around. But then I started to worry about the folks I had said I couldn't buy during this trip – seeing me with a big bag and thinking – those newspaper types – they'll say anything. So the anxiety came right back. But at least give me credit for recruiting Will to the event, which lead to purchases of Seagrove pottery. And, besides the crowd was too heavy and the booths were so busy, I doubt anyone noticed me, much less anything else a few feet away from their nose.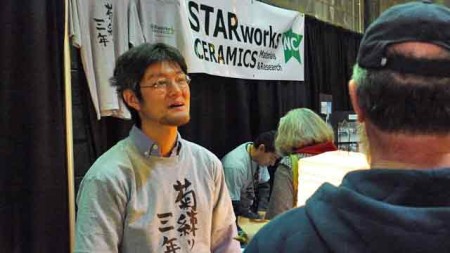 Takuro Shibata of STARworks Ceramics explaining clay making process.
Finally we found a booth that wasn't too crowded. It was the STARworks Ceramics booth. They make clay down in Star, NC, a little south of Seagrove on Hwy 220 (the future I-74). We talked with Takuro Shibata, the director of STARworks Ceramics. We had looked up their site Friday night when we got back to Greensboro after talking with Nancy Gottovi, the executive director of STARworks NC. We also watched a video that was playing on an Apple computer in their booth (a good sign for both Will and I – diehard Apple folks) about their clay making process. Santiago Ramirez, the operations manager at STARworks Ceramics also gave us a lesson about clay that was very interesting. We were learning a lot about clay, glazes, pottery processes, and the pottery biz – which is another side of the festival which I think most of the crowd was missing, but I'm glad for the potter's sake that most people there were interested in buying Seagrove pottery.
I did finally meet one of my first contacts with the Seagrove area, Jennie Lorette Keatts of JLK Jewelry and Shop at Jugtown Pottery. She has helped supply me with info about Seagrove and the potters there – as far as five years back, but more recently helping supply photos for the blog and coordinating Carolina Arts' media sponsorship of the Celebration. That's the way it is in this biz – I deal with folks on a monthly basis – some who I have never met face to face in all these years.
I think the last potter I got a chance to talk with was Michael Mahan of From the Ground Up pottery. That's where I learned from his wife, Mary Holmes, that it was his idea about the collaborative pottery pieces for the auction on Friday. It takes a wife sometimes to give credit where credit is due.
We ate a lunch of stir-fry from a new restaurant which had moved from the west coast to Asheboro, NC – Pacific Rim Noodle House. That was some good eating and outside was wonderful. The selection of food was very good – it seems they had everything covered. It's hard to believe this festival is only in its second year.
Back in the building the crowd in the back room with the booths seemed to have gotten larger and tick tock it was 1 o'clock already, a time I had set when I had to leave to return to Bonneau, SC, headquarters of Carolina Arts.
On the way out I got to see Sid Luck of Luck's Ware doing a pottery demo for a few minutes – he makes it look so easy. I really didn't want to leave – there was still so much to see and another auction scheduled for 4pm on Saturday, but I had to go. All good things must come to an end.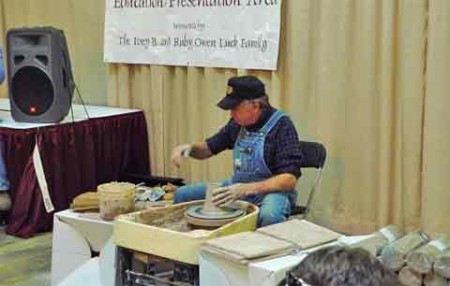 Sid Luck doing his magic.
Before I left the building, on the way to the restroom – I'm no dummy, I noticed that there was one copy of Carolina Arts left on the check-in desk. I asked the woman standing there if that's all they had – she said I could take it, and I said I have plenty. She looked back at me with a funny look and I replied – it's my paper and that I have more in the car. So I went and restocked their pile. A lot of folks were probably seeing their first copy of the paper. No surprise to me, but good for us.
Leaving the cannery there were still tons of folks coming in for the festival. When back in Seagrove I decided to drive by the other festival – there were a lot of people there too – so I would guess that both festivals did well and hopefully will learn that they both offer something that will draw people to Seagrove which is good for all. Let's hope that sinks in to one group soon, but with the Bobbsey Twins of the pottery world leading them on (I mean literally leading them on) – don't hold your breath.
Three and a half hours later I was back home in Bonneau. On the ride back home I was listening to a book on CD – Hard Row by Margaret Maron – another discovery from that area of North Carolina. Maron has provided me with background info on the pottery world in Seagrove, the furniture market in High Point and other characteristics of this area of NC. Her books are always a good listen. Perhaps her new book will be Showdown at the Seagrove Pottery Festivals – who knows.