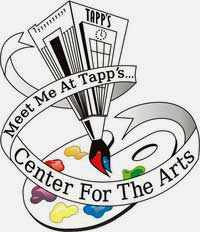 On a cold Thursday afternoon when the weather people were calling for 80% rain, Linda and I headed to Columbia, SC, to visit One Eared Cow Glass and the First Thursday on Main event.
One Eared Cow Glass was having one of their 20th Anniversary celebration events introducing a new line of glass jewelry – just in time for Valentines' day. That's when Linda signed on for the trip to Columbia. I can't say too much more about the One Eared Cow Glass anniversary events – all I can say is you need to go there and sign up to be on their e-mail list.
I've been wanting to go to one of the First Thursday on Main events for some time as it seemed like it was becoming quite an art event. I also wanted to see the inside of the Tapp's Center for the Arts project and hopefully meet up with Susan Lenz, who had another window display there.
Activities on Main Street in downtown Columbia started a few years ago when Mark Plessinger of Frame of Mind started displaying area artists' work in his shop on Main Street across from the Columbia Museum of Art. Info about those events kind of came and then fizzled. During that time other art related groups moved to Main Street and then by last fall we began to receive info about the First Thursday on Main events which seemed to be organized by the City Center Partnership, Inc., but we're not hearing from them on a regular basis either. The only person I'm hearing from on a regular basis is Brenda Schwarz Miller who is spearheading up the effort to turn the old Tapp's on Main department store at 1644 Main Street, at the corner of Main and Blanding, into the Tapp's Center for the Arts.
I guess the City Center Partnership is interested more in having all parties on Main participate in trying to get folks in the Columbia area to come back to Main Street during the evening hours with the First Thursday events, but I'm more interested in the visual art groups there which now include Frame of Mind, S&S Art Supply, FreeTimes, Anastasia & Friends, Columbia Museum of Art, the Arcade Artists, and Tapp's Center for the Arts.
From our front door at the headquarters of Shoestring Publishing in Bonneau, SC, we can be in downtown Columbia in two hours. It takes an hour to drive to Charleston, SC, so it's not much of an effort to go to Columbia, but the two hour return trip does determine how long you can stay.
We spent almost two hours at One Eared Cow Glass, and again, all I'll say besides I love watching the cowboys work, is that Linda and I got our 20th Anniversary T-Shirts while there, which will pay off throughout the year's celebrations. My lips are sealed.
Once we weaved our way over to Main Street during Columbia's rush hour traffic, we arrived at the Tapp's building just about 5pm. We looked at a few of the outside window displays, but it didn't take long for the damp 40 degree temps to rush us inside. No real rain yet.
As we entered a side door on Blanding, right off we see a little window display of jewelry by Susan Shrader, which stops Linda in her tracks. We've dealt with Shrader throughout the years as she was helping to promote a Columbia gem show. She's one of the hundreds of people we have talked to over the years but never met.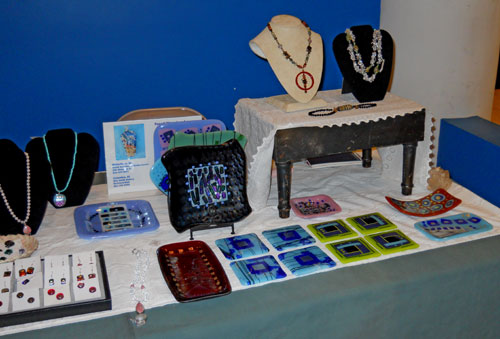 Jewelry and fused glass works by Susan Shrader
We got to scratch her off our never met list once we set foot inside the massive Tapp's building. Right away I was reminded of my recent visit to the Art Trail Gallery in Florence, SC, which was another massive building in a city which is now used to show off art – helping to revise a once thriving downtown shopping district.
Linda said she used to come to Tapp's when she was visiting her older sister who attended USC – a long time ago, back when her family would travel from small Myrtle Beach to SC's capital city.
While Linda talked with Shrader and looked at jewelry, I looked around the building's maze of rooms on two levels. Downstairs I saw John Sharpe giving a demonstration on a pottery wheel. The building has a lot of potential for many things.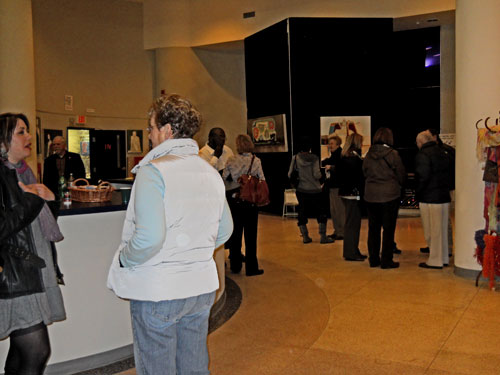 Once upstairs again, Linda and I enjoyed a bit of food and drink, I took a few photos and then we asked someone to point out Brenda Schwarz Miller. She is another person we have talked on the phone with and exchanged many e-mails with over activities and events of the Artist Round Table group in Columbia and now Tapp's.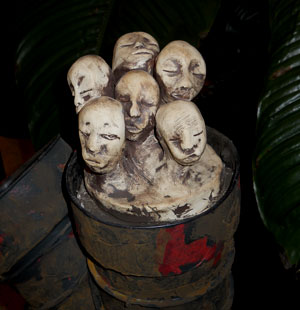 Detail of Inside Out by Sandra Carr
It is my experience that projects like this are usually the dream of one dynamic individual with the help of a few others. Tapp's is definitely Miller's baby. Again, I was reminded of the Art Trail Gallery in Florence where Jane Madden has made the project happen by sheer will and persistence in dealing with red tape – in both cases, business and city leaders.
Columbia has already had some experience with similar projects like Vista Studios and 701 Center for the Arts, but it has also had experience with fellows like Jack Gerstner – who first had a strangle hold on the 701 building and used it for personal gain. Miller is 180 degrees on the opposite end of Gerstner. So, I hope city leaders in Columbia soon help her make her dream and that of many artists in Columbia – come true. It will be good for Main Street in the long run.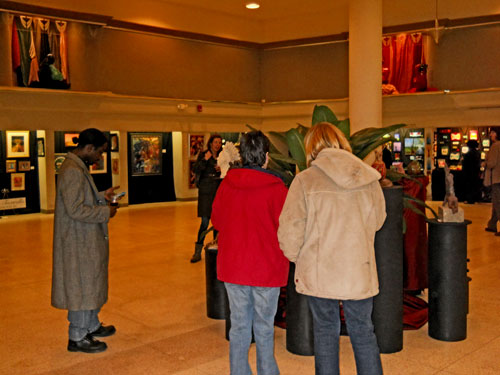 Miller told us she has received lots of help from the building's owner who also hopes for success of the Tapp's project as he owns other buildings in downtown Columbia. There's no problem in working in your own self interest while benefiting others. Too bad the SC Arts Commission doesn't see that – unless they are dealing with folks shopping for Verner Awards through donations to the SC Arts Foundation. Otherwise we're all greedy commercial enterprises – unworthy of a seat at the big arts table. They prefer creating a system of art welfare where arts groups become dependent on them for continued existence. How's that working?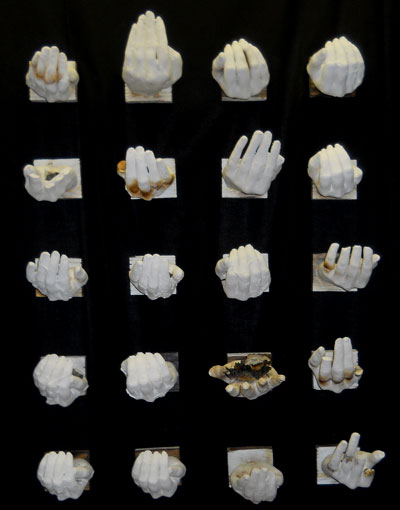 Burnt Offerings by Kara M. Gunter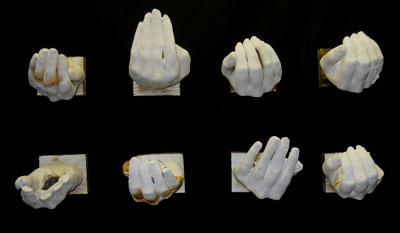 Detail of Burnt Offerings by Kara M. Gunter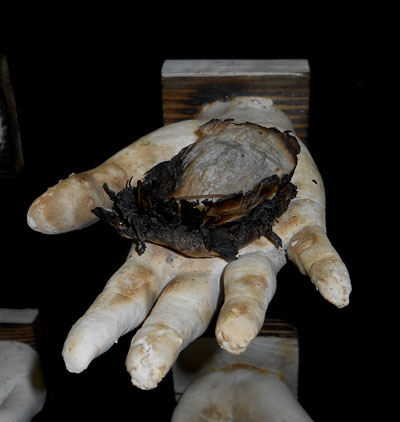 A real close detail of Burnt Offerings by Kara M. Gunter
I was hoping to run into Susan Lenz at Tapp's but she never showed while we were there so we decided to go explore some of the other locations.
Outside we got a look at the window displays at the front of the building – which are very interesting, but hard to photograph as there was still some daylight lingering causing reflections.
One complaint or suggestion I have for First Thursday on Main organizers – whoever they are or will be is – they need a map of participating locations on Main Street available at all locations. If you're hoping to attract people back to a downtown area they haven't been to in years – don't expect them to know where everything is – especially if they're coming from out of town. I know the area pretty well, but not everything.
We went up Main toward the Capital building looking for a parking space – apparently the event was working. We saw where a few of the participating places were (except the Arcade), but no parking spaces were opening up – so we did the Charleston shuffle – driving around and around hoping someone would leave their space. On one of the rounds I spotted Susan Lenz in the window talking with folks at FreeTimes. And as luck would have it after a few trips around the block a space opened up.
Once we squeezed into the building and got close to Lenz we had managed to scratch another person off our never-met list. The place was packed with the who's who of Columbia's art community, very noisy, but there wasn't really that many people there compared to the folks at the Tapp's building. The illusion of a small packed room can throw you off, but it was a case of who was there. And as in many situations like this I saw folks I would have liked to say hey to, but never got the chance. Toni Elkins was working the room like a humming bird, and Jeffrey Day was there – not sure what that conversation would have been like. But, I did have a few friendly words with Ken May – head of the SC Arts Commission.
May called me his nemesis – which I thought was a little over-blown. He might have meant it as a compliment, but I later thought it didn't really fit. It would be like calling Cuba America's nemesis. A nemesis is usually an unbeatable rival or a source of harm or destruction. I don't think I'm having that effect and his label gives me too much credit. I fit the description of a gadfly – which I was called once by an Arts Commission supporter. As May asked – "what would I write about without the Arts Commission?" I flashed back to a scene from Richard Nixon stating that we (the media) wouldn't have him to kick around anymore. But then there was George W. Bush, Sarah Palin and Fox News. There's always someone being unfair or doing and saying silly things. So I'm not worried about losing the Arts Commission – one way or another. It may be a case of the last man standing in both our cases.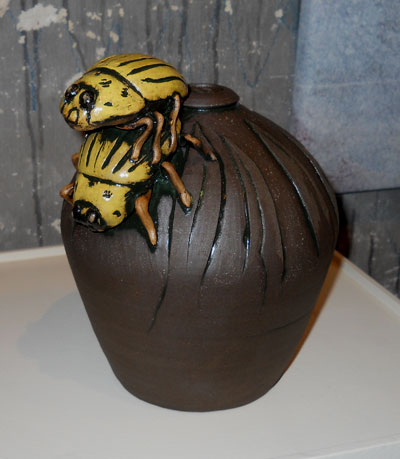 Ding on a Dong by Diane Gilbert – shot from the hip at FreeTimes
But, all in all, I was happy to talk with Susan Lenz, a human dynamo of the art world about a few of her current projects and past issues. But before long she needed to move on to Tapp's  and said she still had work to do that night. We made a slow circle of the room – not able to see much of the art and headed for the door. It was now raining. (It hasn't stopped raining since.)
Back at Tapp's Linda had heard a few folks talking about sleet and not knowing what the temps were going down to we decided to get out of Columbia while the getting was good. Besides, this is an event which is taking place every month and is just picking up steam. We can always come back.
I highly recommend the trip, especially for folks from the Lowcountry. Columbia's visual art community is much different from that of Charleston's. I've always enjoyed going to Columbia to visit Artista Vista orVista Lights to get a different view of what artists are creating in South Carolina.
But, I think Columbia planners have a basic problem in attracting out of town visitors to come on Thursday evenings. It asks travelers to take a day off of work or make extended return travel plans. A four hour round trip is nothing for me, but others don't see that as attractive. If these events were moved to a Friday or even a Saturday – they might attract more out of town visitors even though it would compete with other cities which present first Friday art walks, but what's wrong with a little competition?
But, if the plan is to just attract locals to the downtown on a weekday – this just might work and before long it could include the Vista and Five Points area too. Why not have all of the city's artists putting on a show. That's what happened in Charleston.
As far as the Tapp's Center for the Arts goes – here's some of the plans. The space could supply 16 juried studios on the main level and 20 non-juried single and shared studios in the lower level. There are plans for three galleries, including a Cafe Gallery in the lower level. The facility would also include a frame shop, photography studio, print shop, wood workshop and clay studio. And, the good  part of the plan is that it is planned to be self-supporting. All they need is some start-up support to get the project going. If you would like more info about this project contact Brenda Schwarz Miller at 803/609-3479 or e-mail her at (brenda@realworldartisans.com).
After looking at the photos I took – at least those usable – I seemed to be interested in sculptural works at the First Thursday event.