An article about this exhibit was in our Jan. 2010 issue of Carolina Arts, but when they recently sent some images of the works included in this exhibit – I just had to share this one image with you all.
It's of former President George W. Bush – the "shoot from the hip" "bring em' on" "War President" –  George Bush. Who's the nearsighted sidekick? Who knows, it could be anyone from the former President's rogues gallery – Karl Rove, Dick Cheney – perhaps Donald Rumsfeld the warrior. Who cares!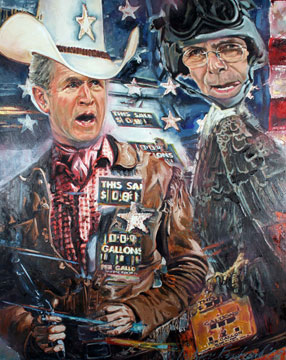 Blackwell has had some great satirical imagery in the past – the Piggly Wiggly pig as Pope and himself as a Spanish commodore, but this one really gets to the heart of a real American characteristic. We're all a bunch of cowboys at some time or another.
The exhibit is up through Feb. 20, 2010, at City Art Gallery. It should be well worth any effort to go see it – no matter what your political persuasion is.
You can read the article about this exhibit at Carolina Arts at this link.