Here's an exhibit by one of our supporters which arrived after deadline for our Feb. 2011 issue. If you haven't picked up on it yet – we'll always take care of our supporters. We do pretty good when it comes to others, but our supporters make Carolina Arts possible and this blog possible.
Here's the press release:
Skyuka Fine Art in Tryon, NC, is presenting the exhibit, Richard Christian Nelson-Recent Paintings, on view through Mar. 10, 2011.
Nelson and his wife, Kimberly opened Skyuka Fine Art in January 2011. The gallery features exceptional artwork from renowned artists of the past and present.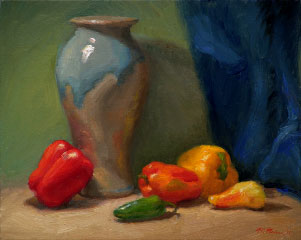 Nelson has built his reputation as 'Rich' Nelson. The change to his full name came from the need to be found more easily on the internet. The upcoming show will feature the many sides of his work; landscape oil paintings of the foothills of the Blue Ridge and paintings from his travels. It will also feature recent still life and figurative work, and of course a few portraits. There are a number of still life paintings featuring early 20th century North Carolina pottery, and some figure studies from workshops he has taught recently.
Nelson states that he is, "endlessly fascinated by people, places, and things and considers it a privilege and a challenge to capture some aspect of their essence on canvas. I work toward 'painterly realism'; good drawing and composition, rendered with strong natural color, in such a way that you can still 'sense' or 'feel' the paint. The effect of this process is that the subject begins to artfully reveal itself to me and hopefully, the viewer". All of this work (except some portraiture) is done exclusively from life.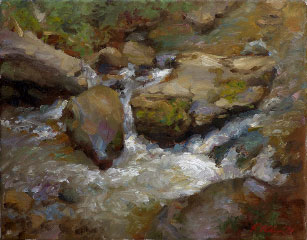 This artist strives to do museum quality work that will be around long after he and his subjects have left this world. He has won a number of honors in the last year including: "Finalist-Portrait/Figure" category of The Artists Magazine 27th Annual Art Competition, "1st Place-Oil" and "Honorable Mention-Drawing" from the Portrait Society of America's 'Choose Your Medium' Portrait Competition, and "2nd Place-Portrait Society Of America's 'Outdoor Portrait' Competition", just to name a few.
Nelson's work has been featured in American Artist, American Art Collector, International Artist, and The Portrait Society Of America's magazine, and he is listed in Who's Who in American Art. Collectors who purchase his work do so not only because they appreciate it, but because his career indicates that interest in his work will only continue to grow.
Hailing from Detroit, MI, Nelson earned his BFA from the College Of Creative Studies in 1988. It was at CCS that he developed his love of painting, drawing, figurative art, and art history. He has been working as an artist ever since, initially as an illustrator, then as a portrait artist, gallery artist, and instructor. Nelson also teaches workshops focusing on landscape, still life and portraiture as well.
The Nelson's are proud to announce a new promotion for the coming year at the gallery; anyone who purchases artwork by any artist in 2011 will be eligible to win a free framed charcoal portrait (subject of winner's choice) by Richard Nelson. Each purchase will give a chance at winning one of this award-winning artist's portraits. A drawing will be held on the gallery's one year anniversary celebration, Jan. 1, 2012.
Gallery hours are Tuesday through Saturday from 10am-5pm, or by appointment. Skyuka Fine Art is located in downtown Tryon at 133 N. Trade Street.
For further information contact the gallery by calling 828/817-3783, visit (www.skyukafineart.com) or (www.richardchristiannelson.com).