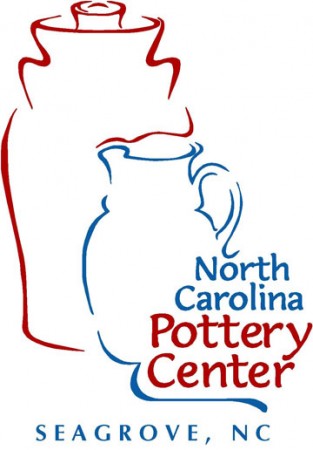 As is usually the case – many planets have to come into alignment for Linda and I to be able to go somewhere together. I hate it when I have to go somewhere without her and she hates it even more than I do, but it just so happened that the Feb. 2012 issue of Carolina Arts was launched – e-mail notices were sent out and she was off from her other job on Saturday, Feb. 4. So we made plans to head to Seagrove, NC, to visit a few potters and then attend The Potter's Palette, a unique fundraising art auction where potters from throughout NC were asked to make a painting to be auctioned off in support of the NC Pottery Center.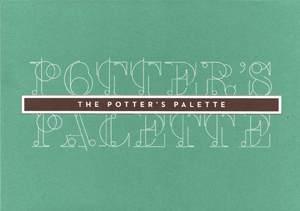 OK, two points have to be addressed before we can continue. One, I have grown to dislike art auctions, like many artists who are asked on a regular basis to contribute artworks to them. There are way too many of them and some are just a facade for some folks to throw a party for themselves and take home some cheap art. Also the "art auction" seems to be only a burden of the visual art community – what about the performing and literary arts? But, I do support art auctions that make sense for the artists to support. NC potters supporting the NC Pottery Center is a given.
Point two – what another fundraiser? Yes, fundraisers are the name of the game these days. Government funding of the arts is almost non-existent and has been shrinking over the last decade. Believe me, these folks would love not to do it, but it's a fact of survival.
What I loved about The Potter's Palette fundraiser was that it wasn't potters giving more pots to be auctioned off – reducing the market value of their pots in the name of a good cause. This was asking them to work out of the box creating art that doesn't compete with their pottery – appealing to pottery collectors – offering them a chance to bid on something rare and unusual – a real one-of-a-kind item. This concept is similar to the collaborative pots auctioned off during the Celebration of Seagrove Potter's festival. How often can you bid on a pot made by two different potters – who are not married to each other?
The trip to Seagrove from Bonneau, SC, the headquarters of Carolina Artsis about a 3 1/2 to 4 hour drive – some on rural roads, but mostly on Interstate highways (I-95 and the future I-73 & I 74), with Florence, SC, acting as a rest stop. We left early to drop in on a few potteries that I have not been to since I stopped delivering the paper – over a year now. I was in Seagrove in November of 2011 for the Celebration of Seagrove Potters, but had no time to visit individual potteries. Besides, most were at pottery festivals that weekend.
We got to the rest area just outside of Seagrove about 12:30pm. We had lunch and headed to Bulldog Pottery to pay a visit to Samantha Henneke and Bruce Gholson, as well as Max the wonder bulldog and Ed and Gloria Henneke. But we had to settle for two out of five. Max was walled off from us. The excuse was that Max had pottery studio dust feet, which Max being Max would end up all over us (a big bummer) and they claimed Ed and Gloria were down in Florida, but I think Ed was still mad at me over the fact that Michigan had beaten Virginia Tech in a bowl game. Some people take a football loss like that hard. Just kidding Ed – it's a good thing Michigan had paid off the refs ahead of time – right.
We got a tour of their new studio space. Well it was not so new to them, but new to us. Again, I'm amazed at all the stuff and equipment that goes into making pottery. If the public only knew what I have seen – behind the scenes of making art – they wouldn't complain about the price of art much. At least you would think that. Most think it just involves a potter's wheel and some clay.
We also got to talk some more about social media. Which is when my head started hurting and I noticed that there were two pots still spinning on wheels and the light bulb when off – they're in the middle of working.
We next headed to Whynot Pottery to visit with Meredith and Mark Heywood to see what they were up to since we last saw them. Yes, I follow the blog and Facebook entries of these folks, but you can't get the whole picture from those postings. Besides I still like the old school social media where you talk with people – face to face.
My mistake at Whynot Pottery was when we went inside their home, I sat or melted into their couch. If we didn't have the event at the Pottery Center to go to and Linda wasn't on call Sunday for her 911 job – I might have ended up watching the Super Bowl from that couch. Talk about visitors who never leave – it could have been me.
You ever notice that when couples get together that eventually the guys will be talking on one subject and the gals on another and sometimes the two paths of conversation will cross – and make sense? We had a few of those, but mostly we talked about a project they are working on with a designer from Charlotte, NC, who is working with a bigger designer in California.
At this point no one knows where this project will lead, but it really sounds interesting in that these designers are going to be pitching American Made up against Made in China and hopefully American consumers are ready to buy into the concept of the value of American craft over China's price. We hope to have more about this project later.
Once I looked at the time, I think it took me about 20 minutes to transition slowly to a point where I could move off of that couch. My body didn't want to go.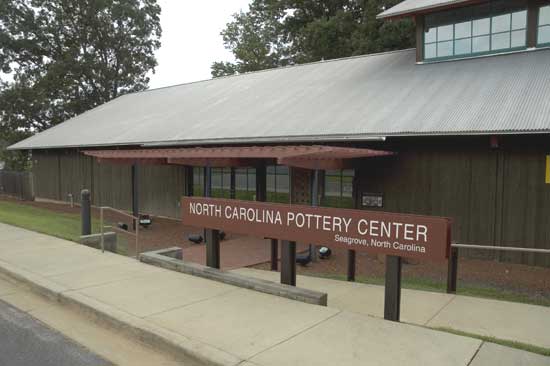 We got to the NC Pottery Center in downtown Seagrove just a little after the event started and the parking lot was packed. And, so was the Center. Very soon we were standing in a line which eventually led to the food, which was being provided by Jennie Lorette Keatts, of JLK Jewelry at Jugtown, who we later learned was a caterer in a previous life. And what a spread it was – steamed shrimp, smoked salmon pate, tuna pate, sundried tomato tapenade, Rosemary white bean spread, Asian marinated meatballs, miniature quiches, stuffed baby red potatoes, cheeses, fruit, veggies, desserts, and more. You won't see any photos of the food, as there was never a time that there wasn't a crowd of people around those tables, except during the live auction, and I found it impossible to fill my plate and take pictures. But I know my priorities.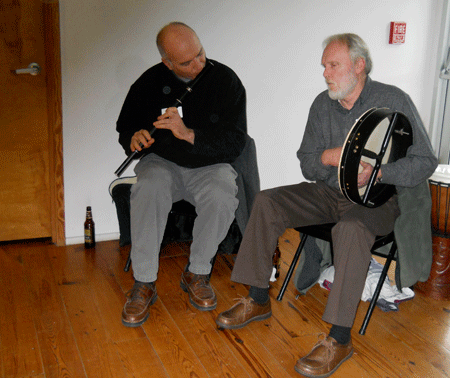 Michael Mahan (r) and Phil Winn (l)
Wonderful Irish music was being provided by Michael Mahan, of From the Ground Up Pottery, and Phil Winn from Greensboro, NC. It doesn't seem fair that these artists have so many talents. They should have left some for the rest of us.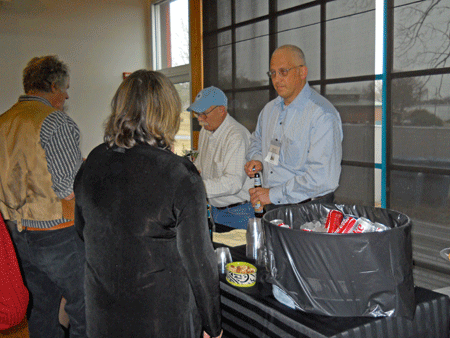 NC Potter Center Board Member Michael Kline serving up drinks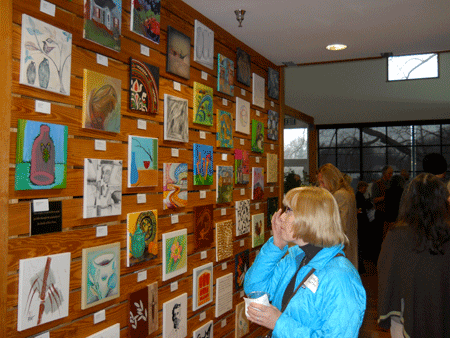 A last minute inspection of works to be auctioned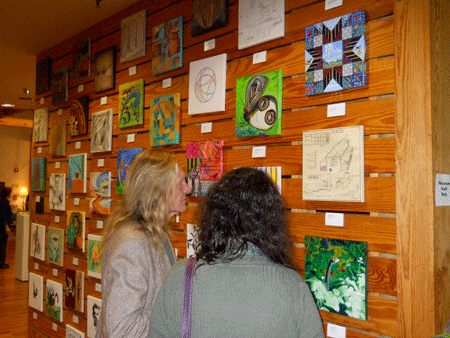 More inspections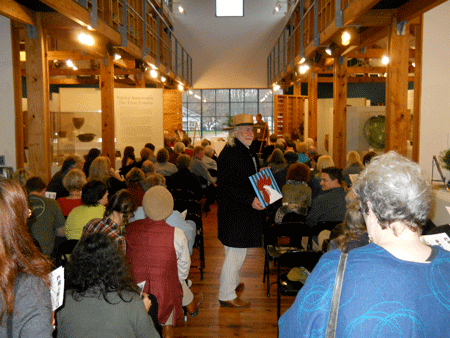 Potter Fred Johnston of Johnston and Gentithes Art Pottery giving folks a closer look at a work
Soon the live auction was starting, but it took the crowd a little time to settle down. There was a lot of excitement in the air and so many people to talk to. Bidding started a little slowly, but before you knew it – it was moving along fast and the bidding was getting heated on some of the items. One painting by Vernon Owens of Jugtown Pottery went for $1700. The high bidder was somewhere on the other end of a cell phone manned by Travis Owens. The crowd erupted when the auctioneer called out – "Sold for $1700!" I later learned that Alex Matisse's painting came in second and brought a final bid of $1650.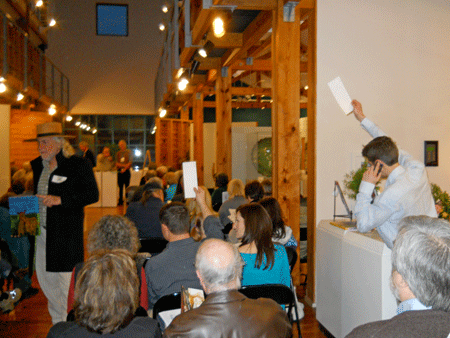 Travis Owens making a bid for the mystery person on the phone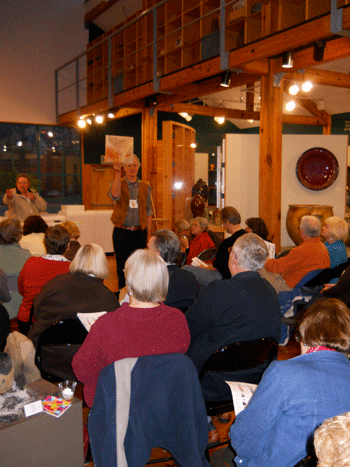 Mark Hewitt describing a painting
One of the highlights of the auction was the commentary by Mark Hewitt of Pittsboro, NC, potter and board member of the NC Pottery Center, about each of the paintings being offered. His comments got interesting, especially when it came to a work by himself or of a good friend. At times it sounded as if he was auditioning for a job at Sotheby's or to be an Art History professor.
There wasn't any painting that didn't attract a bid – thank you bidding audience, and at least 50 percent of the paintings went for over $100 and some climbed to $400, $500, $600, and higher as several bidders fought to become the owner. A few bargains were had for what I would call a steal, but the bidding was well spread throughout the crowd. Some of the potters who had contributed a painting were also bidding on other potter's paintings. The spirit of a true fundraiser was in this crowd.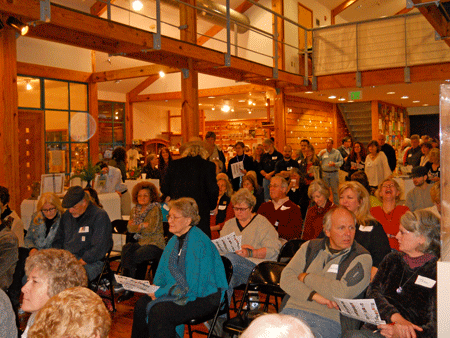 People checking their bid sheets to see which painting is up next
Before the evening was over, what I would call halfway over by looking at the bid list, Linda and I had to head back to Bonneau. Linda was on call on Sunday, and although she didn't get called in and was able to participate in the first ever Carolina Arts All Day Super Bowl Celebration, we didn't want to take the chance of getting home around 1 or 2am and she getting that dreaded call to come in to work at 7am.
The Pottery Center has not issued a final total raised during the event, but it might come in over $15,000. An official press release will come later, but I'd say it was a very successful venture, one that I'm sure we'll see again and will no doubt be better than this first one. That's the way they roll in Seagrove.
You can see other photos from the event (better than mine) at the Pottery Center's Facebook page (http://www.facebook.com/pages/North-Carolina-Pottery-Center-Seagrove-NC/102520396006). While you're there you might want to "Like" it to keep up with future events. Their annual potter auction will be coming up soon.
You can read more details about this event at an earlier post I made on Jan. 31, 2012, at this link (http://carolinaarts.com/wordpress/2012/01/31/north-carolina-pottery-center-in-seagrove-nc-offers-the-potters-palette-something-different-feb-4-2012/).
To learn more about the NC Pottery Center, check our their website at (www.NCPotteryCenter.org).