Summers are not supposed to be this busy. Yet, I seem to be as busy as I ever have been. There's this publication that expects to be finished by deadline every month. Then there is my new hobby of protesting the current Government, so scratch Tuesdays off the calendar, And, then there is the Grandboys who want – no, make that demand their Grandpa's time (they don't care about the arts or the government – yet). Not to mention a wife, who I see in passing, a yard that is out of control, and the dog – which I swore I wasn't going to be taking care of but gives me that look of – you're the only responsible person in the house that will give me snacks and take me out. And above all, I promised myself I was going to see the movie "Dunkirk" when it came out, but here I am writing this blog about an art exhibit I went to see last week.
Now, as busy as I have been, it should tell you something that I took time to drive to Charleston on a Saturday afternoon, when the heat index was 105 degrees to go see art on a wall. I've seen lots of art on a wall many times before and I'm sure to see more art on a wall in the future. But here I was headed to the reception for "The Quench Project and the mire of desire," an exhibition of works by Robert Maniscalco, on view at Fabulon, a Center for Art and Education, located at 1017 Wappoo Road in the West Ashley area of Charleston, SC. The exhibit will be on view through Aug. 10, 2017.
I went for several reasons. First, I suggested to Maniscalco that Fabulon was perhaps a good match for the type of work he was doing to line up an exhibit of his works when we were working on his profile and it turned out they were a good match. And, second, because I wanted to support the artist and the gallery for producing and showing respectively, art with a message. Or art that supports a cause.
Don't get me wrong, I like art that is just beautiful, art that is abstract, and art that makes me feel good when I look at it. I have plenty of it in my personal collection. But, as of late, I've been drawn to art that has a message for some reason. I wonder why that is? And, I'm not saying that all art doesn't have a message of some sort. After all you can project a message into any art you look at.
When I look at one of John Moore's abstract photographs of rust, I can see beauty in the colors of the rust, but I can also see man's neglect of the things he has put on this earth. When I see a landscape by Betty Anglin Smith, I don't see any marsh scene I have every seen, but I see the Lowcountry through rose colored glasses the way visitors do when they first come to the Lowcountry and fall in love with it. It's not reality, but it's the way we see it in our mind, and we want to live there in all those colors. It's like pluff mud – it smells better than it is to be in it with the noseems biting away at you. Art can help you escape from reality but it can also bring you back to reality.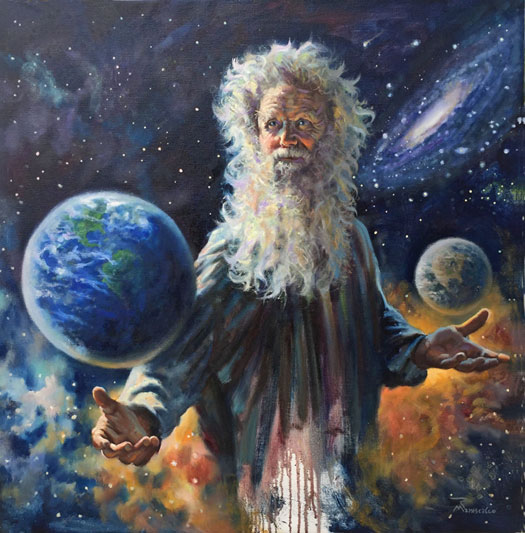 "The Next Big Thing" by Robert Maniscalco
While some artists make their pilgrimages to Provence, France or Santa Fe, New Mexico, Maniscalco chose to go to Haiti (after the earthquake) and Flint, Michigan, when it was dangerous to drink the water.
Why do that? Well, the best way I can explain that is to say that Maniscalco is a Christian in the mold of a Jimmy Carter Christian, where deeds are more important than words. I'm not an overly religious guy, but I admire those who show their faith in deeds – not words. That's all I'm going to say about that.
We offered a sort of profile on Robert Maniscalco in our May 2017 issue on pages 12 and 14 (http://www.carolinaarts.com/517/517carolinaarts-pg12.pdf) or (http://www.carolinaarts.com/517/517carolinaarts-pg14.pdf). Check that out for more info on him and what he's been up to in the last couple of years.

This portrait is of Louise Noel, mother of Pastor Medit, Maniscalco's host at the Bread of Life Orphanage in Jacmel, Haiti.
So, getting back to the exhibit, it was nice to finally see some of the works, up close and personal that we promoted in our May 2017 issue of "Carolina Arts". I always tell people if you like the images you see in our publication, you'll love them in person, as they are always much more alive when you're standing in front of them. Maniscalco agreed with that concept in thinking there is a spark in the originals that no copy could show. And, I also feel that every artists puts a little of their soul in many of their works. Although, some works seem lifeless, but not in this exhibit.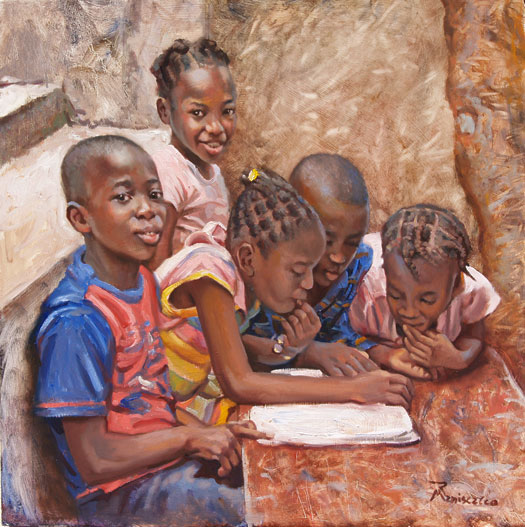 Children at the Bread of Life Orphanage learning to read and teaching each other to read.
Most of Maniscalco's works are portraits of individuals or groups of people. What I liked about most of them is that he captures the joy and hope in people who should be feeling pretty hopeless after what's happened to them. And I'm sure there was plenty of hopelessness to go around, but he chose to capture something else – the spirit of people doing the best they can with the situation that was handed to them. Along side each painting is a fairly long description of what you're looking at to give you plenty of background. Maniscalco has a story to tell and a message to deliver to the viewer – you might say a call to action.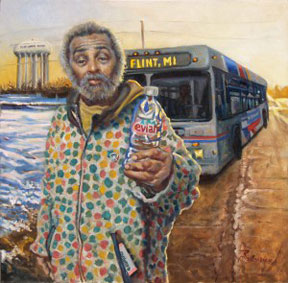 "Overcome" a portrait of Quinn Tyler of Flint Michigan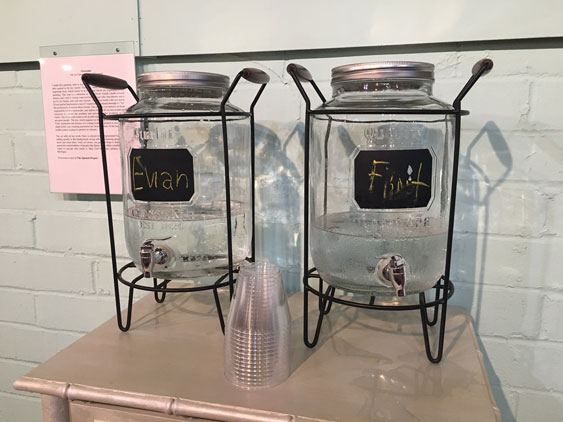 Maniscaloc offered a choice of water – didn't see anyone taking the water from Flint.
I have some images of Maniscalco's works on view, a few I had on file and a few from his website (www.maniscalcogallery.com), not from the exhibit, as they were too hard to get a decent photo of with reflections, but I do have images from the reception.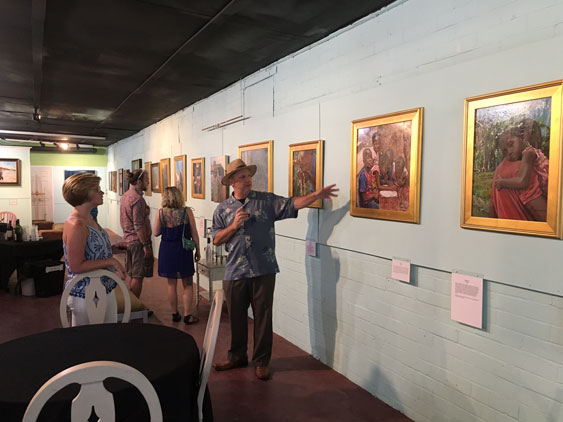 Maniscalo is explaining a work to one of the folks at the reception. That's one of the benefits of going to receptions – you get to talk with the artist.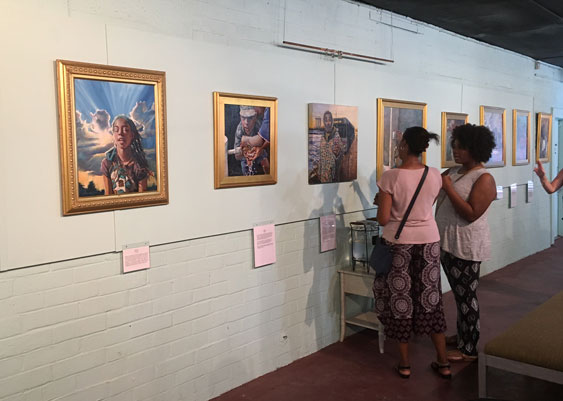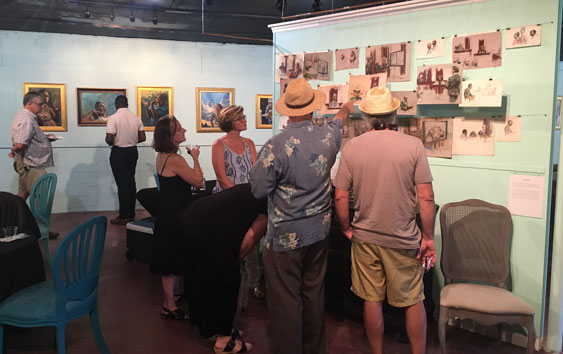 Here, Maniscalco is talking with some folks about the courtroom sketches he did for the recent Dylan Roof Trial.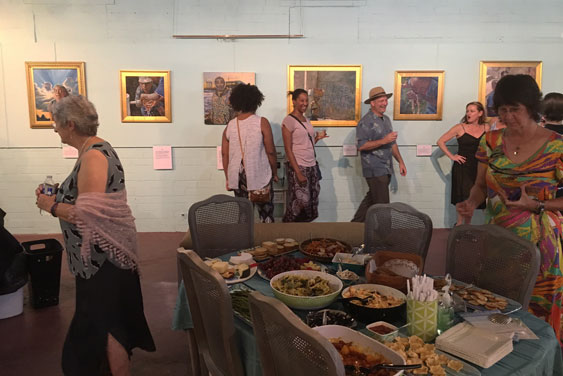 There was a nice spread of food offered.
Now, as always, I don't want you to just read this and think – well I have a good idea of what's there and skip it. I want you to go see this exhibit and to check out Fabulon if you have never been there. It's easy to get to and there is plenty of free parking – something that is in short supply in Charleston.
Now, like any time I'm at an exhibit reception or visiting a gallery – I look at everything and talk to people. And, not to take away from Maniscalco's exhibit, but there were other works on view at the gallery and I just happen to take a few images of what caught my eye. Guess what? – they were abstract works. One by Michael C. Hayes that reminded me of work I'd seen before and I verified with gallery owner Susan Irish, that Hayes had work in the recent "Piccolo Spoleto Juried Show" at Charleston's City Gallery at Waterfront Park. I mentioned his work in a blog I did about that show. Hey, if anything I'm consistent. And there were a couple of works by Vicki Hickman that I liked and I found out she was the Visual Arts Coordinator for the Berkeley County School System – from my own backyard. When are we going to have a gallery in Berkeley County to show the talents of Berkeley County artists?

Work by Michael C. Hayes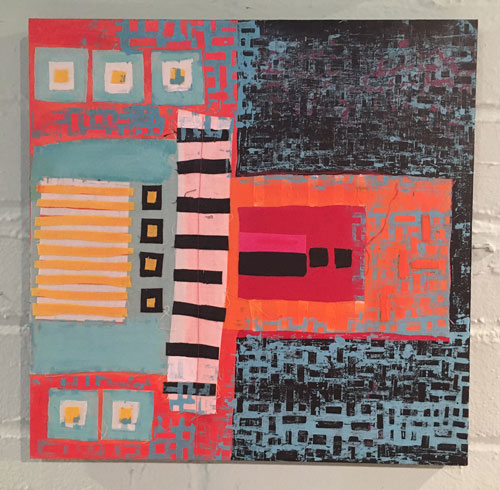 Work by Vicki Hickman
And, of course I did a bit of talking with Irish and Maniscalco, but like all conversations between me and folks in the arts – it stays between us. That way people can tell me how they really feel about things.
Unfortunately I didn't get to stay too long at the reception as I had an errand I had to do before heading home. I always have to make the best use of gas and time on these trips. But, I'm sure I'll be back to Fabulon sometime. They're not your typical Charleston art gallery and they don't present typical Charleston exhibits. So if you're looking for something different – check them out.
Fabulon is open, Tue.-Sat., 10am-6pm. For further info about the exhibit call 843/566-3383 or visit (www.fabulonart.com).