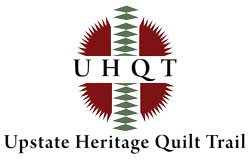 Fifty and counting – that's the number of quilt blocks that now comprise the Upstate Heritage Quilt Trail. This latest is titled "Kimono" and was originally designed by Ellen Kochansky, founder of the Rensing Center in Pickens, SC. A well known textile artist, designer and quilter, Kochansky's craft is grounded in the traditional style. However, her work stretches beyond to include experimental fibers and mixed-media in response to community-based and site-specific commissions.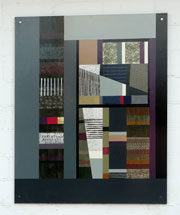 The "Kimono" quilt block has been mounted on the non-profit Rensing Center, named for Kochansky's mother, Evelyn Rensing Kochansky. She and her husband Nicholas moved from Connecticut to Pickens in 1981. From 1981 to 1992, the building served as the studio for their daughter and a remarkable team who made a line of original, limited-edition bed quilts and a series of art quilts. The production line consisted of 12 to 15 seasonal styles, in two or three colors. They were sold primarily through the national competitive craft shows such as those sponsored by the American Craft Council. Over 2,000 quilts were produced here. The Rensing Center is located at 1165 Mile Creek Road in Pickens.
Inspiration for "Kimono" came from two sources. First, the tradition of resourcefulness and frugality typical of the quilts of the Depression years. They were often made of men's suits, after the dark wool had become shiny from wear, and perhaps, Dad had lost his job. The fabric could be turned to the wrong side and used again to keep the family warm. Joyful jolts of color called 'Zingers' were added to keep the family spirits up and to enliven the quilt. This quilt was designed after Kochansky had spent a sick Christmas with friends and they comforted her with a family quilt of this vintage.
The second inspiration came from Kochansky's training at Syracuse under Charles Dibble, a Japanese scholar. She was struck by the nature of  Japanese weaving tradition using a diagonal structure in which a standard fabric width of about 14 inches is used to create a kimono for any size person. In many weave-based traditions, the labor and resource intensity of the textile itself was revered, allowing many kimonos to be rebuilt time and again for new owners. She came across the Korean example of a wrapping cloth, a kind of square quilt with ribbons sewn to each corner that was used as a back pack. The design was often made from the specific diagonal wedges of fabric that were cut from the sleeve of the kimono.
Kochansky's designs reflect the philosophy behind the Rensing Center itself – it serves as a connecting model between creative thinking and craftsmanship. As Kochansky explains, "Make use of what you have – This is what will solve the environmental, economic and creative problems of today. Nothing goes to waste! Finding what is scorned and discarded  in our less conscious society, and honoring it with a purpose that is both beautiful and useful…THERE is art!"
This 50th quilt on the driving trail is a turning point for the UHQT. It is only a year and a half since the first quilt block was hung in Oconee County. The trail has recently expanded into Pickens and Anderson counties with plans to continue expansion down the South Carolina Heritage Corridor to Charleston.
For more information visit (www.upstateheritagequilttrail.org).