During cooler times we were receiving info about developments in SC's Quilt Trails. Info on the expansion of the trails in SC comes in spurts, so we tend to wait until we have a few in the hopper before we release this info to readers. Now that the weather has changed, it's time to hit the road and see some of these quilt blocks. And to help you do that there have been two publication published – one a map of the "Upstate Heritage Quilt Trail" and "Quilting A Legacy: The First 100 Quilt Blocks of the Upstate Heritage Quilt Trail" is a guide offering a photo and description of each quilt on the trail. I'm not sure where you can get these publications, but I imagine SC Tourism Information Centers and offices of the SC Heritage Trails would be a good bet. You can also get a lot of info from (http://www.upstateheritagequilttrail.org/).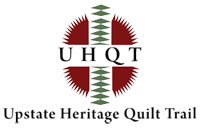 Upstate Heritage Quilt Trail in Upstate SC, Announces 2013 Quilter of the Year – Verla Warther
The Upstate Heritage Quilt Trail in Upstate SC, announces the selection of Verla Warther as the 2013 Oconee County Quilter of the Year. This award recognizes a local quilter who provides leadership and community service through their quilting.
Warther grew up and went to school in San Jose, CA. She became a teacher of children with special needs and met her husband, William, there through a computer dating service. This was long before the Internet!
They spent 31 years in California, raised a son and then moved to Silverton, OR, a small farming community. She taught math for 27 years there. In 1998, upon retiring from teaching, they moved to Tamassee, SC. Between Verla and William, they have four children, nine grandchildren and two great grandchildren living in Ohio and Oregon. Warther is overjoyed that several of the women in the family are becoming quilters.
Warther was always a seamstress, having learned from her mother, making everything from children's clothing to Civil War uniforms and dresses, even toys. When her mother-in-law died in 2002, she inherited many hand pieced quilt blocks that had been made by Mary Elizabeth Muelhoffer, her husband's great-grandmother. She visited Heirlooms and Comfort, a local quilt shop in Central, SC, for advice on how to clean, assemble then eventually create 3 different quilts from the pieces. She was hooked!
A quilting neighbor invited her to join the Lake and Mountain Quilt Guild in Seneca, SC, and that's where she learned her quilting techniques. Her interest in the history of quilting has led her to doing presentations in local schools and at Guild meetings. She's served on the Guild's Comfort Quilt Committee and their Program Committee, as well as taught classes for the Guild at their annual Retreat.
Warther's twin sister, Laura, is also an accomplished quilter. "In 2005, we took a self-guided tour of New Zealand with our husbands. Laura and I visited many quilt shops and found it to be a wonderful way of getting to know the people of the country – a fellow quilter is never a stranger.  Laura comes every fall and joins me in attending the Retreat offered by the State Guild.  It gives us quality quilting time together."
When asked what kinds of quilts she likes to make, Warther told us, "I'm a traditionalist. I prefer doing piecing and appliqué by hand – it's where I find peace, a form of therapy. I do have an appreciation for those who have made quilting a fiber art form, but that's not where my talent lies. One must enjoy the type of quilting they get involved in. Someday, I would like to become as accomplished a quilter as my fellow guild members, especially people like Marge Edie and Dixie Haywood."
"Quilting can lead you up many paths. Through an announcement at a Guild meeting, I heard about the Upstate Heritage Quilt Trail. I decided to check it out and now I'm an active member of the production team. I help with the drawing and painting of quilt patterns on specially prepared boards, which are then mounted on both public and private buildings. It's a nice art form for our community, a reason to bring tourists as well as other quilters to the area," says Warther.
Warther has made many contributions to Oconee County through her volunteer efforts with Keep Oconee Beautiful School Program; Tamassee DAR School special programs; Lake and Mountain Quilters Guild making charity quilts for donation through the Guild programs  and the Upstate Heritage Quilt Trail production team and school program. She is always willing to help in way she can.
Upstate Heritage Quilt Trail Expands
Anderson County Farmers Market Quilt
The Anderson County Master Gardeners have sponsored a table runner quilt block to be displayed on the Anderson County Farmer's Market located on the corner of Tribble and Murray Streets in Anderson, SC.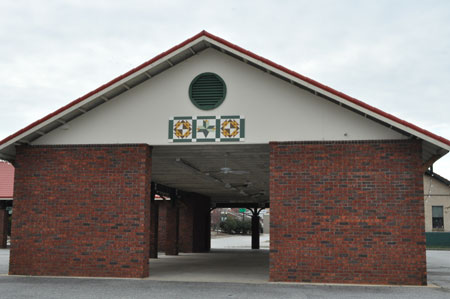 The 3 block quilt was chosen by several members of the Master Gardeners who are quilters. The table runner quilt was made by Robin Kaja of Anderson in 2012.  She made the specialty quilt in honor of the long time commitment of the Master Gardeners to the Farmers Market. It consists of one Cornucopia square centered between two Corn and Beans blocks. This cornucopia celebrates the harvest in Anderson County which is the reason the Farmer's Market was conceived. The pattern dates back to the 1930s and is credited to Dolores Hinson. Her version didn't include the seams in the background. There is a similar block called Nosegay that includes the seams with the "handle" pointing to the corner.  The version in the table runner is possibly based on both designs in order to get the desired orientation in the runner. The Corn and Beans block is credited to Nancy Cabot who had the pen name Loretta Leither Rising used for her "Chicago Tribune" column in the 1930s. Her patterns were printed in the "Progressive Farmer" and were widely distributed according to Barbara Brackman's "An Encyclopedia of Pieced Quilt Patterns".
Robin learned to sew in the 1960s from her mother, who learned from her father and uncles who were all tailors.  A self taught quilter, Robin's first quilt was handmade when her daughter was born in 1982.  She currently resides in Anderson.
The Anderson County Farmer's Market Hours:
Thursdays & Saturdays through May:
8 am – 1 pm
Tuesdays, Thursdays and Saturdays June 2 – November 22:
8 am – noon
Tamassee-Salem High School has joined the Upstate Heritage Quilt Trail
Tamassee-Salem High School (TSHS) has joined the Upstate Heritage Quilt Trail with two quilt blocks. The Tamassee-Salem High School Class of 1981 and former classmates sponsor the first block, the fan pattern quilt is "In memory of our dear principal, Sam Bass, Jr., principal from 1976 – 1989." Helen Jones who worked with Bass at the school made the original fan quilt. He had asked her to make a quilt in honor of his maternal grandfather, Ben Armstrong, on his 100th birthday. He wanted a quilt made from pieces of clothing from all of Mr. Armstrong's descendants. So, the quilt was made in 1989.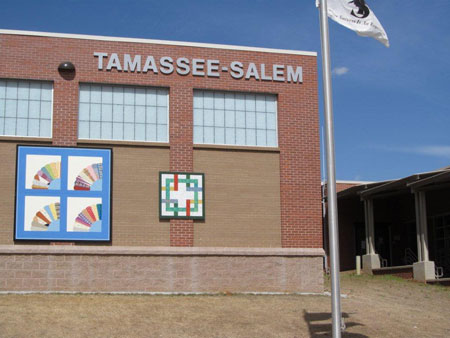 A quilter all her life, Jones designed the fan pattern using the fabrics from clothing donated by members of the Armstrong-Bass families for each of the ribs of the fans. She learned to sew and quilt from her mother and remembers that the quilt frame hung from the ceiling in her parents' bedroom. She and her husband, Jerry Jones, were raised in South Florida, and moved to Walhalla from Palm Beach County, FL. They visited the area on vacations and liked it here – the mountains and cooler weather. Today, she makes custom quilts to sell to the public.
Sam Bass was born and grew up in Columbia, SC. He attended the University of South Carolina where he met his wife, Mary. As she told us, "We were young and in love. Sam quit school to support us, then later went back to college and graduated from Mars Hill in North Carolina. In 1976, we moved to Salem, SC, where he served as principal of Tamassee-Salem Middle School for 13 years."
These former students are dedicating this artwork to Bass, in appreciation of his service, not only to the students and school, but also to the community of Salem.
There are many variations of Fan patterns which seem to have emerged in the last 19th century, when they were popular in crazy quilts and outline embroidery.
The 1981 Class of Tamassee-Salem High School is sponsoring second addition to the school. This quilt block is in honor of their former English teacher, Ron Rash, well-known local writer.
The original quilt, called Crossroads, was made by Rash's mother, Sue Holder Rash of Boiling Springs, NC. Born in Blowing Rock, NC, Rash attended Gardiner Webb College.  She and her husband, James, had three children. He was an art teacher in Chester, SC, and died in 1980. She made this quilt for her son, Ron and his wife Ann. She began making utilitarian quilts in the 1950s and by 2000, had made more than 100 quilts.  She uses a long armed quilter.
The Crossroads pattern is believed to be part of a series of "Underground Railroad" blocks, designed to assist escaping slaves, unable to read, to their freedom. Crossroads was the seventh block in the series. Once escapees made it through the Appalachian Mountains, they were to travel to the "crossroads" meaning a city where they would find protection and refuge.
Rash taught for two years at TSHS and recalls that it was a wonderful experience. He now teaches at Western Carolina University in Cullowhee, NC, and has published 15 books, including "Serena" which will be released as a movie in 2013.
Westminster, SC, Expands Quilt Trail
The home of Melanie and Scott Burton on Theo Martin Road in Westminster, SC, has been added to the Upstate Heritage Quilt Trail. The quilt pattern is Dutch Doll and was originally made by her grandmother, Ruth Azilee Shirley Black. Black was born in the Earles Grove Community of Oconee County in 1913 and died in 1993. She was married to Henry Fletcher Black, a dairy farmer, and they had two children, Henrietta Black Harbert and Joe Henry Black. According to Burton, "Ma-Ma Black had six grandchildren and made each of her granddaughters a Dutch Doll quilt and each of her grandsons a Fisher Boy quilt."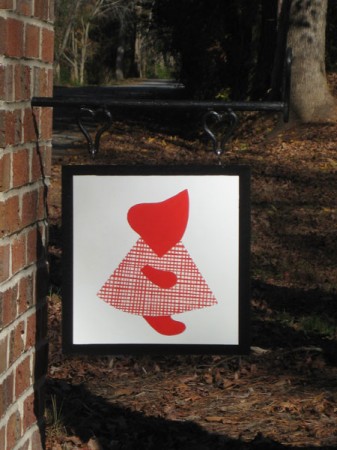 Ruth Black was a member of the JOY Club at Earles Grove Baptist Church. These ladies often gathered together to quilt. Burton remembers going to Ma-Ma Black's house and spending a week during the summer and often on weekends. "She always let me play in her trunk of scrap material. She would give me a needle and thread and let me sew to my heart's content."
Upstate Heritage Quilt Trail Donates Quilt Block to Oconee County
The Building Blocks quilt block has been donated to Oconee County by the Upstate Heritage Quilt Trail, working collaboratively with the County to preserve our heritage through the stories of the quilts and their makers. This quilt block is displayed inside the County Administration Building at 415 S. Pine Street, Walhalla, SC.
The Barn Quilt Trail Project began in Adams County, Ohio in 2001. Today, there are over 4,000 quilt blocks in 47 states. In the spring of 2009 Oconee County became the first county in South Carolina to embrace the Quilt Trail concept. The founding group of volunteers thought that extending the Quilt Trail to homes, historic buildings, public buildings, destination venues and businesses would be a good way to preserve the area's heritage and promote Oconee County. The Quilt Trial quickly expanded to encompass Anderson and Pickens Counties and is known today as the Upstate Heritage Quilt Trail. The local Oconee County group has helped several counties throughout the state develop trails for their areas.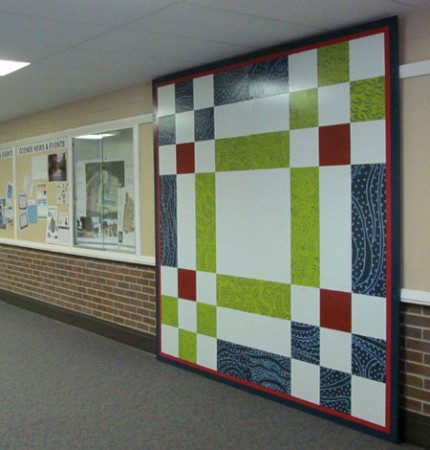 The Building Block pattern first appeared in the "Chicago Tribune" January 15, 1938, with the name of Nancy Cabot.  According to Jinney Beyer, Author of "The Quilters Album of Patchwork Patterns", the one-patch design is an arrangement of multiple patches of identical shape with varied colors. Ellen Henderson of Landrum, SC, made the fabric Building Block for this painted quilt block. Six members from the Landrum Quilters Guild have each contributed a block that is serving as the foundation to create the Foothills Quilt Trail for the City of Landrum, SC. The Upstate Heritage Quilt Trail has served as their mentor for this endeavor.
The Oconee County Government Annex was originally Pine Street Elementary School from the early 1950's until 1996. The County acquired the building in 1996 and began centralizing many of its offices to this location in 1997. Currently about 60 alumni of Pine Street Elementary are working in this building. The County Council Chamber once served as the school auditorium.
Quilt Trail Expands in Tamassee, SC
The Upstate Heritage Quilt Trail continues to grow with the addition of a new quilt block in Tamassee, SC. The quilt can be found on the home of Jeanie and Dave Christopher on Jumping Branch Road on Lake Cherokee. She is the quilter and even created the pattern from the flags used by the lake association. They are in the shape of triangle flags.
As Jeanie Christopher told us, "This quilt was inspired by our living here at Lake Cherokee for 10 years. It celebrates our first 10 years enjoying the lake with friends and family. Every year when we pay our lake association dues we are given a colorful flag to put on our boat. This flag signifies that we are members of the association and therefore, have the privilege of using the lake. So, I selected colors for the quilt that were the same as the flag colors over the 10 years."
"We are Clemson fans and retired here after raising our three children in Athens, GA (Bulldawg territory!). I grew up in Anderson, SC, so our move here was like 'comin' back home' or at least back to my beloved state of South Carolina! I have always loved quilts and helped my Grandmother, Julia Morris, make quilts when I was a little girl. There has always been something special about making a quilt to comfort me or someone else and I treasure those memories of working with my maternal grandmother in Anderson. In the early 80s I took a quilting course while living in Seneca, SC, and made some quilts for my daughter's doll beds. But, having 3 children kept me too busy to sew except for smocking and other crafty type projects, painting t-shirts or whatever."
For more information and pictures, click on (www.UHQT.org).
Arts Council of York County adds Barn Quilts to Ag + Art Tour Farms
The public is invited to attend a workshop hosted by the Arts Council on Tuesday, May 7, 2013, at 2pm at the Center for the Arts, 121 E. Main Street in Rock Hill, SC. The workshop will illustrate the process for painting four new, permanent, wooden quilt blocks to adorn barns and other outbuildings at participating Ag + Art Tour farms. The Ag + Art Tour is a self-guided tour that has been designed to generate interest in local farms, fresh foods, and "Made in York County" traditional arts. This year's tour will be held over the weekend of June 8 & 9, 2013. Participants will assist in painting four new quilt blocks in the following patterns: Cluster of Stars, the Star of Virginia, a variation of the Broken Plate pattern, a variation of the Paper Daisy pattern, and a variation of the Prairie and Blazing Star patterns.
In May of 2011, Arts Council staff traveled to Pickens County to attend a similar workshop on how to build barn quilts.  The idea was to mark all of the York County farms participating in the Ag + Art Tour with a permanent barn quilt, rather than temporary vinyl ones . It was also an attempt to learn the craft and add a new layer of tourism to York County by becoming members of the Upstate Heritage Quilt Tour (UHQT). UHQT is a grassroots public art project consisting of more than 100 quilt panels, winding through Anderson, Oconee, Pickens and York Counties. The quilt blocks can be found mounted on barns, businesses, homes and public buildings, inviting visitors to stop and listen to their stories. So far, the Arts Council has created two new 48″ x 48″ wooden quilt blocks for permanent display. One is located at the Center for the Arts, 121 E. Main St., Rock Hill, featuring a variation on the Cathedral quilt square. The other is located at Windy Hill Orchard & Cider Mill in York, SC, featuring the Hovering Hawks pattern.  Quilt designs are painted on ¾" MDO board that is finished on both sides and then sealed with a marine-grade sealant.
With the installation of the blocks, both sites have been added to the Upstate Heritage Quilt Trail. Each year, the Arts Council plans to create 4-5 new quilt blocks for permanent display at Ag + Art Tour farm sites. As the quilts blocks are installed, each new venue will be added to the UHQT, adding to the appeal of agritourism in York County and across South Carolina. Grant funding has been received from York Electric Cooperative and Blue Cross Blue Shield of SC to help fund the project.
The Ag + Art Tour, developed in 2011 by partners, Clemson Extension of York County, the Arts Council of York County, the Olde English District Tourism Commission, the York County Convention & Visitors Bureau and the Culture & Heritage Museums, is partially funded by City and County Hospitality Tax  and Clemson University.
For more information on the Ag + Art Tour, please visit (http://agandarttour.com/).
Other Quilt Trails in South Carolina:
Foothills Quilt Trail info (http://www.foothillsquilttrail.com/).
McCormick Quilt Trail info (https://www.facebook.com/McCormickCountyQuiltTrail)
Quilt Trails of Western North Carolina
With over 200 quilt blocks, we have the highest concentration anywhere in the USA! Come to Yancey County to get started on your great quilt adventure! We are just 45 minutes North of Asheville, NC – exit 9 off I-26, or exit onto Hwy 80 off the Blue Ridge Parkway.
Six contiguous counties host quilt blocks, with the highest concentration in Yancey and Mitchell Counties. While in Yancey County, visit Mt. Mitchell, highest peak East of the Mississippi. Mitchell County is home to Roan Mountain (the rhododendrons are in full bloom in June – gateway through Bakersville, NC) and Avery County offers Grandfather Mountain with its mile-high swinging bridge. Of course we have waterfalls, supreme hiking, great trout fishing, canoeing, golf, horseback riding, and great shopping.
Nine different driving trails take you to view vividly painted quilt squares installed on barns and buildings of participating communities. Even if it is raining you can still enjoy a day of adventure finding the quilt blocks. Stop by the Quilt Trails Gift Shop in the OOAK Gallery on the Loop in Micaville, NC, to purchase a driving map and one or more of the nine tour guides that tell the stories behind the blocks.
For info about other WNC Quilt Trails check these links:
Ashe County Quilt Train info (http://www.ashecountyarts.org/BarnQuilt.htm)
Haywood County Quilt Trail info (http://www.haywoodquilttrails.org/)
Macon County Quilt Trail info (http://www.maconcountyquilttrail.org/)
McDowell County Quilt Trail info (http://mcdowellquilttrail.org/)
Wautauga County Quilt Trail info (http://www.quilttrailswnc.org/index.html).