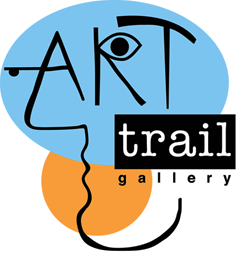 Linda and I were lucky that we were not under a deadline, and she was off from the second job of taking 911 calls, to be able to attend the opening ofPhotofabulous 2012 at the Art Trail Gallery in Florence, SC, Friday, Mar. 16, 2012. The exhibit will be on view through Apr. 27, 2012.
We arrived about 45 minutes before the official opening and we were lucky that they let us in the door to have a first look before the crowd moved in and I would begin talking with folks. Look first – talk later is a good policy if you expect to make comments at some point. And, I usually would have posted these comments before now, but I was suffering from a weekend of yard work – not my favorite task in life.
Editor's Note: I didn't try to take any photos of the photos on display. That doesn't work so good with my camera and the gallery's lighting.
This is apparently the fourth photography exhibit the Art Trail Gallery has presented, but I've only seen the last two. My first impression comparing this show to last year's show, was I felt there were less commercial photographers participating and less photos by children, but the exhibit was more organized by category. I think last year's show held an edge on quality, but not by much. There are some knock-out images presented this year, but my impression is that last year was better.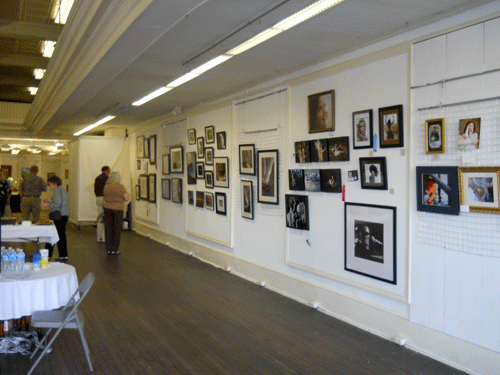 I learned later that one of the reasons for the difference was a loss of some of the display space which was used to present special exhibits within an exhibit last year. The number of entries were also limited and the show organizers didn't beat the bushes as much as they did last year.
Also, a major factor in Art Trail Gallery exhibits – less photographers from the community stepped forward to help organize the exhibit. But the presentation of the exhibit and reception didn't suffer with just a few folks doing all the work. Plus, nothing – nothing stops Jane Madden, the Queen of the Art Trail Gallery, from putting on a good show and reception. Great food was arriving from every direction – constantly.
The Art Trail Gallery is an all volunteer operation and each exhibit depends on the committee which comes together to pull it off. It's one of the great things about this gallery and one of the problem areas.
Also, the Art Trail Gallery gives participants the responsibility to read and follow the instructions of participation or rules – which includes having works ready to hang for the length of the show and having works identified. Some folks had a few images I would have commented about in a very positive manner, but failed to identify themselves on their works. That's too bad, but that's what rules are for. That's never a problem when it comes to a professional or a professionally acting person – they never miss an opportunity to take credit where credit is due and to promote for the future. Making people wonder or do an investigation to find out who made a photograph is never a good practice.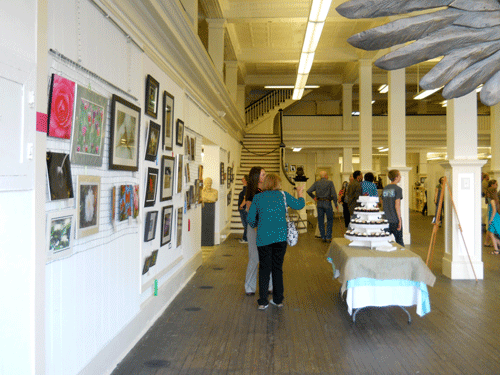 Organizing the photos by categories was a great improvement. You got to see all the ribbon winners and could make your own judgements as to how you thought the official jurors did in their selections. I hardly ever agree with the judging of any exhibit, which I'm sure was the case with many of the photographers, and their relatives and friends. And, after all this is a free country we are all entitled to our own opinions. But, when it comes to judging a show of artworks I take my hat off to any judge for making the effort and I know the Professional Photographers of South Carolina have set rules for judging images. I also acknowledge that when giving awards they only have the images presented to work with. We can all say we've seen better or that we could have done better, but we or the others photographers we're thinking of – didn't enter. That's a fact Jack – you can only make judgements from what is in front of you.
And I also know from my vast years of experience in the photography world in South Carolina – many photographers are the worst people at selecting their best images and many times people put images in the wrong categories, which was the case in this show. There were many images that didn't win ribbons in the category entered, but would have maybe taken 1st or 2nd in another.
Take the Abstract Category, in my opinion there were only a few real abstracts entered and the best photographic abstract image in the building was a work by Ann Klein which wasn't in Photofabulous 2012, but could be found in the Art Trail Gallery shop. And the best abstracts in the building are paintings by Jack Dowis in sculptor Alex Palkovich's section of the building. But there were better abstracts in the exhibit – they just were not entered in the abstract category. My favorite out of the works in the category was Builder's Choice by Amy Beane, who received a 2nd place ribbon.
I stood staring with a group of other folks at the entries in the Abstract category and we were all scratching our heads wondering how some of these images could be considered an abstract image. One participating photographer even said, "I know what category I'm going to enter next year."
My history in photography might be considered "old school". Linda and I ran a custom photo processing lab for 16 years and I grew up in Kodak's heyday – long gone now, but I had to laugh when I came upon Jeff Smith's photos in the Portrait category – which he claimed to be "un-retouched" images in an age of Photoshop, a useful method of enhancing images. Photoshopping is a dirty word to "old schoolers".
Smith's images were first class portraits. It was easy to see he was a professional, but I think his boast of offering images "un-retouched" diminished his images some and I bet the jurors thought so too, as he only received a 3rd place ribbon. Photographers who want to be considered artists need to get off that soapbox – the final result is all that matters. The final images most people saw by Ansel Adams were highly manipulated to get the final results – perhaps in the darkroom, but if Adams lived to use Photoshop, he would have gone to town with that program. Oh wow, did you hear that crack of lightening!
Speaking of black and white photography, my favorite B&W images were by Lee Benoy, who had five images in the Architecture category. He didn't win a ribbon, but that's OK – it's all subjective. They were some pretty fine B&W's in my opinion and pretty good architectural images too.
And, while we're talking old school and Photoshop it's worth mentioning that Susan Muldrow swept 1st, 2nd, and 3rd in the Digital category. She really has no competition when it comes to digitally manipulating photographs in the Pee Dee. Last year when I first saw her images I asked – "This is a photograph?" Muldrow takes color images and then uses, I guess Photoshop, to transform those images to look like paintings – loosely abstract paintings. These images can be stunning and last year I commented that they would probably win awards as straight photos, which makes some ask – why do the manipulation? It would take a lot to explain this and I'm not saying this is why Muldrow uses this technique, but painters get more respect than photographers do. And, it really sets your images apart from other photographs.
I think the most images were entered in the Floral category. At least as many as were in the Landscape and Wildlife categories – always the most popular. There were a lot of good floral images here and a few more in the Macro and Still Life categories. My favorite here was an image of a Japanese Magnolia pod by Donna Goodman.
In the Wildlife category the 1st place ribbon winner was a really nice image of a black swan in black water by Jeff McJunkin. It would have been a toss up for 1st for me with an image of a snowy egret by Susanne Sasser. But the surprise was the 2nd place winner, Really Dirty…Martini, by Patz Fowle – the whim of the Pee Dee. Linda and I couldn't figure it out with out help from Ann Klein, but it was an image of a fish (with the face of a snake), and fish waste at the bottom of a very large Martini glass. You have to keep a close eye on that Patz Fowle – she'll inject humor in just about every situation. And, we're all lucky for it.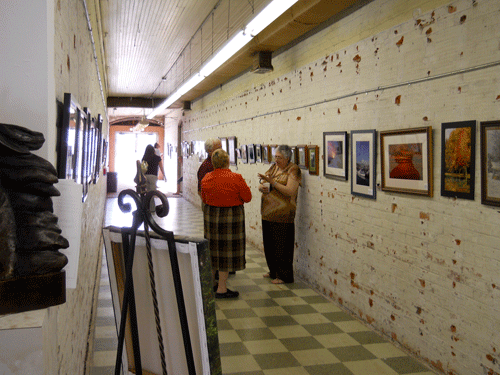 The Landscape category produced the Best of Show winner by Anne Baldwin, but it also had some of the most questionable images. Usually good images find a way of standing out among not so good images, but in this case the not so good really muddied the waters for me. There was one image by Dubravka Perry which I would have given an award for Place You Might Want To Live (During The Summer) category.  It was titled,Neuschwanstein, which I guess was in Germany or Austria. A scene of snow capped mountains with a lake in the valley with lush green forest all around. You could almost see Heidi's grandfather's cabin there. The image wasn't anything special, but you'd have to try hard to take a bad picture of such a place, but I know that's not true. I've seen plenty of bad pictures of great places so Perry did a good job of capturing the scene.
That's my impressions of Photofabulous 2012, but you should go see this show and form your own opinions.
Linda and I had a discussion about looking at photo exhibits and how much photography we have seen in our lives wondering if we could really get excited about seeing anything anymore. I have to admit it takes a lot to get me  really excited or to knock my socks off, but it is possible.  I saw some images which I wish I could say – I took that.
I had a short discussion with a few of the exhibit's organizers and made a pitch that it might be time to have a truly juried exhibit where just getting into the exhibit would be an accomplishment and then give awards. Yes, this would cut some people out, but it also would give them something to shoot for. When everything that shows up is included, it can make for a show that can make lots of folks happy, but leave them with an empty feeling of what did it mean? When it's juried for entry – that means something right away. It also may be a reason some better photographers from a year ago didn't enter this year. But that could have just been a space problem.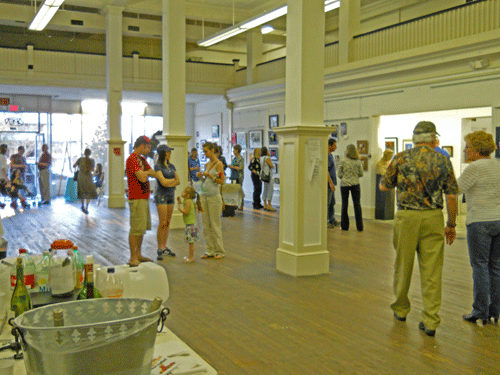 Changes are coming to the Art Trail Gallery. The building has been sold and I hear improvements to the building are being planned. Maybe it's also time to change the policy of all who come can hang their works on the wall. Some gallery spaces around the Carolinas have a once a year community show where all who show up can hang on the wall – first come, first served. I know the Art Trail Gallery has been focused on building participation, but perhaps it's time to step it up a notch and be a bit more selective. We all need goals and accomplishments to shoot for to make us better at things. Maybe that time has come for this space – as long as people are willing to come forward and volunteer to make it happen.
It may also be time for the participants of these shows to pay an entry fee – like most of these kinds of exhibits.  Entry fees can also be a good source for cash awards which will also draw the best.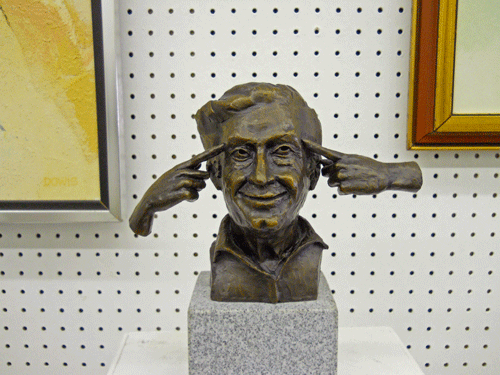 It's hard to visit this gallery without viewing the works of Alex Palkovich, here is AHA Moment.
For further information call Jane Madden at 843/673-0729 or visit (www.art-trail-gallery.com).