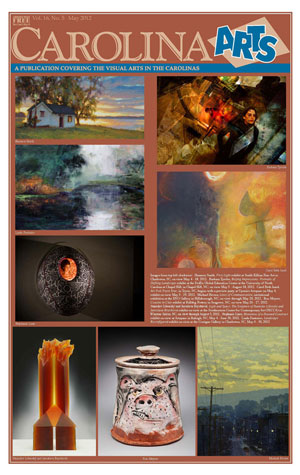 This report will be short and sweet. We did set a new record for downloads in May, which was a surprise, with 121,745 downloads of the May 2012 issue of Carolina Arts. That's almost a 10,000 jump from April 2012. It's a little hard to get my head around this growth, thinking that it will fade, but as of six days in June we have 104,020 downloads of the June 2012 issue – so who knows what will happen by the end of the month. Many thanks to those folks who help us spread the paper around by sending the link to download the paper out to their e-mail lists.
The link for the June 2012 issue is: (http://www.carolinaarts.com/612/612carolinaarts.pdf).
In other news about May downloads, our cult issue – March 2011 took in 11,801 downloads. Not bad for an issue that is well over a year old. April 2012 had a strong showing with 5,206 downloads. The last issue before the current issue always takes a dive, but not last month, showing April was a strong issue – but, nothing like the March 2011 issue.
In looking at the rest of the top 100 downloads we see that March 2012 took in 716 downloads, August 2011 took in 662, and February 2011 took in 654. There was a lot of interest in looking back at last year in May. I wonder what that was all about.
That's the numbers for those keeping track.