Here's a press release we received at Carolina Arts about a pottery show in Durham, NC – a city we don't hear from much. This came from Ronan Peterson, one of the ongoing potters featured at Claymakers. He is another blogging potter with the blog Nine Toes Pottery.
Here's the press release:
Claymakers Gallery of Fine Handmade Pottery in Durham, NC, is presenting the exhibit, Asheville in the Bull City, featuring works by five Asheville, NC, area potters, Will Baker, Patty Bilbro, Kyle Carpenter, Karen Newgard, and Lindsay Rogers, on view through Mar. 12, 2010.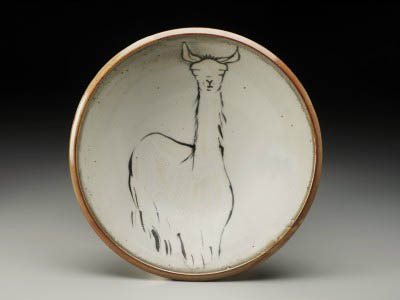 work by Patty Bilbro
Claymakers invites five Asheville area ceramic artists to exhibit their distinctive functional vessels in the Bull City.  This exhibit includes the work of Will Baker, Patty Bilbro, Kyle Carpenter, Karen Newgard, and Lindsay Rogers. Each of these functional potters have developed a singular interpretation of everyday pottery, from the graphic, black on white porcelain of Karen Newgard to the warm, earthy atmospheric stoneware of Will Baker.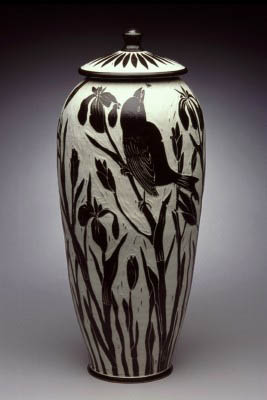 work by Karen Newgard
Each artist employs their own approach to surface and decoration, with Lindsay Roger's minimal, detailed lines and textures nicely contrasted by the intimate brushwork of Patty Bilbro and Kyle Carpenter's bold salt fired slip and glaze brushwork.
Don't miss this special showing near downtown Durham of some of the best ceramics the mountains of western North Carolina have to offer.
For further information check our NC Commercial Gallery listings, call the gallery at 919/530-8355 or visit (www.claymakers.com).