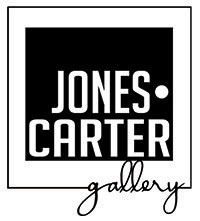 Not too long ago I did another Pee Dee Two Fer trip where I went to the Artisan Outpost in Johnsonville, SC, held the first Saturday of the month and the Jones-Carter Gallery in Lake City, SC, which is now open on Saturdays. The Artisan Outpost will be hosting another great gathering of artworks on Dec. 7, 2013, from 10am-6pm. This gathering is so popular – Santa is going to show up at this next event. But, for now I want to tell you about the exhibit at the Jones-Carter Gallery – time is running out to see it.
The Jones-Carter Gallery, located at 105 Henry Street in Lake City, next to The Bean Market, just a block off Main Street is presenting an exhibition from the Smithsonian Institution Traveling Exhibition Service (SITES), featuring rare paintings by Florence, South Carolina-native, William H. Johnson, from the collection of the James E. Lewis Museum at Morgan State University. An essential figure in modern American art, William H. Johnson (1901-1970) was a virtuoso skilled in various media and techniques, and produced thousands of works over a career that spanned decades, continents and genres.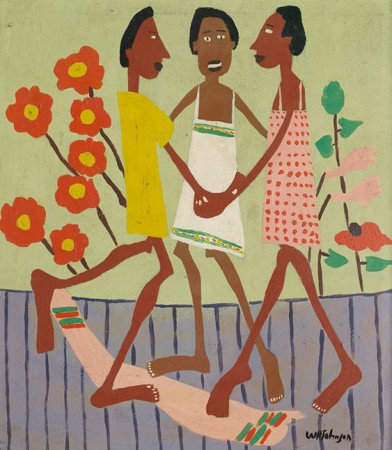 Ring Around the Rosey, by William H. Johnson, courtesy of Morgan State University.
William H. Johnson: An American Modern is on view at the Jones-Carter Gallery, a branch of the Community Museum Society, Inc., in Lake City, through Dec. 29, 2013. The Jones-Carter Gallery is the only South Carolina venue on the tour.  Developed by Morgan State University and SITES, the exhibition is made possible through the generous support of the National Endowment for the Arts, the Henry Luce Foundation and Morgan State University Foundation Inc. Additional support is provided by Ford Motor Company Fund.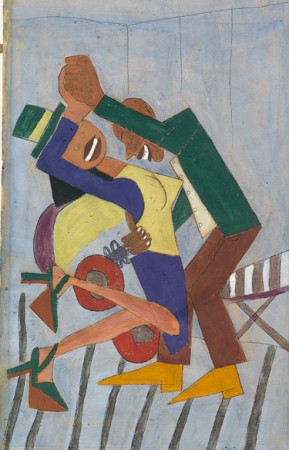 Jitterbug, by William H. Johnson, courtesy of Morgan State University.
The pivotal stages of Johnson's career as a modernist painter are assembled in this group of rarely seen paintings. Every step of his artistic development is conveyed – from his post-impressionist and expressionist works of the 1920s, to vibrant vernacular paintings from the end of his career in the 1940s, in which Johnson articulated his distinctive, unforgettable vision as an American modern artist.
Usually I'd be offering lots of photos of the exhibition, but there were so many restrictions on photography that all I have to show of the exhibit is the one shot I was allowed to take. I may have pushed the button on my iPhone, but I was placed in the only position allowed by the gallery staff. I could have taken more on the sly, but I know the restrictions are from the Smithsonian and I didn't want to get the gallery in trouble or prevent future shows from the Smithsonian coming to Lake City. I've got two images from the press kit and I took several more of the surrounding area outside – which I think is just as important to Lake City's progress in becoming a cultural destination.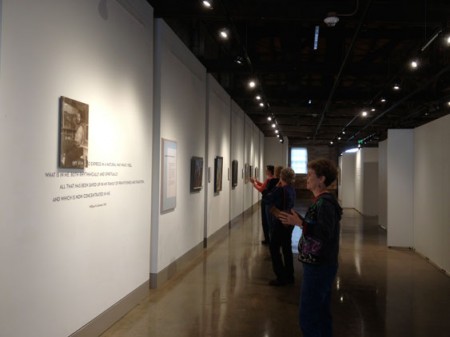 This photo doesn't show you much of the exhibit, but it at least shows you there were others there viewing the exhibit while I was there.
The works in the exhibit and provided text tell an interesting story of this artist's history. And being from the North originally – that's right I'm one of those transplanted Yankees, I had to think when viewing these images how many other talented black artists had to leave the South to have a creative life and how many never made it out and just had to put that creativity aside. Frankly I'm not sure how easy it is to be an African American artist today. In some ways it seems that you can get more attention if you're considered a folk-artist or visionary artist (untrained) than if you have a Masters degree in art. But like I always say to my old Yankee friends in describing what it's like in good olde South Carolina – it's 400 years of history – 20 years of progress, and it seems like the Tea Baggers are dragging us further back in time every day.
But then again, when you think about it Jasper Johns had to leave SC before he made it big in New York City. In this case Johnson left the United States to find fame and respect.
Go see this exhibit before it leaves South Carolina and if you haven't been before you'll be amazed that such a facility as the Jones-Carter Gallery is located in Lake City. Most other small towns in SC will have exhibit space in an old house or a converted bank – if they have any at all. This space is as good as any in bigger cities.
Now, lets talk about Lake City. Since my last trip to the Jones-Carter Gallery, SCDOT has placed many new signs directing you to the Jones-Carter Gallery making it easy to find coming into Lake City from any direction. I bet there are more signs in Lake City directing you to this gallery than there are in Charleston, SC, directing you to the Gibbes Museum of Art.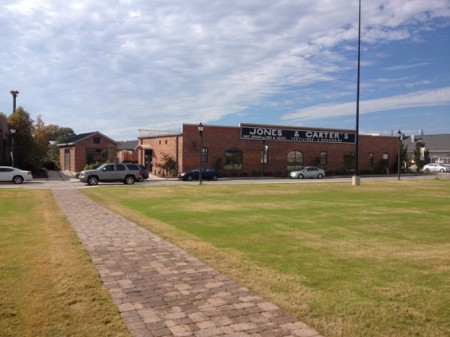 View from across The Green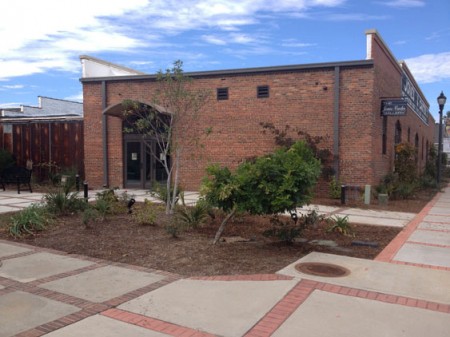 The front door of the gallery
The gallery is located next to The Bean Market, another great facility for cultural events in Lake City and across from The Green, an open green space with a performance stage. There's a sculpture by Alex Palkovich, from Florence, SC, there and this unique drinking fountain – designed for humans of all sizes and pets. Banners were up promoting the Johnson exhibit and new ones will probably flap in the wind for other exhibits and events in the future. The city is really serious about becoming a cultural destination and small details like this fountain will make the difference.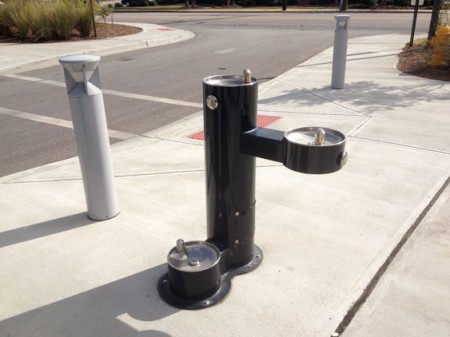 A pet friendly drinking fountain
Lake City has big plans for transforming their city, but none of it will happen very fast unless people get up off their back sides and travel there to see and enjoy it all. It's not a big trip from Charleston, Columbia, Florence and Myrtle Beach, and for those folks traveling further – they do have hotels and motels – like the ones people use to travel to your city.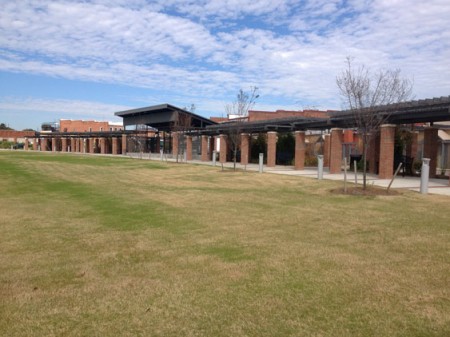 A view of The Green
Gallery hours are Tue. through Fri., from 10am to 6pm and Sat., from 11am to 5pm. Large groups are encouraged to call ahead.
And, don't forget – ArtFields will return to Lake City from April 25 through May 4, 2014.
For additional information about William H. Johnson: An American Modern call the gallery at 843/374-1505 or visit (www.jonescartergallery.com).