One of the cruelest things in life is that we don't get to do everything we want and sometimes even when we do get to do something – it's too late.
In this instance, I'm lucky I got a chance to see this exhibit at all, but it was too late to do so and encourage others to do so, as the exhibit ends on Saturday, Mar. 10, 2012. Of course we did feature this exhibit on our Jan. 2012 cover of Carolina Arts. I guess that's something.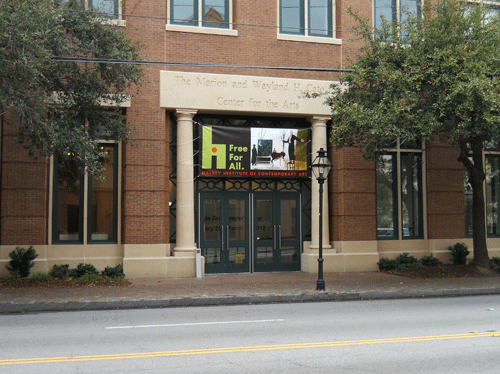 But, if you can, I'd advise anyone who likes what they see here in this posting, to try and go to The Halsey Institute of Contemporary Art at the College of Charleston School of the Arts in Charleston, SC, to see Aggie Zed: Keeper's Keep, featuring new works by Virginia-based artist Aggie Zed. I'm sorry about the short notice, but I think this exhibit may be coming to a facility in North Carolina, but I have no details at this time.
Aggie Zed was born in Charleston and raised on Sullivan's Island, SC. So, like Jasper Johns who was once from Edisto Beach, SC, we can claim her as one of ours. But, for anyone who has been a regular visitor to Nina Liu & Friends Gallery in Charleston, Zed's paintings and sculptures are old familiar friends. Some of her human/animal creatures have been featured in one of the gallery's windows for 20 years or more. Of course not the same figures – they never lasted that long before someone was taking them home and they would be replaced by others – stranger than the last.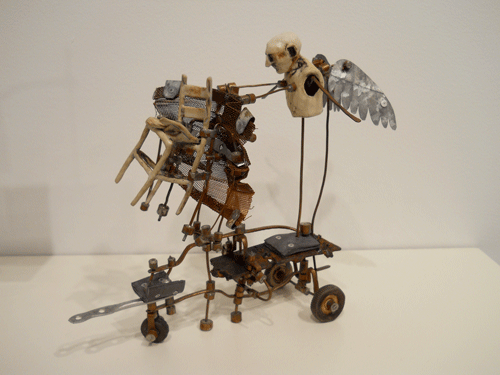 Who Will Keep the Keepers Themselves?, 2009
I hate to admit it but I have never been a real fan of Zed's paintings. That's just me, but it's why I've concentrated on the sculptures and installations of the sculptural figures I could photograph – some were under Plexiglas. I know there are tons of folks who love her paintings as much as her figures/creatures. Some probably love them even more than the sculptures. People have different likes. I fell for the creatures – the weirder the better. Again, that's just me.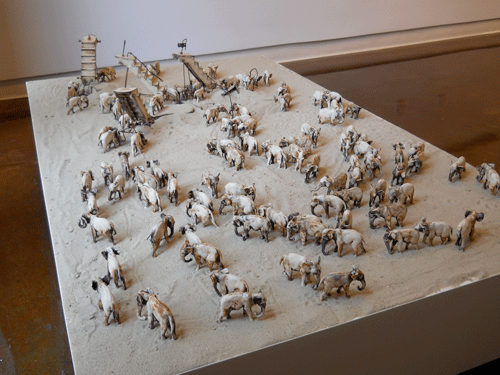 Elephants Observer, (installation), 2009
I haven't seen anything like Zed's installations since the Sticks and Stonesexhibit offered at the Old Slave Mart building during a Piccolo Spoleto Festival – way back when, put on by LOCUS Contemporary Arts Center. If anyone remembers that exhibit, they'll know what I'm talking about.

Feathers or 'The Early Clone Gets the Contract', 2005
There's no time to go on about Zed's works at this point, so I'll let the images do the talking. You can see more images and a video about Zed at this link (http://halsey.cofc.edu/exhibitions/aggie-zed-keepers-keep/).
The exhibit will be on view Friday, Mar, 9 and Saturday, Mar. 10, from 11am-4pm. There's plenty of parking by the gallery as the College of Charleston is on Spring break.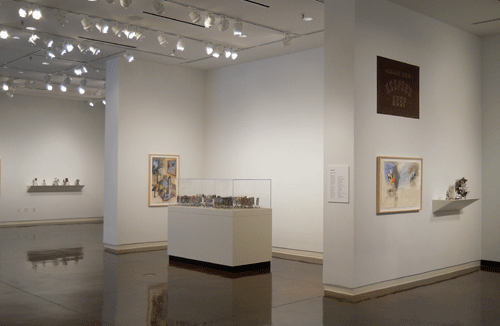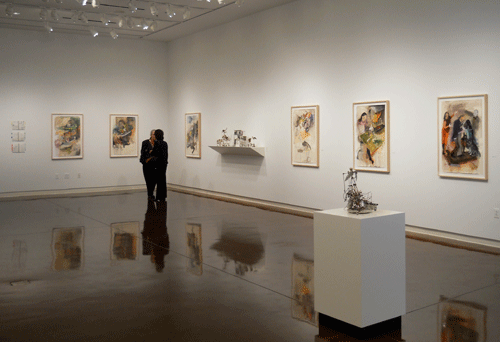 For further info call 843/953-4422 or visit (www.halsey.cofc.edu).
Tags: Aggie Zed, Aggie Zed: Keeper's Keep Exhibition, Carolina Arts, Charleston SC, College of Charleston, College of Charleston School of the Arts, Nina Liu, Nina Liu & Friends, The Halsey Institute of Contemporary Art, Visiting Charleston SC, Visiting South Carolina