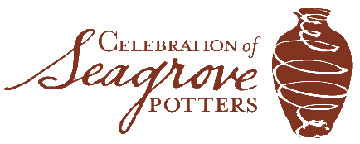 Being close only counts in a game of horseshoes. I was in Seagrove, NC, yesterday, April 16, 2011, for the 3rd Annual Celebration of Seagrove Potter's Spring Kiln Openings, but besides a little rain, wind and thunder – at times, you wouldn't have known that the deadliest storm system of the year was passing overhead and all around. A system that killed nearly 50 people and left millions of dollars in damage from Oklahoma to North Carolina – including an area just 10 miles from the headquarters ofCarolina Arts in Bonneau, SC, where a tornado destroyed a church.
Such is life. It reminds me of a time when some high school friends and I decided to make a trip to Montreal, Canada for a weekend visit in 1969. When we got home we learned that the Woodstock Festival had taken place just 100 miles to the south in New York. Timing is everything, and I guess I had good timing yesterday as I traveled 200 miles to Seagrove and 200 miles back home and saw very little of what I would call nasty weather.
My day started at 4am. It almost felt like the old days when I delivered Carolina Arts. I had prepared food and drink, I had my pack of CD's of the greatest music every made from the 1960′s and a full tank of gas. It's a good thing the Honda is getting 42.5 mpg these days.
Linda, my better half, had been hoping to make this trip with me, but she still had a bad cold that had her confined to the house.
Within 45 minutes of leaving the homestead I was on I-95 heading towards Florence, SC, where I would pick up Hwy. 52 to head north to Rockingham, NC, where I would pick up Hwy. 220, the future I-74, I-73, which would take me right to Seagrove. I can't wait for the day I don't have to use the word "future" when I'm saying I-74 or I-73.
The first thing I noticed was that there was a steady stream of traffic on I-95 heading South. What was that all about? Then it hit me. It's been awhile since our boy – who is now a man (with a job) was in school – this was the Disney World migration – Easter break for schools. I was glad I was heading North. For a few seconds I wondered if the forecast of the storm had turned for the worst overnight and folks were evacuating from NC.
And, where was that storm anyway? It had rained for a few moments when I was shaving, around 4:15am, but it didn't even sprinkle again until I reached the NC border on US 1, between Cheraw, SC, and Rockingham, the worst part of my travels this day – a narrow single lane road. But 5 minutes out of Seagrove on Hwy. 220, it seemed that the skies had opened up, but again for less than a few minutes. So, a little rain for a few minutes every hour wasn't too bad.
The trip to Seagrove took 3 1/2 hours including two stops along the way. And, I don't ever speed.
My first stop, after a visit to one of the new Rest Areas outside of Seagrove on Hwy 220, was Bulldog Pottery. I was the first visitor of the day, just after 9am.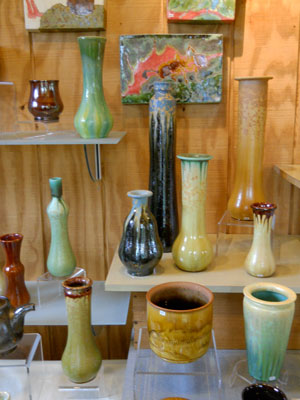 Works inside Bulldog Pottery
I was first greeted by Bruce Gholson at the shop and then we walked back down to the house where I was soon greeted by Samantha Henneke and of course Mighty Max, their bulldog. Max always looks smaller in pictures. In about a half hour he finally settled down.
I always enjoy my early morning visits to Bulldog Pottery, as it means conversations about marketing, social media, and what's going on in Seagrove. The only disappointment on this day was that Ed and Gloria Henneke, Samantha's parents were gone on a trip to Florida. They always add some good insights into any conversation. But, before long the electronic warning system was going off telling them someone was driving up to the shop. The day was beginning.
Bruce went up to the shop to deal with the visitors and Samantha and I talked a bit more about Facebook, blogging, and Twitter. She's trying to sell me on Twitter and I'm being a hard sell. During the conversation a few more warning signals went off and before long there was a knock at the door and it was a couple who were collectors of Bulldog Pottery's wares. They wanted to say hello to Samantha and let her know they had purchased one of her wall hangings – which apparently someone else had expressed an interest in.
This brought up a conversation about putting off the purchase of something you fall in love with at first sight and sometimes losing out when you finally decide you can't live without it – but then have to learn to do just that as someone else decided it had to be their's sooner than later.
About 30 minutes later at the shop, Samantha and I watched a visitor from the New England area do just that, but this guy was going to be in bigger trouble as I think it was his wife who really wanted to buy a piece and he wanted to wait and see what the day would bring. He'll probably be hearing about that decision all the way back to New England.
That's right, Seagrove has much more pull than regionally in NC, my 200 mile trip was nothing compared to how far some people travel to get their fix of Seagrove pottery. They draw people from all over the world. It's not like having an art gallery in Charleston, SC, where you can see walk ins from around the world – people visiting Charleston. The city of Seagrove, with all it's charms – is no Charleston. Most people you find there are there for the pottery. And, I think the folks who live in Seagrove like it that way.
Speaking of downtown Seagrove, my next stop was the newly opened Co-op of Seagrove Potters, at 128 East Main, at the corner of North Street. A group of ten or so of the local potters have joined together to open this new shop. You might call it a visitor's center for their potteries.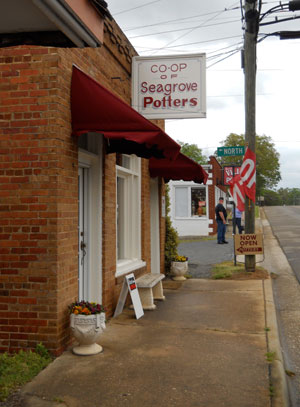 The participating potteries include: Bulldog Pottery, Dover Pottery, Latham's Pottery, Lufkin Pottery, Michelle Hastings & Jeff Brown Pottery, Nelda French Pottery, Old Gap Pottery, Ole Fish House Pottery, Seagrove Stoneware, and Tom Gray Pottery. Nelda French, who was maintaining the shop this day told me she was the only potter of the group who didn't have another pottery shop – yet. All the others can be found throughout the Seagrove area – one was just a block away.
The Co-op will be open seven days a week so it will serve as a good ambassador to all the member potteries. There's not a website yet, but you can reach them at 336/873-7713. The shop is centrally located in the heart of downtown Seagrove – you can't miss them.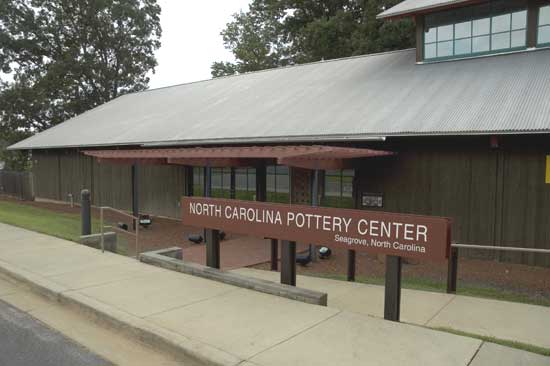 A few blocks away was the NC Pottery Center (www.ncpotterycenter.org), always a must stop when visiting Seagrove. They have a great display of works from all the potteries, along with maps to help you find the potteries. They always have an interesting exhibit of pottery from some area of NC or an interesting theme, they have a great display dealing with the history of pottery in NC, and they have rest rooms. The two dollar donation is well worth any of those factors and after you're finished taking in all it has to offer you'll feel like you would have paid much more to get in the door – guess what – they'll accept any other amount of donation you feel like making. In these days of reduced public funding – they'll need it.
The exhibit I wanted to see was Tea Time: Series I (Teapots and Tea cups), on view through Apr. 30, 2011, so you better hurry if you want to see it. This exhibit features functional teapots and tea cups, handmade by over 70 potters from across NC – some from the Seagrove area. And, what a show it is. Unfortunately, some of the works were presented under Plexiglas, but I got a few good photos of some of the works that were not covered.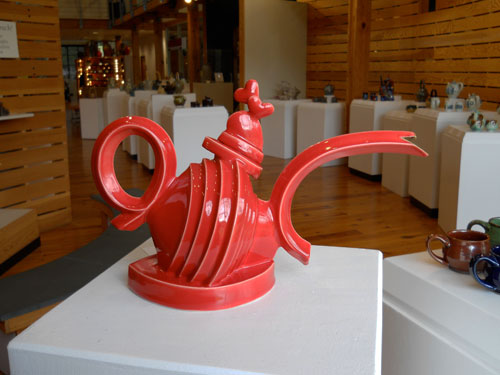 Searching Heart Teapot by Richard Montgomery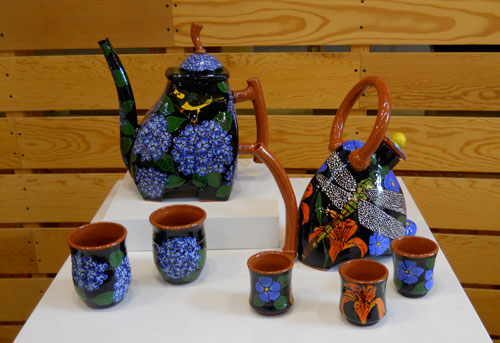 Works by John Garland (L) and works by Marty Paul (R)
I was familiar with a good number of the potters represented, like Samantha Henneke and Bruce Gholson (Bulldog Pottery), Mark and Meredith Heywood (Whynot Pottery), Susan Filley (who was in Charleston, SC, for a while but is now in Durham, NC, at Claymakers Gallery), Ronan Kyle Peterson (Nine Toes Pottery in Chapel Hill, NC), and Michael Kline (in Bakersville, NC).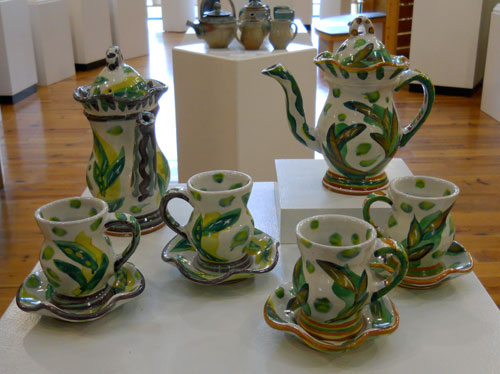 Works by Stanley Mace Anderson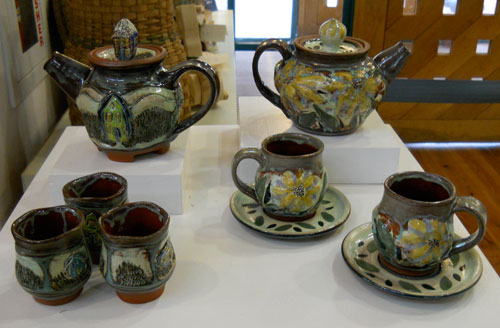 Works by Molly Lithgo
Two potters I wish I could have gotten photos of their work were Betsy Vaden, who had a wonderful set called, Possum Tea Party, and a group of a teapot, cups with saucers by Jenny Lou Sherburn. But it's impossible to get a decent photo through Plexiglas. I wish I could be showing them to you as no words I could say will do justice in describing them.
I know I would drink a lot more tea if I owned a teapot and cups like any of these creations, but then I'd also be afraid to use them on any regular basis. They all may be functional, but they were really fine works of art to me. But I might bring them out every once in a while to show off or if the Queen stopped by one day to discuss one of my commentaries.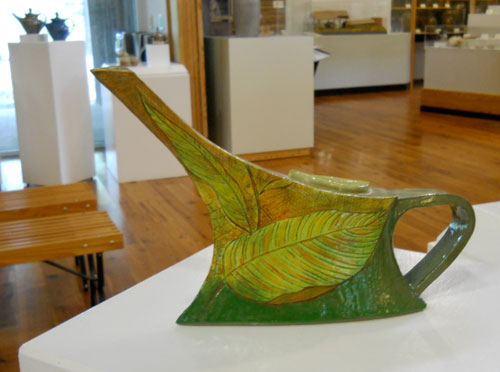 Work by Susan Farrar Parrish
On the drive to Whynot pottery, beside thinking of cookies, I was wondering where this big storm was. It really wasn't showing signs of any impending doom. I was passing potteries that had cars parked outside and was passing cars going here and there, but no rain, no big wind, no thunder. I wasn't the only one who didn't let a weather forecast spoil my plans.
As I drove into the parking area at Whynot I was greeted by Meredith Heywood – her cookie alarm must have gone off. I was soon escorted to their studio where they had set up this year's Mud and Suds offerings, inside due to the forecasted storm. That's also where the cookies were.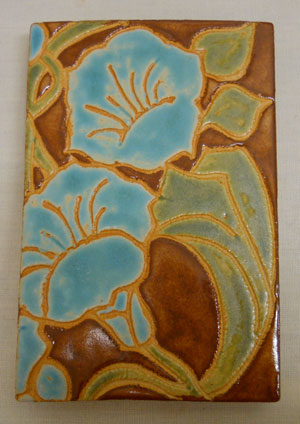 Tile by Laura Weant Johnson
Inside I found Laurie Abela from Abela Soaps, Laura Weant Johnson from Snow Hill Tileworks, Anne Raven Jorgensen from Raven Pottery and platters of cookies. Not just one kind of cookie, but about six to eight different kinds of cookies – all homemade. I can tell you this. I made a respectable tour of all the art offerings before one cookie touched my lips.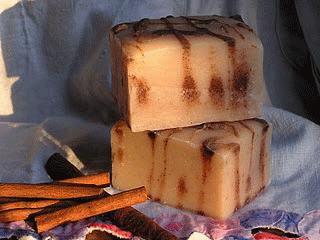 Handmade soap by Laurie Abela
You can read an earlier blog posting about Mud and Suds at this link. I took a few photos, but then what was that? It started raining and there was a few claps of thunder, was this finally the storm? But again, nothing lasted very long and  people were still driving up to take a look.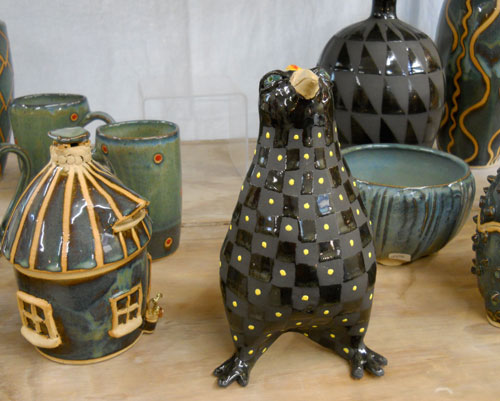 Some works by Anne Raven Jorgensen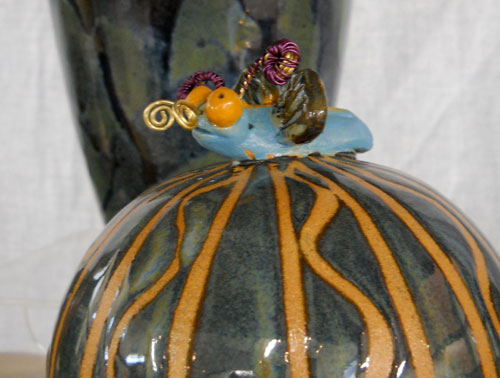 A detail of a work by Anne Raven Jorgensen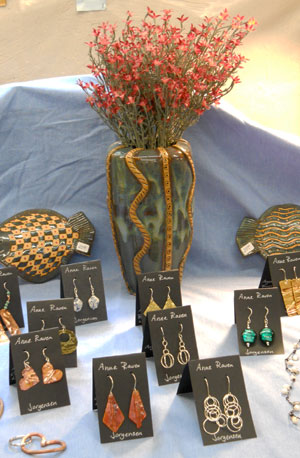 I shot this one for Linda, but you can see my focus is on the pottery
At one point I went with Mark Heywood out to their shop when another group of folks drove up. While we were inside the shop a burst of wind came up, a little rain and then a few big claps of thunder (which shook the building) and we were wondering if this was it – the storm had arrived. But, in a few minutes, it was all gone. We talked a while about work he's been doing with Wet Dog Glass, LLC, over at Starworks in Star, NC, just down the road. They make equipment for hot glass studios, but that's another story.
It was getting late, so we headed back to the studio once the visitors cleared out and it seemed that the storm had also cleared out – for good this time. I got a few cookies for the road and said my good-byes. As I was getting in the car, a few more people drove up and I grabbed my camera for a parting shot – it looked great outside – there were even patches of blue sky coming through the gray. Little did we know – about this same time tornadoes were touching down just East of Seagrove, beginning their paths of destruction toward Raleigh, NC, and beyond.
Does this look like stormy weather?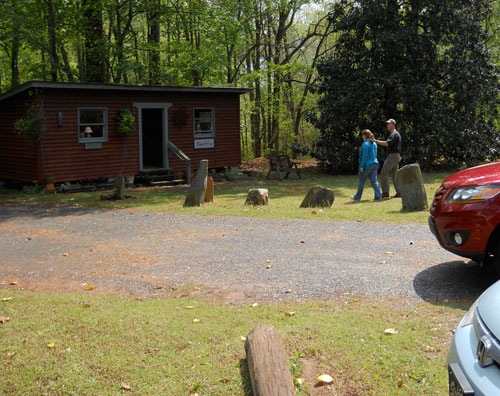 Next I headed to Jugtown Pottery, I was hoping to run into Jennie Lorette Keatts at JLK Jewelry at Jugtown. As it turned out, she wasn't there when I arrived. But I got to check out the goods at Jugtown and when some ladies finally surrendered the case of jewelry, I took my turn and made a few ladies wait on me. I'm sure they were wondering why I was taking it all in – for so long, but it's always nice to see works up close that you have only seen in photos. Linda was really missing out.  Of course if she had come along, we might still be there.
Soon I was back on Hwy. 220 heading back South and the weather was improving, more sun, more blue skies. About 20 minutes into the drive Linda called telling me a tornado had hit Raleigh and was wondering if I was OK. No sign of storms or tornadoes on my radar. About an hour later she called again and said there was a report of a church being hit by a tornado in St. Stephen, SC, a town about 10 miles from Bonneau where we live on Hwy. 52. I said I guess I'll see – as I had to drive past that area on the way home. Our power was also out at home.
By the time I got back to Florence – back to I-95, it was just another spring day in SC – clear blue skies on one side of the Interstate and a bank of clouds far off near the coast on the other side. When I got to St. Stephen I could tell they had a big downpour, as the streets we littered with leaves and pinecones, but as I made the big turn in the middle of town, I could see down the road a line of cars, and many vehicles with flashing lights. The closer I got, it looked as if every emergency vehicle in the county was there and half of St. Stephen was there looking at what used to be a building used as a church.
The building was demolished. The path of destruction was about as wide as a football field and not as long as one. It was as if a giant had put his foot down and smashed everything. Across the four lanes of the highway there was no damage at all. This was a very specific hit – very weird. Luckily, no one was killed.
All day Sunday we received e-mails and calls from friends who had seen the news stories on the major networks and The Weather Channel who wondered if we were OK. It was about ten miles away. Here I had driven 400 miles through an area that was in the watch and warning area – seeing nothing and ten miles from our home gets hit. It just goes to show that Mother Nature is unpredictable – she's gonna do what she's gonna do.
I was happy to see reports on Facebook and in a few pottery blogs that many more people showed up in Seagrove on Sunday. I guess you could say – they and I were lucky.