Later this Summer, Jonathan Brilliant, of Columbia, SC, will travel to theKendall College of Art and Design in Grand Rapids, MI, to do an artist residency, from Sept. 8 – 21, 2011, building one of his coffee stir installations, when that work is finished it will become part of ArtPrize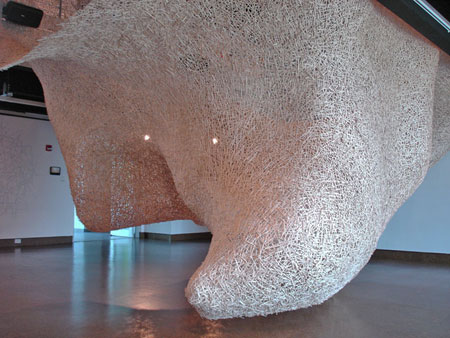 ® 2011, one of the largest art competitions in the world.
One of Brilliant's installations at City Gallery at Waterfront Park in Charleston,
SC in 2009
Unlike any other event, ArtPrize® gives away the largest cash prize for an art competition – $250,000 to the winner, with $484,000 total in cash awards. The winner is decided solely by a public vote – by the people who go see the artworks presented between Sept. 21 and Oct. 9, 2011.
In its third year, ArtPrize® has become an unexpected phenomenon. Part arts festival, part social experiment, part civic project, the event overtakes an entire city bringing visitors in the hundreds of thousands.
ArtPrize® 2010 began Sept. 22 with 1,713 artists displaying their works at 192 venues in a three-square-mile district in Grand Rapids – a city between the size of Columbia, SC, and Charlotte, NC. In the second year of ArtPrize®, artists from 21 countries and 44 states competed for prize monies totaling $449,000.
Hundreds of thousands of people have made their way to Grand Rapids to view art. One of the 192 venues reported more than 120,000 visitors went through its exhibits. ArtPrize® 2010 had 44,899 members of the public registered to vote. Registered voters came from 36 states and more than a dozen foreign countries. During the 15 days of competition, 465,538 votes were cast, including 16,905 votes in the final round.
I first heard about this crazy competition when I was visiting one of my many cousins back in Michigan last Summer in South Haven, MI, a city on Lake Michigan, south of Grand Rapids. Then last week I saw an entry on Facebook where Jonathan Brilliant posted several upcoming events – one being ArtPrize® 2011. He'll be showing his work in the Kendall Gallery at Kendall College of Art and Design, which is a good location as it opens to the sidewalk in an area of the downtown, between the Grand Rapids Art Museum and the Grand Rapids Public Library.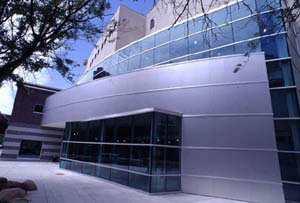 Kendall College of Art and Design
It's funny how small our world can be at times or how life sometimes makes big circles. Kendall College has now merged with Ferris State University in Grand Rapids – a school I was going to attend after high school, but I ended up attending a local junior college for two years and then transferring to Western Michigan University in Kalamazoo, MI – in the same neighborhood of that state. Then I ended up here.
If I didn't come here I might have never seen any of Jonathan Brilliant's installations or maybe if I had stayed in Michigan, I would have seen his work in Michigan this Summer – who knows.
Anyway, I'll be contacting all my relatives and friends who are still there asking them to go vote for Brilliant during the competition.
The first year's top prize went to an artist from New York and last year's top prize went to a local artist from Grand Rapids. I would think a local artist has an edge, but last year, Young Kim, an artist from Winston-Salem, NC, came in 8th place, so Brilliant has a chance. It all depends on what catches the public's eye.
If you're reading this and will be in Grand Rapids between Sept. 21 and Oct. 9, 2011, go by the Kendall Gallery and see Brilliant's installation and see if it's not worthy of your vote. Set your GPS for 17 Fountain Street NW, Grand Rapids, MI, or print out a Google map.
Tags: ArtPrize 2011, Grand Rapids MI, Jonathan Brilliant, Kendall College of Art and Design, Visiting Columbia SC, Visiting South Carolina