We didn't receive any info about this exhibit at Carolina Arts, but on July 3, 2011, I went to the Charleston County Public Library's Main Branch in Charleston, SC, to pick up our goddaughter, Zelda, for a 4th of July visit here at the headquarters of Shoestring Publishing Company on the shores of Lake Moultrie at Bonneau Beach, SC.
The Library was showing the exhibit, Moving Into Stillness, featuring works by Jennifer Ervin. After viewing the exhibit I wrote in her book for comments that, "this was the best photography exhibit I've seen this year in Charleston. The works reminded me of Edward Weston's photographs." This was high praise in my book.
In a short statement about the exhibit, Ervin mentioned that she does a lot of walking and picks up a lot of objects along the way. Some of these objects end up in simple, straight forward images, presented wrapped in warm, soft light and printed as such. The images and the exhibit overall gave me and I'm sure most viewing it – a warm, nostalgic feeling. It was also a very well presented exhibition. It was almost like stepping into a little side room of a major art museum.
I didn't have my camera with me, but it would have been near impossible to get any useful images as the works were under glass and there are always lots of reflections in this small room. I took a few notes on a couple of her business cards.
Zelda, who is also interested in old school photography also like this exhibit. More high praise.
Later when I got home, I checked out Ervin's website and saw an image there I recognized. Turns out that Carolina Arts featured an article about an exhibit Ervin had at Francis Marion University in Florence, SC, in our Feb. 2011 issue. She was also in the the Pee Dee Regional Photography Exhibit 2011 – Photofabulous! at the Art Trail Gallery in Florence, but I must of missed her works somewhere in the 1,000 + images offered. Ervin's works definitely grabbed my attention in a solo setting.
And, yes, I do not have a photographic memory or the ability to call up all info that passes our way at Carolina Arts. I have a hard enough time putting the right artist in the right gallery in the right city in the right state at times, but I do better than most.
I contacted Ervin by e-mail to see if she could send me some jpegs of works in the exhibit so you could see some of what I saw. She sent a few which we have here. But, the exhibit as a whole is much better to see.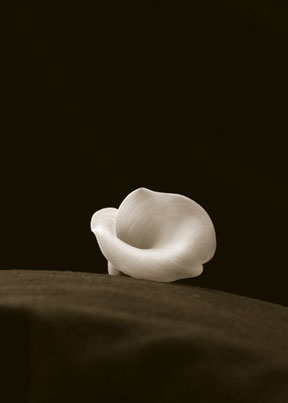 I found a little statement offered on the website about this exhibit, Moving Into Stillness. There was this quote form Frederick Sommer, "Life itself is not the reality. We are the ones who put life into the stones and pebbles." And, this quote from Ervin, "This collection explores still life with an emphasis on design, carefully selecting details to create a poetic visual language that transforms objects into sensory experiences."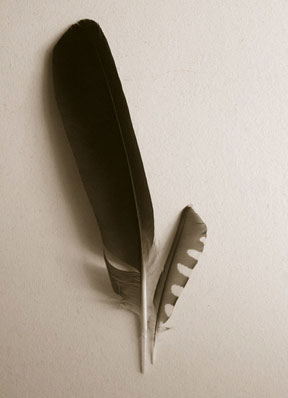 But, I think one of my favorite images in the exhibit, broke the rules a little bit – which is OK. The work titled, Figs (in the studio), was like most of the other images – a simple image of some figs, but at the bottom of this image – a ways from the depth of field of the lens (a technical photographic term for the area of sharp focus, front to back) you could see the photographer's feet. It was a little hint that these images are not a record of Mother Nature's work. They are images of objects from nature created by a skilled photographer – in order for the viewer to see ordinary objects in a way you will stop and look at them.
I read statements by a lot of photographers who say they are capturing images of everyday objects we all pass by or overlook in our fast-paced lives, but it's not always true. It just sounds good to say. And, too many photographers use that line for the excuse that they can't find interesting images to capture, but Ervin in the image, Figs (in the studio), reminds us – she is making these ordinary objects interesting to look at – in her environment. Is that not one of the basics of art in general?
I don't want to see images of the minutia of life. I get enough of real life minutia – 24/7 as is.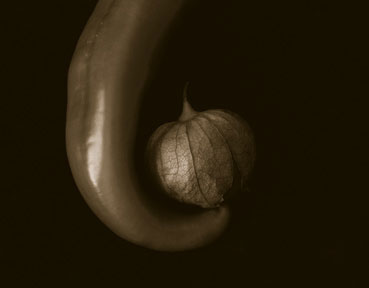 I also found a little bio info on the website, telling me that Ervin studied painting and photography at Francis Marion University, and received her MFA in Graphic Design from Boston University in 2002. Her work has been actively exhibited in the Southeast and she will have two solo shows in 2011 – the one at FMU and this one at the Library. Ervin received the Jo-Ann Fender Scarborough Award (2009) for work from her "Becoming" series. She lives in Charleston, with her husband and three daughters.
Three daughters! I'm amazed she can get any work done. But artists seem to manage. It's funny, but it seems like artists with families get a lot more work done than those that don't. Maybe it's because the ones without families and all that comes with them – have more time to talk about doing art and those with – just have time to do.
I wish we had known about this exhibit for our July 2011 issue, but I would strongly advise anyone in the Charleston area to go see this exhibit. It's worth the effort. I'm glad I saw it by chance.
You can see more of Ervin's artworks at (www.jenniferervin.com) or for further info e-mail to (jenervin5@gmail.com).
Tags: Art Trail Gallery, Charleston County Public Library, Charleston SC, Francis Marion University, Jennifer Ervin, Saul Alexander Foundation Gallery, Visiting Charleston SC, Visiting South Carolina